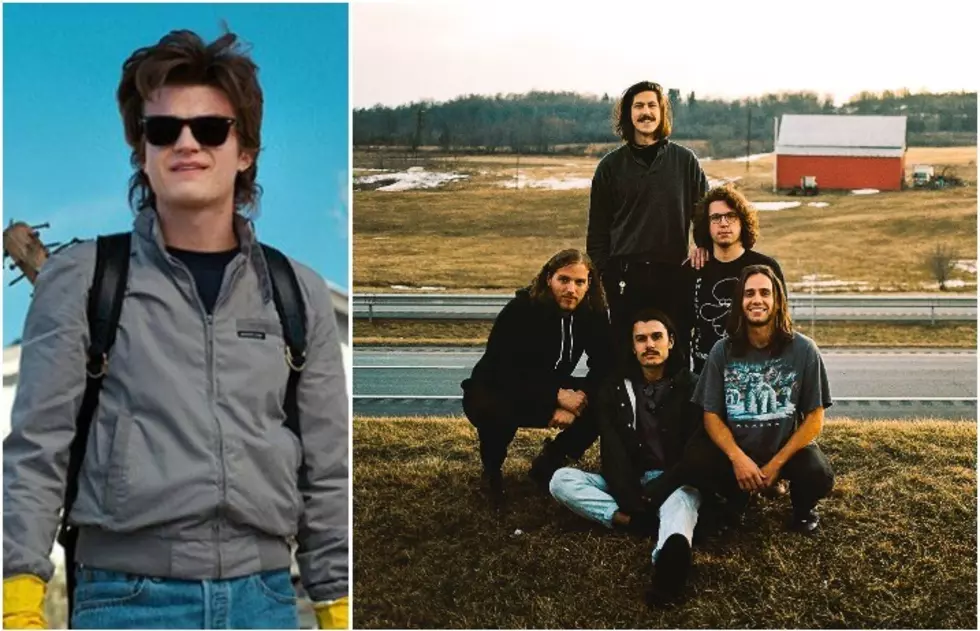 Hear Joe Keery sing on Post Animal's infectious new song "Ralphie"
[Photos by: Joe Keery/Netflix, Post Animal/Pooneh Ghana]
One of our favorite Stranger Things stars Joe Keery has proved his acting chops—and he's got a pretty impressive set of musical skills, too. He sings and plays guitar in Chicago's neo-psych rock band Post Animal, and today, they announced their forthcoming debut album, When I Think Of You In A Castle.
Not to mention, they released the album's debut single, "Ralphie," featuring Keery on vocals.
Read more: 5 reasons Stranger Things' Steve Harrington is the real hero of Season 2
"Before this album, we weren't sure what the future of the band was going to look like. I was considering moving to Los Angeles and Joe [Keery] was off filming Stranger Things. We didn't know where we were all going but we knew we wanted to make an album with all of us in the same room," explains drummer Wesley Toledo.
"Ralphie" features guitarist Keery and bassist Dalton Allison trading lead vocals, and it's as infectious as you'd expect.
Give "Ralphie" a listen below:
Plus, Post Animal released a statement regarding Keery's role in the band, which you can read below. Though he is no longer an active touring member of the band, they plan to "create more magic with him in the future."
In early 2015, Joe joined our band and quickly became one of our best friends. He's played a vital role in Post Animal and the creation of every musical release we've had or planned thus far, including his vocals and guitar work on When I Think Of You In A Castle. It comes as no surprise that our incredibly talented Joe has found success in other artistic endeavors, and for that reason he is no longer an active touring member of Post Animal. We plan to create more magic with him in the future as our fondness for musical collaboration remains strong.
On that note, we hope you enjoy "Ralphie," and we are excited to share more music with you in the coming months.
With love and dedication,

Post Animal
Tracklisting:
1. Everywhere All At Once

2. Gelatin Mode

3. Tire Eyes

4. Ralphie

5. Heart Made of Metal

6. Castle

7. Special Moment

8. Victory Lap-Danger Zone

9. One Thing

10. Dirtpicker
Tour dates:
03/09 - Davenport, IA @ Daytrotter

03/10 - St. Louis, MO @ Foam

03/11 - Springfield, MO @ Outland Ballroom

04/18 - Milwaukee, WI @ Cactus Club

04/19 - Bloomington, IN @ The Bishop

04/20 - Ann Arbor, MI @ Blind Pig

04/21 - Columbus, OH @ The Basement

04/27 - Chicago, IL @ Lincoln Hall

04/28 - Madison, WI @ High Noon Saloon

05/02 - Columbia, MO @ Cafe Berlin

05/03 - Louisville, KY @ Zanzabar

05/04 - Nashville, TN @ The High Watt

05/06 - Atlanta, GA @ Shaky Knees Festival

05/24 - Cleveland Heights, OH @ Grog Shop

05/25 - Toronto, ON @ Smiling Buddha

05/26 - Montreal, QC @ Casa Del Popolo

05/29 - Allston, MA @ Great Scott

05/30 - Brooklyn, NY @ Rough Trade

05/31 - Philadelphia, PA @ Johnny Brenda's

06/02 - Washington, DC @ Union Stage

06/04 - Richmond, VA @ Strange Matter

06/05 - Carrboro, NC @ Cat's Cradle Back Room

06/06 - Asheville, NC @ Mothlight

06/09 - Manchester, TN @ Bonnaroo Music Festival

06/11 - Dallas, TX @ Club Dada

06/14 - Phoenix, AZ @ Valley Bar

06/15 - Los Angeles, CA @ Bootleg Theater

06/16 - Santa Ana, CA @ Constellation Room

06/17 - San Diego, CA @ Soda Bar

06/18 - Santa Cruz, CA @ The Catalyst Atrium

06/19 - San Francisco, CA @ Cafe du Nord

06/21 - Portland, OR @ Doug Fir Lounge

06/22 - Vancouver, BC @ Fox Cabaret

06/23 - Seattle, WA @ Barboza

06/26 - Salt Lake City, UT @ Kilby Court

06/28 - Denver, CO @ Lost Lake Lounge

06/29 - Omaha, NE @ Slowdown Front Room

06/30 - Minneapolis, MN @ 7th Street Entry
QUIZ: Which 'Stranger Things' character are you?