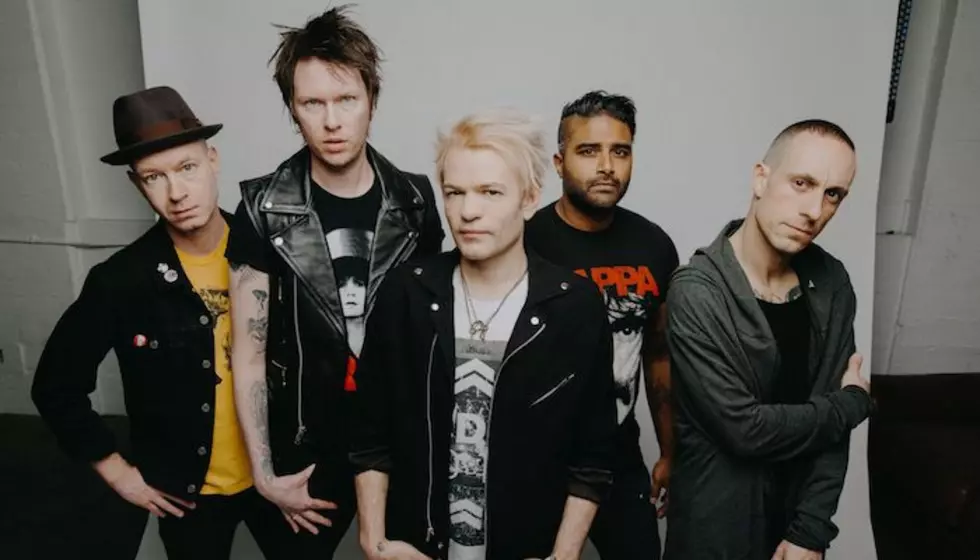 Sum 41 singer Deryck Whibley boycotts the news for the sake of his sanity
[Photo by: Ashley Osborn]
Canadian punk-rock vets Sum 41 are preparing to release their politically driven seventh full-length, Order In Decline, but don't mistake it for a protest record. The record is undeniably the band's heaviest material to date in both lyrics and instrumentals while avoiding political-punk clichés.  
During the writing process, ringleader Deryck Whibley found his lyrics kept returning to social and political issues, but he knew he didn't want to make a Sum 41 protest record and rearranged songs to reflect that. He considered the deeper meaning behind why he was writing about these problems and ultimately created a record that addressed his life at the moment rather than the world as a whole.
"I'm not going to write a protest record," the Sum 41 frontman asserts. "I'm not going to talk about specific policies and trying to change the world or impeach the president and all of this kind of stuff. But I can talk about how I don't like [Trump]. I can talk about my own personal feelings, I guess. If I have some sort of anger, I can write an angry song, but I'm not necessarily saying time's up. We need to impeach the president. A lot of people are. There's a whole movement of trying to go down that road, and I support that route to a certain degree. I'm all for voting him out, but yeah, he's not my kind of guy."
Given that Whibley lives in both Canada and the U.S. on top of touring countless countries across the world, he personally sees a lot of the division currently going on. Luckily though, his personal life with friends and family has remained the same.
"Fortunately for me, nothing has changed," he explains. "I've heard that has been an issue for a lot of people. It's divided families. For me, it hasn't at all with family and friends. Maybe I just don't have that many friends. For me, nothing has changed, but I also really try not to let this kind of stuff consume my life completely."
While Whibley used to start his day with coffee, breakfast and watching the news, he's now cut out the latter since finishing the record. He explains that despite wanting to stay up to date on current affairs, it's better for his headspace to just avoid everything for the moment.
"Since I've finished the record, I've went on a boycott of knowing anything in a way," he says. "It's hard because I want to stay engaged in what's going on in the world, but at the same time, I just wanted a break, and I haven't looked at anything and barely know anything that is going on, and it's such a funny and different world to live in when you don't know any of that stuff. All of a sudden, the whole world is great. In my world, the world is not falling apart."
Order In Decline drops July 19 via Hopeless Records. The band has already released "Out For Blood" and "A Death In The Family," and you can preorder the full album here. Sum 41 will be playing a number of festivals across North America this summer including Warped Tour 25 with dates and tickets here.
Sum 41 appear in AP #371 with cover stars the Driver Era. The issue is available for preorder now here and below.