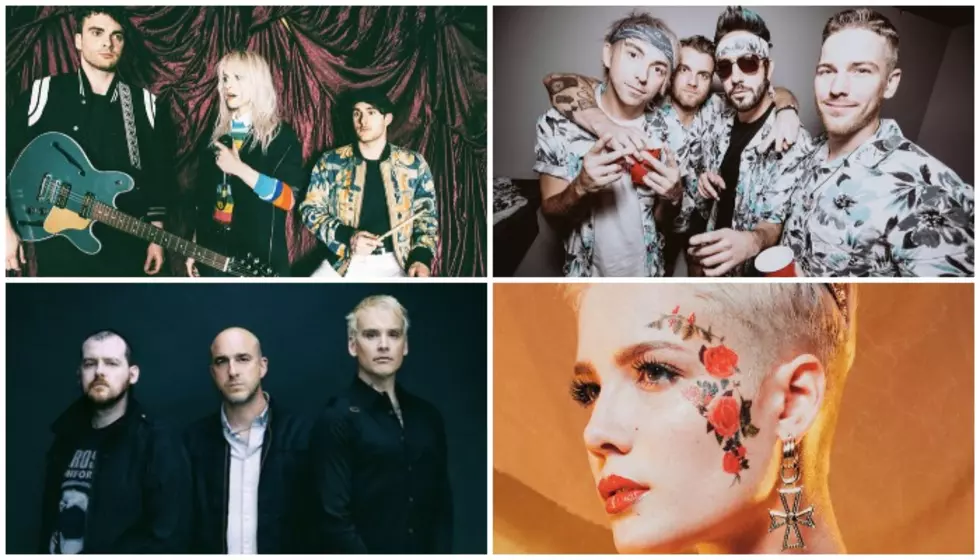 Top 15 songs to get you through your crappy summer job
[Photos via Spotify]
Whether your June to August is defined by bare feet on the beach or the sweltering heat behind the counter of your summer job, there's no denying the best part of summer is the soundtrack you put behind it. Here are 15 tracks to keep a smile on your face and the sweat off your forehead.
Though "The Beach" might seem like the more obvious choice for a summer jam off All Time Low's 2007 sophomore effort, "Vegas," like the lyrics suggest, is perfect for long, humid night drives with anyone who's ever meant anything to you. Here's one that will blow out your stereo speakers.  
2. Erra – "Orchid"
Erra's "Orchid" oozes with vibes of summer. While undeniably heavy, the song's soaring riffs and memorable melodies make it the perfect soundtrack for wasting away long summer days. This track, along with the rest of the band's latest album, Drift, is best described as "summercore."
Nothing says summer like Southern metal—and nobody does Southern metal better than Maylene And The Sons Of Disaster. "Tough As John Jacobs," a lick from the band's debut album, was made for lakeside grilling and shooting the breeze with your closest friends.
You might not think the dark and ominous Alkaline Trio would be the creators of a summer jam, but here's one anyway. This is the track that plays as you set off cruising into the darkness to find an adventure. What better lyrics to sing along to with your windows down on a warm summer night than "I can hardly wait until I feel the sun and your lips both pressing on my skin"?
Never Shout Never's "Hey! We OK" matches infectiously upbeat rhythms with catchy-as-hell lyrics. The song is essentially frontman Christofer Drew leading his devoted fans like a parade into the summer sunset, flying a tie-dyed flag, chanting "We're who we are/So don't think you can call us freaks, or geeks, or lame/We walk our own way!"
6. Circa Waves – "T-Shirt Weather"

Even if you don't like summer—just listening to "T-Shirt Weather" forces you to enjoy the unforgiving heat and long days for the song's three-minute duration. It doesn't matter if you're singing in the back seat trying to catch a wisp of air conditioning or if you're singing in your bedroom trying to chill out under a ceiling fan: "T-Shirt Weather" and its optimistic sound will get you through to the cool haven of fall.
7. Weezer – "Jacked Up"

Weezer's "Jacked Up" is a source of summer heartache. With vintage piano and stinging lyrics, the tune is meant for sticky ice cream and dimly lit movie theaters. This track, along with the rest of Weezer's White Album, brings a summer essence to the scene.
Bear Hands' "2AM" begins with a quiet guitar intro and blooms into a mysterious anthem meant to be played at the title's time. With lyrics such as "I want to forget how old I am," the song pieces together the nostalgic feeling of leaving a night behind and eventually ending three-months of sunny freedom.
9. PUP – "Doubts"  
Got some rage to let out this summer? Scorned by a lost summer love, perhaps? Look no further. Prepare a bonfire with your friends and scream along to this angry banger.
10. The Maine – "Diet Soda Society"
The Maine's American Candy encapsulates everything summer is supposed to be—fun, easygoing and refreshing. "Diet Soda Society" gives us a bubbly, guitar-driven track that might actually be as invigorating as a thirst-quenching diet soda on a summer day.
11. Waterparks – "Peach (Lobotomy)"
Carefree whistles frame this track as a walk down the beach on a lazy Saturday. Waterparks' discography usually carries a summer flair, but "Peach (Lobotomy)" takes it a step further with a catchy, uplifting hook and warm guitar chords to bop your head to.
12. Palaye Royale – "Dying In A Hot Tub"
It's hard to label Palaye Royale as a summer band, but "Dying In A Hot Tub" carries the melancholy vibe of a warm night alone. While it might not make it on your pool party playlist, the track fits in as an unconventional picture of a vacation that many of us are all too familiar with.
13. Paramore – "Ain't It Fun"
Sometimes, it's better to just turn your brain off and let a song take you to a positive mindset. "Ain't It Fun" succeeds at that while providing good vibes to lead you through your crappy summer occupation.
14. YUNGBLUD – "California"
If you need some motivation during the lazy warmer months, YUNGBLUD's "California" is the ticket. A triumphant beat lead by a pestering piano line, this West Coast-inspired jam is perfect for getting that beach bod ready.
15. Halsey – "New Americana"
A rallying cry for American youth, Halsey's "New Americana" will turn your road trip into an adventure of self-discovery. The track will lead you through the mindset of a generation while referencing the usual suspects of summer.
[envira-gallery id="186668"]