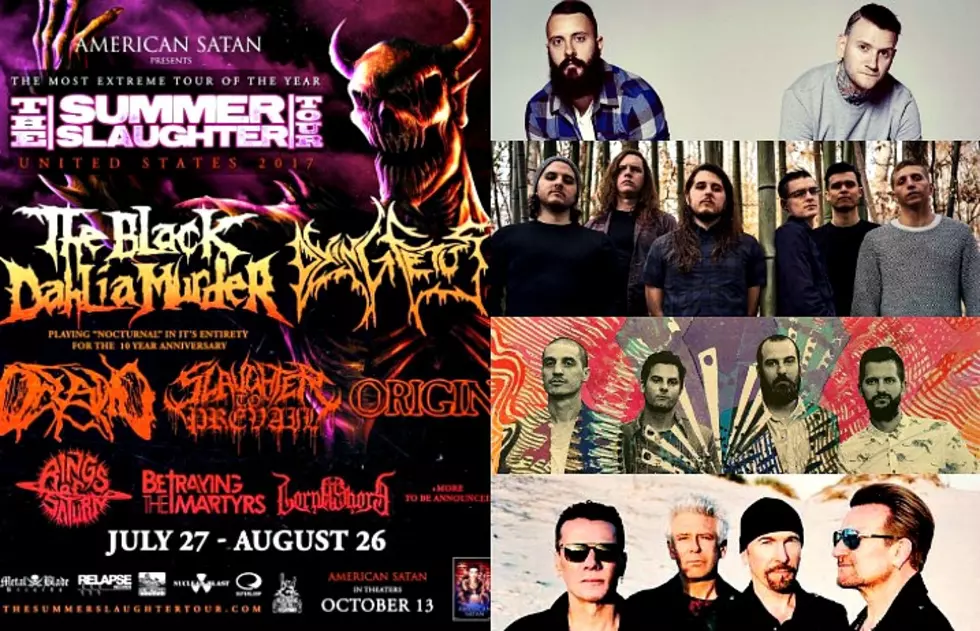 The Summer Slaughter Tour announces 2017 lineup and other news you might have missed today
Today, The Summer Slaughter Tour announced its lineup—plus new music videos from This Wild Life and the Contortionist! Check out the news you might have missed today below!
Read More: Have Mercy and Chase Huglin announce summer tour and other news you might have missed today
1. The Black Dahlia Murder and Dying Fetus will headline this year's Summer Slaughter Tour.
"The most extreme tour of the year" has unveiled its 2017 lineup and the concert series will feature a string of heavy hitters in the death metal genre.
Headliners the Black Dahlia Murder will be playing their album Nocturnal in full as the group celebrates its 10-year anniversary, and other acts include Dying Fetus, Oceano, Origin, Rings Of Saturn, and Lorna Shore.
The official announcement also states that one more "very exciting special guest" will be revealed this Friday, along with the cities, venues, and ticketing details. Check out the complete lineup announcement below.
The Summer Slaughter Tour 2017 Lineup: 
The Black Dahlia Murder

Dying Fetus

Oceano

Slaughter To Prevail

Origin

Rings Of Saturn

Betraying The Martyrs

Lorna Shore
* 1 remaining special guest to be announced
2. Mutemath have released a new single called "Hit Parade!"
Off of their upcoming new album Play Dead, electo-rock group Mutemath have released their anticipated new single, "Hit Parade."
Check out the new song below! 
3. U2 have extended their Joshua Tree 30th Anniversary tour!
Due to critical acclaim and incredible fan reception, U2 The Joshua Tree Tour 2017 has been extended, adding arena dates in the United States, Mexico, and South America.
The tour follows the conclusion of the original North American run, which will conclude on July 1, with the legendary rock band then heading over to Europe to celebrate overseas.
The return to North America will be signified with its first stop in Detroit, MI, where U2 played their first-ever arena show 30 years ago in the Silverdome on the original Joshua Tree tour. 
Noel Gallagher's High Flying Birds have also been announced as direct support in Mexico and South America. Check out the full list of new tour dates here:
3-September                       Detroit, MI                                          Ford Field  

5-September                       Buffalo, NY                                         New Era Field 

8-September                       Minneapolis, MN                                 US Bank Stadium 

10-September                     Indianapolis, IN                                   Lucas Oil Stadium

12-September                     Kansas City, MO                                 Arrowhead Stadium

16-September                     St. Louis, MO                The Dome At America's Center

22-September                     San Diego, CA                                    Qualcomm Stadium

3-October                            Mexico City, Mexico                           Foro Sol

7-October                            Bogota, Columbia,                             Estadio El Campin

10-October                          Buenos Aires, Argentina                     La Plata 

14-October                          Santiago, Chile                                   Estadio Nacional 

19-October                          Sao Paulo, Brazil                                Morumbi Stadium
Read More: Here's a song Panic! At The Disco wrote for the 'SpongeBob Squarepants' musical
4. The Contortionist have announced a new album—plus they've debuted a video for a new song!
The Contortionist have announced their new album Clairvoyant, and they also premiered its first single "Reimagined" over at Billboard.
The record will arrive September 15 on Entertainment One Music/Music Good Fight Music, and is produced by Jamie King, who also worked with the group on their previous album, Language.
"On album and stage, between the art's presentation, zealous and even forceful sonic immersion, and interpretable lyrical and visual metaphor, we are attempting to bring the listener deeper into the world and musical language of The Contortionist," says keyboardist Eric Guenther. "'Reimagined' struck everyone simply as the most truthful and sincere place to start in this new universe." 
Watch the entrancing new video for "Reimagined" below!
5. And finally today, This Wild Life have put out a previously unreleased track!
Originally written during the duo's recording of Low Tides, "Break Me" is a new track that This Wild Life knew would get its own individual release.
Vocalist and guitarist Kevin Jordan had the following to say regarding the tune:
"Lyrically this song touches on my tendency to be a serial monogamist even when I'm not emotionally happy in a relationship. I've been outright shitty to people in an attempt to make them cut me off, because I know I can't possibly do it myself. When I find myself in this cycle, I do more harm to myself and my loved ones through continuing a physical relationship when the emotional connection has long but faded."
Watch the new music video for "Break Me" below, and catch This Wild Life on their summer headining tour at the dates found below!
This Wild Life summer tour dates:
7/1            Sacramento, CA                Goldfield

7/2            Portland, OR                     Mission Theater

7/3            Seattle, WA                       Crocodile

7/6            Salt Lake City, UT             Kilby Court

7/7            Denver, CO                       Bluebird Theater

7/9            Milwaukee, WI                   Milwaukee Summerfest

7/10          Burnsville, MN                   The Garage

7/11          Chicago, IL                        Lincoln Hall

7/12          Cleveland, OH                   Mahall's

7/14          Detroit, MI                          Shelter

7/15          Toronto, ON                      Velvet Underground

7/16          Montreal, QC                     Astral

7/18          Boston, MA                        Sinclair

7/19          New York, NY                    Bowery Ballroom

7/20          Philadelphia, PA                Foundry @ Fillmore

7/21          Washington, DC                Rock n Roll Hotel

7/22          Chapel Hill, NC                  Local 506

7/23          Nashville, TN                     High Watt

7/25          Atlanta, GA                        Masquerade - Hell

7/27          Dallas, TX                          Club Dada

7/28          Tulsa, OK                          The Vanguard

7/29          Austin, TX                          Stubb's Jr.

7/30          San Antonio, TX                Papertiger - Small Room

8/1            Phoenix, AZ                       The Rebel Lounge

8/2            Santa Ana, CA                  Constellation Room

8/3            San Diego, CA                  The Holding Company

8/5            Las Vegas, NV                  Red Rock Casino Resort - Rock Lounge
Australia w/ Mayday Parade
10/12   Sydney, NSW             Enmore Theatre

10/13   Melbourne, VIC           170 Russell

10/14   Melbourne, VIC           Arrow On Swanston

10/15   Brisbane, QLD            Eatons Hill Hotel

10/17   Adelaide, SA               The Gov

10/18   Perth, WA                   Metro City
Watch More: APTV Interviews: SCOTT LEWIS of CARNIFEX in London, UK