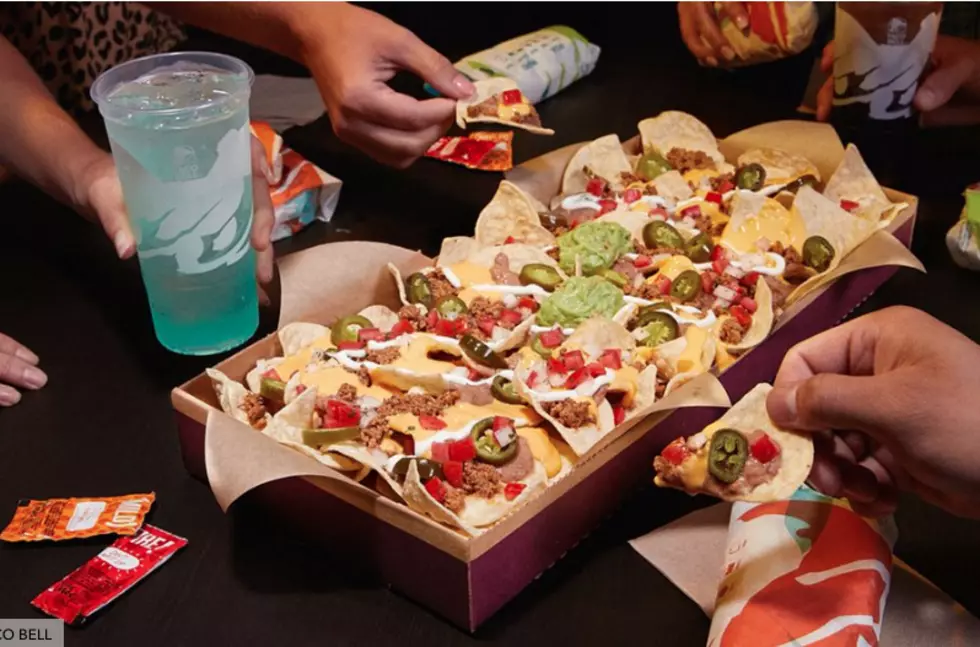 Taco Bell testing giant party nacho pack for only $8
[photo via Taco Bell]
Taco Bell has unveiled a new menu item that will make it way easier (and cheaper) to feed a big crowd of people. 
This week, the fast food company announced it's testing out a Nacho Party Pack that is basically one giant box of chips smothered in cheese and toppings. 
As if it couldn't get any better, the massive nachos only cost $7.99. 
The nachos are topped with seasoned beef, refried beans, nacho cheese sauce, sour cream, pico de gallo, guacamole and jalapeños, so they're pretty loaded. 
As previously stated, this item is only being tested for now in the Birmingham, Alabama area. However, hopefully the testing goes well so we can have a massive nacho party with all of our friends. 
You can see what the party pack of nachos looks like below. 
In case you couldn't get any more good news about Taco Bell, the chain has an offer where you can get a free bean burrito until the middle of next month. Sign. Us. Up. 
In order to receive the offer, all you have to do is spend $5 or more online or on the app when you place an order for pick-up. The offer is available now through Oct. 17. 
The humble bean burrito should not be overlooked — you have a tortilla filled with refried beans, onions, red sauce and cheese. The best part is if you're vegetarian, you don't have to miss out on the free burrito fun either. 
Speaking of vegetarian, Taco Bell just launched a new and improved vegetarian menu. 
Taco Bell already featured more than a few vegetarian options on their menu. But, the fast-food chain released two new items to its dedicated and permanent vegetarian menu. The all-new Black Bean Crunchwrap Supreme and Black Bean Quesarito will join nine other vegetarian options to represent non-meat eaters very well.
"At Taco Bell, we believe that vegetarian food shouldn't be a compromise; it shouldn't be limited to one item, and it shouldn't be just for vegetarians,"  Liz Matthews, Taco Bell's Global Chief Food Innovation Officer says.
"For years, we've consistently proven that our vegetarian menu options are so craveable that even non-vegetarians unknowingly go veggie because they just love the taste. We're committed to building on this insight and plan to further innovate in this growing space."
Taco Bell was also the first and only quick-service restaurant certified by the American Vegetarian Association in 2015. 
So go ahead and skip on down to your local Taco Bell and check out the new menu items. While you're there, if you're a non-vegetarian, try the Toasted Cheddar Chalupa. The taco has cheddar cheese baked into the shell. Are you hungry yet?
What do you think of Taco Bell testing out a gigantic nacho pack? Sound off in the comments down below!
[envira-gallery id="197607"]