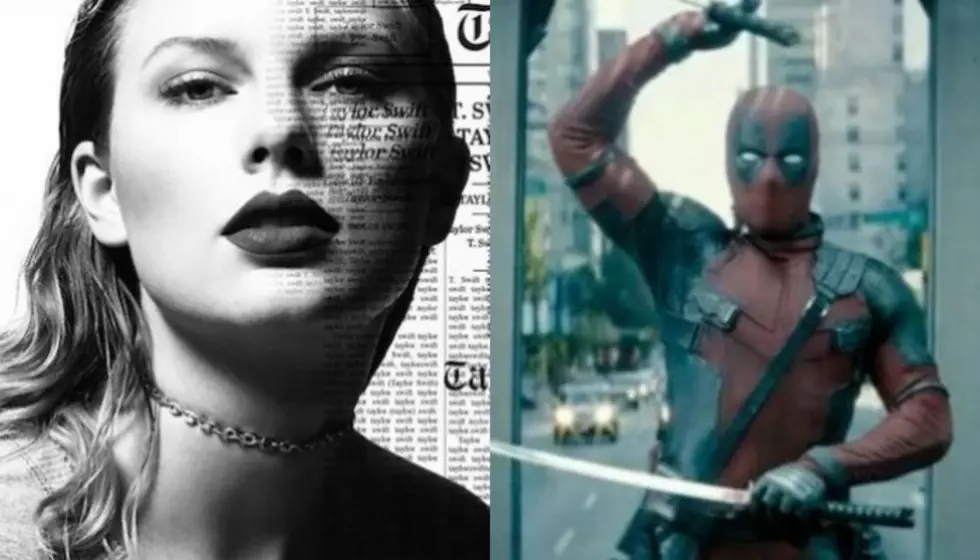 Is Ryan Reynolds giving Deadpool a nod in Taylor Swift's video?
[Photo: Deadpool/20th Century Fox]
Taylor Swift dropped a music video for her new song "You Need To Calm Down" featuring plenty of LGBTQ+ pride, a few of our scene favorites and a little appearance from Deadpool
A few days ago, Swift dropped the track and announced that a star-studded video was coming.
"
Asked a few friends to be in the You Need To Calm Down video," Swift wrote. Those friends included
Ryan Reynolds
,
Adore Delano
,
Adam Lambert
and several other notable LGBTQ+ celebrities, drag queens and more.
First up in the video we see Lambert giving
Ellen DeGeneres
a tattoo that says "Cruel Summer" which is pretty much everything.
Then, Adore Delano appears alongside many other popular drag queens include
RuPaul
. The queens are each supposed to represent pop stars, with Delano dressing as
Katy Perry.
As we know, Swift is a big fan of the movie. She went as the character for Halloween,
even borrowing Reynolds' real suit
cats made a celebrity appearance
Deadpool 2. 
Reynolds' appearance could be a nod to when Deadpool dressed up as Bob Ross and did a little painting. You can see that video below.
It could be possible that the actor is paying homage to artist Norman Rockwell and teasing Deadpool 3 in the process. One fan made this connection on Twitter.
Other notable people in the video include the entire cast of Queer Eyes, Hayley Kiyoto, Laverne Cox and many more. This also includes Perry, who Swift has now officially squashed her long-term beef with by dropping the video.
You can watch the whole video for "You Need To Calm Down" below.
At the end of the video, Swift encourages fans to sign her petition for Senate support of the Equality Act.
"Let's show our pride by demanding that, on a national level, our laws truly treat all of our citizens equally," the video reads at the end.
You can read more about the petition here.
After the video dropped, Swift encouraged all her more than 83 million Twitter followers to support those who appeared in the video.
The song comes from Swift's upcoming album Lover, out August 23. It's the second single she's released from the album, with the first being "ME!" featuring Panic! At The Disco frontman Brendon Urie. You can see the video for "ME!" below and preorder her album here.
More Taylor Swift news
Knocked Loose are gearing up to drop their next album A Different Shade of Blue on Aug. 23.
As announced today, that just so happens to be the same day pop giant Taylor Swift will release her next album, Lover.
Knocked Loose vocalist Bryan Garris took notice of this, and had some words for the pop star.
"Hey
@taylorswift13
, big fan. Looks like we (
@knockedloose
) are releasing an album on the same day this year… August 23rd. Let's see who sells more first week. Good luck," he wrote.
There were definitely some Swifties in the replies who were not happy with the tweet, but we think the entire thing is hilarious. We're all just waiting on that response from Swift to see if she's up for the challenge.
What do you think about Taylor Swift's latest video? Sound off in the comments below!
[envira-gallery id="186695"]