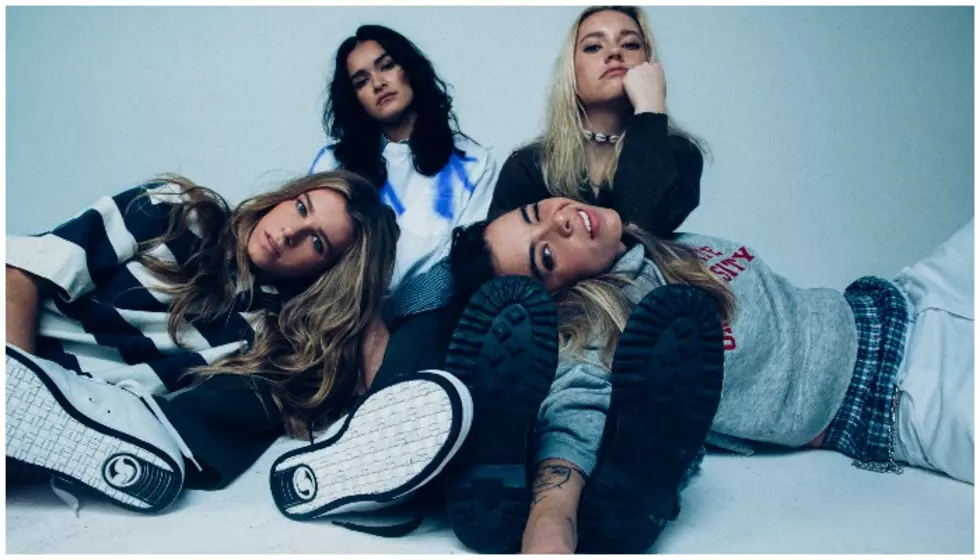 Watch the Aces break their small-town mold in "801" music video
[Photo: The Aces/Red Bull Records]
For indie-pop act the Aces, growing up in Provo, Utah, shaped them into who they are, but living in this place didn't always feel right for them. They explore these feelings in their new music video "801."
Masked with matching leather jackets, the Aces wreak havoc in their small town and intentionally don't show their faces once throughout the shoot. The dark and stunning visuals are accompanied by airy background vocals and groovy bass riffs. The track has already racked up more than 1 million streams on Spotify after just having debuted in July from the band's sophomore album, Under My Influence, which also features the fan-favorite song "Daydream."
European fans can get excited as the quartet have dates scheduled for shows in 2021. Tickets and dates are available here.
Alternative Press had the chance to catch up with the Aces drummer Alisa Ramirez, who also directed the music video for "801." Check out the music video and full interview below discussing all things directing and what the band are looking forward to in 2021.
You directed this music video in its entirety. How did you prepare to take on this position? What was the most challenging part about directing a music video for your own band? What was the most exciting or surprising thing you learned while directing?
I direct almost all of our videos, so it wasn't the first time. But directing videos for my band is easier because I'm so involved with the music. I write the songs with Cristal [Ramirez], and I'm involved in the creative process all the way through. So knowing that inside info about the song gives me an advantage when it comes to writing the treatment and getting ready to direct the video because I know all the layers to it. I know what kind of visual and what kind of narrative it will need and what will make sense. Directing the girls is fun because I know them so well, and I know how to direct them. There's not a lot of pressure because I know how to communicate with them and get the performances out of them that I need.
I've learned so much about how directing works and what goes into making films. I came into it when I was young. I directed our first video when I was 17 for "Stuck," and it was really exciting, but I realized it requires a lot of moving parts to make a video. I didn't realize when I was younger how many people have to be involved with something to make it really good. I've learned a lot about all the different positions and exactly what they do to execute a video. So, I feel like I learn every time I do a new video, and that's what I like about it. I feel like it just really stretches me creatively.
What influenced the rebellious aesthetic in the video? Did any real-life events inspire ideas for it? If yes, which experiences helped you along the way? Did you experience any challenges when working with the fire in the video? 
Our whole upbringing inspired the video. "801" is very personal to us and is about how we felt growing up in our society. We came from Utah, the 801, which is a very conservative and small area. We don't fit the mold of small-town people, and as artists, we were very different from everyone around us. We felt like we were always the black sheep, and we were in the shadows. What we did was always in secret and at night in the dark, so that's where a lot of that inspiration came from. I think we've always felt like rebels 'cause we've broken out of the mold of what we were raised to be.
We actually had an amazing pyrotechnic team that handled everything. They got all that ready and prepared, so I just had to stroll up on set, shoot and direct. It was really streamlined and turned out great. I want to do more stuff with fire now that I know I have this cool team to work with.
All four members of the Aces did grow up in Utah, of course. How did the lyrics and visuals work together to authentically share your message and experiences about "growing up in the 801"?
I feel like the video is a great representation of how it felt to grow up there. Obviously, there are some people that grew up there and really loved and identify with the culture. But I feel like all of us felt a bit like a square peg in a round hole when it came to the stereotypical Utah culture. We were always a few degrees off that. That's why we intentionally decided to show that visually through the video.
You released your second album, Under My Influence, in July. In what ways have you grown as an artist personally and as a group since your 2017 EP release? 
I think we've grown a lot. We've matured through life experience, growing up, growing more into who we are as people and just learning more about the world. We started this band when we were kids and gained perspective from touring and traveling, especially living through a year like this, through all the stuff that has been happening politically and globally. All that combined influences the art. I feel it's been a natural progression. Growing up and experiencing more and getting better at articulating ourselves has been a key component to getting us to where we are now as artists.
What are you most looking forward to in 2021? 
The possibility of touring. That's the dream. Also, more new music. One good thing that's come from 2020 is that since we didn't tour, we were able to dive in and make more music. We're going to just keep putting stuff out, which is exciting.
Stay up to date with the Aces and all of their new releases via Twitter, Instagram and Facebook.