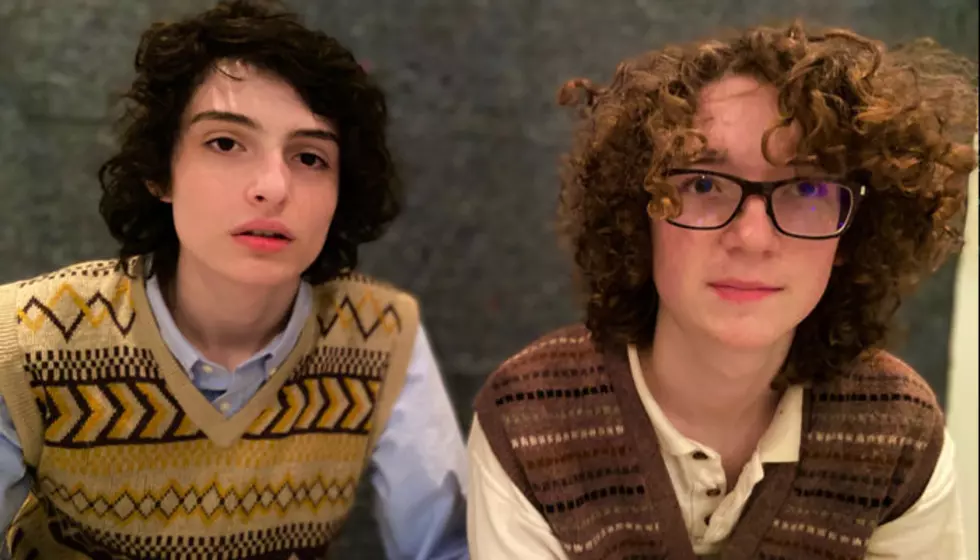 The Aubreys have finished recording their debut studio album
[Photo via Spotify]
Fans of the Aubreys are a little bit closer to finally hearing their debut full-length album. On April 1, frontman Finn Wolfhard and drummer Malcolm Craig confirmed that they've officially finished recording their new LP.
The duo took to social media to share some behind-the-scenes moments of them working on the new material at Palisade Studios with engineer Andrew Humphrey. Twin Peaks vocalist/guitarist Cadien Lake James and vocalist/keyboardist Colin Croom also worked on the upcoming record.
Wolfhard and Craig entered the studio to begin work on the Aubreys' debut full-length last month. On March 21, they shared two photos of them in deep studio discussions as well as a video of Craig jamming with Croom on drums.
"It has begun," the Aubreys say on Instagram.
 

View this post on Instagram

 
Then, on April 1, both Wolfhard and Craig revealed on Instagram that the recording process for the album is complete. Wolfhard posted a photo of the two of them thanking everyone involved in the recording process.
"[The Aubreys] thank [Andrew Humphrey] and [Palisade Studios] plus [Cadien Lake James] and [Colin Croom] because baby we are wrapped on recording our first LP," Wolfhard says on Instagram. "Thank you tacos, thank you Yoyo Ma's cousin—see everybody outside again real soon."
 

View this post on Instagram

 
Wolfhard and Craig have already collaborated with James, Croom and Humphrey in the past. Before Wolfhard and Craig called it quits with Calpurnia in 2019, James and Humphrey produced the band's 2018 EP Scout. As well, Croom plays piano on tracks such as "Greyhound," "Louie" and "City Boy."
When Wolfhard and Craig went on to form the Aubreys, they ended up joining forces with James and Humphrey again. Humphrey mixed and produced their three-track 2020 EP Soda & Pie. On the EP, James plays the iconic guitar solo heard on "Loved One." More recently, James went on to mix "No Offerings," the Aubreys' new collab with Lunar Vacation that was released in January.
This week, Craig also shared a slew of behind-the-scenes photos and videos from their time in the studio. The first is a video of James behind the microphone, hinting that his vocals may be included on the upcoming record. Craig's post also includes photos of Wolfhard in front of the mixing board and getting ready to record some guitar parts. 
 

View this post on Instagram

 
Earlier this year, Wolfhard exclusively told Alternative Press that the Aubreys knew they wanted to team up with their familiar production team for this debut LP.
"As of now, it's me, Malcolm, Colin Croom, who's another songwriter and an amazing mixer and producer in Chicago, and Andrew Humphrey, who is also an incredible producer and mixer," Wolfhard tells Alternative Press. "Previously, Colin, Cadien and Andrew produced our EP for Calpurnia. So we've known them for a long time, and they're the perfect people, I think, to do this kind of debut with."
Although the Aubreys have just finished recording their debut album, Wolfhard previously told Alternative Press that new music will be arriving sometime in 2021.
"What's great about what we do is we can release singles whenever," he tells Alternative Press. "So no matter what, we'll have music coming out this year."
More on the Aubreys
Over the past year, the Aubreys have released plenty of singles for fans. All of the way back in September, they dropped an entertaining video for "Smoke Bomb." For the visual, Wolfhard and Craig took inspiration from some of the most iconic scenes from horror movies such as The Shining, Jaws, Child's Play and Nightmare On Elm Street.
As it turns out, "Smoke Bomb" was actually mixed by Wolfhard's Stranger Things co-star Joe Keery and engineer Adam Thein. Previously, Wolfhard revealed to Alternative Press how "Smoke Bomb" ended up in Keery and Thein's hands. 
"Joe said, 'Hey, I've been trying to get better at mixing. If you ever have anything that you want me to mix, I'd love to hear it,'" Wolfhard tells Alternative Press. "So he works with a guy named Adam Thein. Adam and Joe just did incredible things with the song and came up with the demo talk. Joe was like, 'Hey, you guys, do this thing. Pretend like it's a demo and we'll add some tape stops.' So that was their idea. They did stuff with the sound of the song that we didn't think was possible."
So far, the Aubreys have debuted two new tracks in 2021. In January, they dropped "No Offerings," their new collab with Lunar Vacation. The track offers a haunting perspective on dealing with loneliness as you're trying to find your way through life. Previously, Wolfhard revealed to Alternative Press why the Aubreys decided to team up with Lunar Vacation for their first-ever collaboration.
"I think what was amazing about doing this song is if we were to collaborate with someone first, it would be Grace [Repasky] and Maggie [Geeslin] of Lunar Vacation because they were one of the first bands ever to open for our other band Calpurnia," Wolfhard tells Alternative Press. "It's not like I discovered them or anything, but I found them on a college radio station, and it had like 400 views or something like that, and we became best friends. We send each other tracks all the time just as friends. I sent them this piano track, and then it just became really organic. I'm friends with them already, and I've been playing music with them as friends for a while. It was a really natural thing."
On Valentine's Day, the Aubreys also released their funky surf rock track "Sand In My Bed." For the new song, the Aubreys teamed back up with Lunar Vacation who make a cameo at the end of the track. Additionally, "Sand In My Bed" was co-mixed by Keery and Thien and produced by Heba Kadry.
What are your reactions to the Aubreys finishing their debut album? Let us know in the comments below.