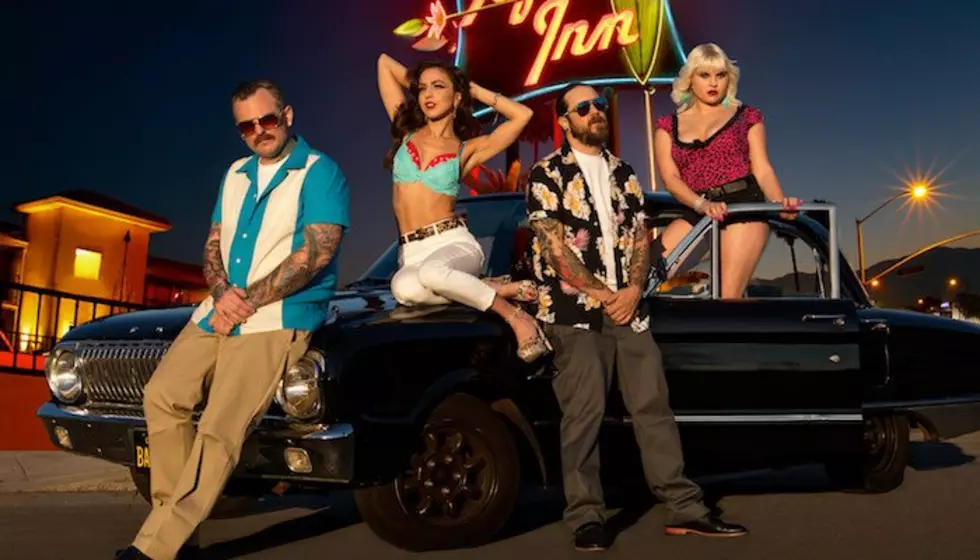 The Bombpops deliver fun, scary, life-affirming video—watch
[Photo by: Alexia Carroll]
Los Angeles-based buzzsaw pop-punks the Bombpops are ready to own you, your devices and 2020. Today, AltPress is premiering the video for "Double Arrows Down," the next track from their second album, Death In Venice Beach. Is it cool? Overwhelmingly. Is it real life? Or is it just fantasy? That's for them to know and the rest of the world to find out.
"'Double Arrows Down'" is a song I had wanted to write for a while," vocalist/guitarist Poli Van Dam reveals, "but it's always been so difficult to really face it and hit the nail on the head. Diabetes is a frustrating, relentless disease. I hope fellow diabetics or anybody going through a rough circumstance can relate. We all want to give up sometimes, and I think that's OK to admit."
In the video, Van Dam is going through some hellish medical procedures. The rest of her team—guitarist/vocalist Jen Razavi, bassist Neil Wayne and drummer Josh Lewis—are summoned from various parts of the world. Their job is to rescue Van Dam from her evil captors in time for the next gig. And they succeed. Or maybe they don't?
It's another taste of amped-up, ramped-up goodness from the band whose collective vocabulary lacks the word "disappoint." Death In Venice Beach comes out on Fat Wreck Chords March 13 with preorders available now. Razavi describes the album as "a love letter to the city of Los Angeles. But it's a love letter to the dark side of Los Angeles." Produced by the triumvirate of Yotam Ben Horin (Useless ID), Fat Mike (NOFX) and Chris Fogal (The Gamits), the new Bombpops rec will surely be on your year-end list.
One more thing: For those of you in touch with your inner Waldo and Carmen Sandiego, watch closely. Members of a well-respected punk band make a cameo appearance in "Double Arrows Down." Let us know what you think in the comments below. After you rock the eff out to the Bombpops...
The Bombpops are hitting the road this spring with MakeWar, Tightwire, Pass Away and Billy Liar. Tickets are available here with dates below.
Dates:
03/19 – Minneapolis, MN @ 7th St Entry ^
03/20 – Madison, WI @ BarleyPop Live ^
03/21 – Chicago, IL @ Reggie's ^
03/22 – Cleveland, OH @ Beachland Ballroom ^
03/24 – Detroit, MI @ Loving Touch ^
03/25 – London, ON @ Call The Office ^ 
03/26 – Toronto, ON @ Bovine Sex Club ^
03/27 – Montreal, QC @ Turbo Haus ^
03/28 – Boston, MA @ Hong Kong*
03/29 – Asbury Park, NJ @ AP Brewery*
03/30 – Norfolk, VA @ The Taphouse*
03/31 – Baltimore, MD @ Sidebar*
04/01 – Altoona, PA @McGarvey's*
04/02 – Philadelphia, PA @ Kung Fu Neck Tie*
04/03 – Pittsburgh, PA @ Smiling Moose*
04/04 – Brooklyn, NY @ Saint Vitus*
* with MakeWar, Pass Away
^ with Tightwire, Billy Liar