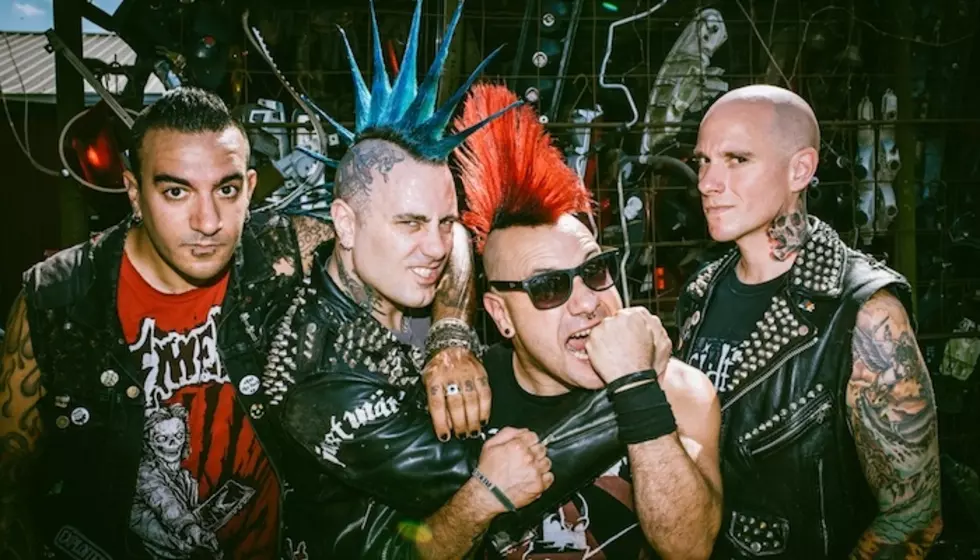 The Casualties take aim at President Trump in new music video
[Photo by: Cecilia Alejandra Blair]
Punk has always been deeply rooted in politics, and the Casualties are making sure it stays that way in their latest video for "Borders."
With a clear, pointed message at President Donald Trump's controversial immigration policies, the band spits venom through intense visuals and border statistics.
Showing facts on deaths and child separation before propelling into their high-octane anthem, the band makes their message loud and clear with bolded onscreen lyrics.
In an effort to show their raw, uncensored feelings, frontman David Rodriguez was anything but shy about the band's political standing on an issue that "cuts to the bone."
"We're not holding back on how we feel about Trump," Rodriguez says. "This is [a] lyrical machine gun fire pointed right between the eyes of this asshole and anyone who follows him. The video is visually and musically a protest song of our generation and we've had enough. Fuck your President and fuck your wall."
Check out the new video below.
Following a run through Europe on their Until Death… We Will Fight tour, the band joins Strung Out on their fall U.S. tour. Tickets for are on sale now with a full list of dates below.
Dates:
09/18 – Ybor, FL @ Crowbar
09/19 – Gainesville, FL @ The Wooly
09/20 – West Palm Beach, FL @ Respectable Street
09/21 – Jacksonville, FL @ 1904 Music Hall
09/22 – Atlanta, GA @ The Earl
09/24 – Wilmington, NC @ Reggie's 42nd St.Tavern
09/25 – Virginia Beach, VA @ The Bunker
09/26 – Baltimore, MD @ Otto Bar
09/27 – Asbury Park, NJ @ Asbury Lanes
09/28 – NYC, NY @ Le Poisson Rouge
09/29 – Boston, MA @ Brighton Music Hall
10/01 – Portland, ME @ Port City Music Hall
10/02 – Montreal, QC @ Club Soda
10/03 – Quebec City, QC @ La Source
10/04 – Ottawa, ON @ The 27 Club
10/05 – Toronto, ON @ The Opera House
10/06 – London, ON @ Rum Runners
10/08 – Pittsburgh, PA, US @ Crafthouse Stage and Grill
10/09 – Detroit, MI @ Small's
10/10 – Chicago, IL @ Cobra Lounge
10/11 – St. Paul, MN @ Turf Club
10/12 – Omaha, NE @ The Waiting Room
10/13 – Englewood, CO @ Gothic Theatre
10/31 – Portland, OR @ Hawthorne Theatre
11/01 – Vancouver, BC @ Rickshaw Theatre
11/02 – Seattle, WA @ El Corazon
11/03 – Boise, ID @ The Olympic
11/04 – Salt Lake City, UT @ Metro Music Hall
11/08 – Dallas, TX @ Three Links
11/09 – Corpus Christi, TX @ House of Rock
11/10 – Austin, TX @ Come and Take It Live
11/12 – Scottsdale, AZ @ Pub Rock
11/13 – Las Vegas, NV @ Dive Bar
11/14 – San Diego, CA @ Irenic
11/15 – Santa Barbara, CA @ SOhO
11/16 – Sacramento, CA @ Holy Diver
11/17 – San Francisco, CA @ Slim's
11/19 – Fresno, CA @ Strummer's
11/20 – Morro Bay, CA, US @ The Siren
11/21 – Lancaster, CA @ American Legion
11/22 – Garden Grove, CA @ Garden Amphitheater
11/23 – Los Angeles, CA @ El Rey Theatre
[envira-gallery id="195377"]