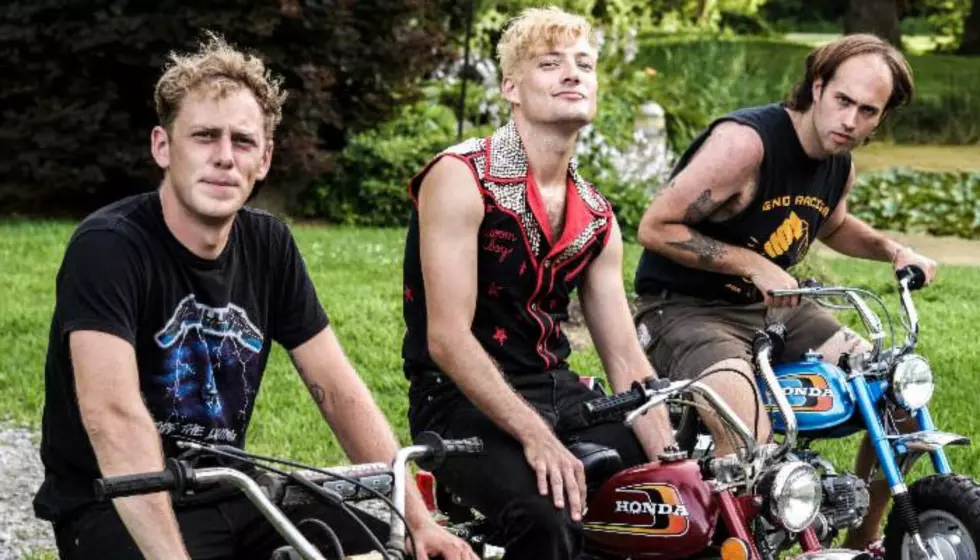 The Dirty Nil tried to keep their girlfriends from hearing this song
Call it luck, commitment or having their own pew in the high Church Of Rock 'N' Roll. Toronto rock dudes the Dirty Nil are making things happen in all the best ways. They finished their impending album, Fuck Art, during lockdown, having lived together for five years, thereby creating their own bubble to write and rehearse. Out of that situation came the video for "Blunt Force Concussion," the new song Alternative Press is premiering today. 
When asked if "Blunt Force Concussion" is the pinnacle of songs detailing extreme fear of commitment, frontman/guitarist Luke Bentham couldn't lie. "I think so," he says. "It's about the fear one experiences tumbling down the greasy hill of love. Whenever we take on the subject of love, I think we do it with a certain amount of sarcasm and nihilism. And this is probably the ultimate distillation of our feelings toward the fear of commitment." When asked if their girlfriends had heard the song, Bentham replied, "We all have very lovely girlfriends that are very patient with our stupid asses. I think we kept that one under wraps for when the general public hears it. And we can all suffer the consequences together. That's OK. We're buying flowers in advance."
Bentham discusses the interesting times we're living in and a few other things. Like recording under quarantine and over Zoom and how you can possibly market an album with a throbbing, glistening f-bomb in its title. 
The last time I saw you, you were rocking a bowling alley in Cleveland, Ohio.
[Exuberantly.] Yes! I was just thinking about that show! That was a fun show. This entire year has made me reflect on the last few shows that we got to play, and that was one of them. I remember us talking and being like, "Well, we'll see you early next year." And then, here we are.
This is a good place to start. The records are great, but the Dirty Nil are very much a live band, as well. Do you feel like a limb has been removed? How are you feeling about not being able to rock out and play gigs?
Well, I will say that the existential crisis has been somewhat alleviated by how busy we are and pouring ourselves into promoting our upcoming album, Fuck Art, through the available means. I certainly really miss playing shows. But we're working super-hard on alternative methods of promoting it. I think there's going to be a real weirdness feeling because we'd hit the road real hard right now, playing select gigs across the States and overseas festivals. I'm anticipating it's going to wear very heavily on me next year as soon as our record comes out.
When is it coming out?
New Year's Day. There are no rules anymore, Jason.
Sorry about that. Thanks for reminding me, though. You filmed the video for "Blunt Force Concussion" at the Phoenix Concert Theatre in Toronto in front of no one.
It's a place where we've played a lot of great shows. We played a beautiful sold-out show there when we were on our last tour. So we decided that we would play our whole new record front-to-back with nobody there. It was an extended soundcheck almost but with us doing our high kicks, banter and all that stuff. So it's been a surreal approximation of shows this year. But better than nothing. 
I like how you overdubbed the crowd noise at the end of the video. That was a nice touch. And, being the polite gentlemen that you are, you all look like you're six feet away from each other. So you got that social distancing thing happening.
Fortunately enough, we all live together, so we're all in the same bubble. We've been living together for five years now, like one of those cartoon bands. So this set of circumstances was definitely very sympathetic to getting the work done during this entire pandemic. We were in the same house, so we could continue working together and making a racket. When [the pandemic] kicked off in March, we were halfway through making our record, so we had to scramble and make new plans to make it. So it was very fortuitous that we're all living together so we could react to opportunities as they presented themselves. 
How did you finish it?
What happened was our producer John Goodmanson had to fly back to Seattle on the last flight out of Canada. We just had drums and bass up to that point. I was faced with the option of "Well, you can push pause on this until circumstances allow for us to continue. Or you have two days before the entire city locks down, so you can try and get all the guitars done in the two days." And I opted for that with just an engineer. We got it done right at midnight and collapsed exhaustively in each other's arms, laughing like two insane people. Then over the course of April, we just did the vocals from home and sent them to John in Seattle, and he produced us over Zoom. When there's a Nil, there's a way.
The Dirty Nil have this great thing going on. It's raw like Nirvana, tuneful like the Replacements and the lyrics feel like Morrissey's snottiest nephews. It's a distillation of stuff that is familiar, but it's not in this context. Rock 'n' roll is your comfy couch.
I think that's a very good way of putting it. I appreciate the high compliment. We pride ourselves on having ultimate mobility with whatever we feel like doing and whatever we feel like incorporating into our music. Whether that's Poison or the Fall, or Def Leppard or GG Allin, whatever we feel like doing. We like to have a lot of fun.
Our music is generated the old-fashioned way. We bash things out together for about a year in a small concrete box. The object of that is to make each other laugh with a funny part or a funny lyric or a funny riff. And if people are all smiling and laughing, then that's what we go with.
I think a more contemporary way of making music is to generate a bit of an idea and then have a producer hold your hand and put it together for you in the studio, and then you get what you get. And it's got a lot of sampled drums on it, and you didn't really have to invest a hell of a lot of time or energy or arguments or anything like that into it. You just get what you get. And we are completely opposed to anything like that. I'm very suspicious of any workflow that involves less effort than what we're previously used to putting in. 
I gave you my breakdown of the Dirty Nil's DNA. I'm wondering who are the Dirty Nil's fans? You're not on the conveyor belt of pop punk or post-hardcore, but you're not Pitchfork darlings, either. What other bands' patches are on the battle jackets of Dirty Nil fans?
That's a very good question. The people our music has really resonated strongest with are people who seem to be confused and amused by what we do with both our music and the presentation of it. I think there are other bands like some of our peers like PUP and the Hold Steady. Those kinds of fans have been sympathetic to our sounds. It's been a strange thing because with that mobility, the cost you pay for that is people having a hard time putting you into one category of music, which is tougher to introduce your music to the average fan because it's harder to classify.
To me, we're just a rock 'n' roll band that have zero fear and try to troll as many aspects of the world of music as possible. But one of the things that we've heard is that it's difficult to put us on playlists. We don't follow formulas that way. So the mobility that we enjoy comes at a little bit of a cost, I would say. But I wouldn't trade it for the world. We've gone this far in our career just doing exactly what the hell we wanted to do. And I don't think that's ever gonna change.
The new album's called Fuck Art, which doesn't sound like a particularly commercial title. Are you making a commentary, or are you just saying, well, "fuck it"?
The way that all came about was that I was taking community painting classes with my mom and my sister. It was very casual, mostly an older crowd of people learning how to do basic watercolor. There was one gentleman at the very back of the room, 70 years old. He just kept complaining the entire time. The teacher was trying to be very, very patient with him. At some point, he just said, "Fuck art" while the whole class was silent. And it absolutely broke my brain. I laughed for like two days.
I told the band that, and everybody looked in each other's faces with this wild-eyed grin. And we just started chanting "Fuck art" because it made us so happy to say. And that became the title right there. It's just a great battle flag to charge under.  
There's also a little bit of a commentary in that about the posturing of our art. And what "cool" is, which I think is central to our band. You know, we never really fit in with the cool bands in our area. We just did our own thing. And there's a lot of mediocrity under the banner of art, so this is our charming response to it.
Noted. Anything you want to end on?
I would like to add that I know things are really, really, really crazy and weird right now. But don't despair out there because things always have a way of evening out. It's still a wonderful time to be alive, despite the fact that everything's fucked up. Don't look at your phone too much. That's one of the things that this album's about. Smashing your cellphone and getting outside and looking at the birds in the trees. And not falling victim to the cycle of depression that technology wants us to feel. One of the ultimate messages of this record is to enjoy your silly little life while you've got it. 
Indeed. And wear a mask.
[Loudly.] Wear a mask. Don't be a dick. 
Check out the new Dirty Nil video below.