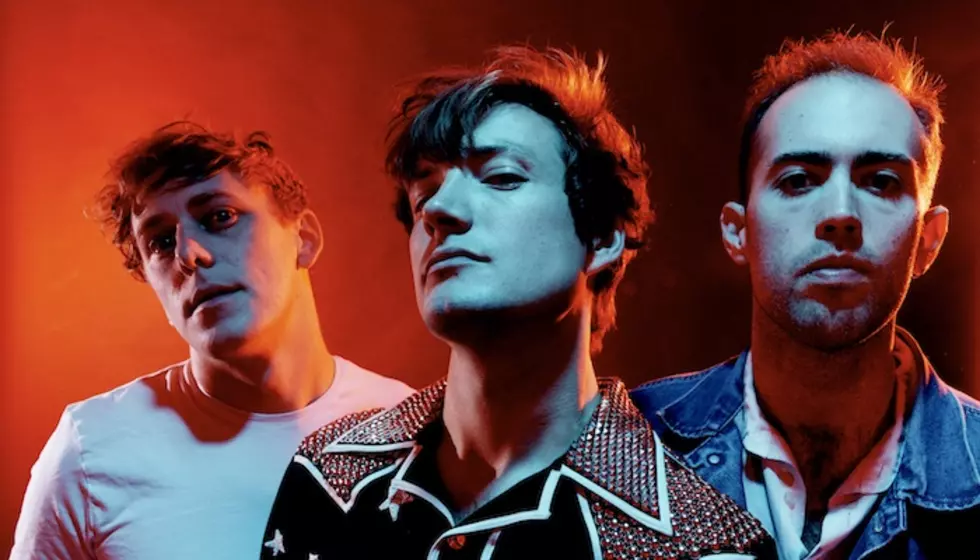 The Dirty Nil threw a party and a video broke out for "Idiot Victory"
The Dirty Nil, the greatest band to ever come out of Canada (possibly the whole fuckin' North American continent), have anointed AP with the honor of premiering the video for their new track, "Idiot Victory."
According to vocalist/guitarist Luke Bentham, the song started out as a stylized choreography number that would make the world's boy bands run back to the supermarkets to get their old jobs back. Actually, we may have embellished a bit.
"The video began as a choreographed dance concept and bloomed into a showcase of Nil fans who possess alternative talents," he says. "Through the contributions of these fantastic folks, I feel the song has taken on its ultimate meaning of jubilance and flying one's freak flag high."
These alternative talents Bentham speaks of may include (but are certainly not limited to) crab-walking yoga enthusiasts, marshmallow manipulators, hula-hoop aesthetes, glam-rock sax players and French bulldogs aspiring to be Tony Hawk. But we're onto the Nil's scam: The video looks like one amazing party, and somewhere in the middle, someone said, "We should be filming this." Which is precisely what the song is about—living your best life.
"The song was inspired by the constant sight of everyone on their cellphones, head down and engaging in their own electronic world," Bentham says. "I thought it would be a funny premise to have a person trying to destroy a cellphone tower in a desperate attempt to divert his partner's attention away from their phone. 'Idiot Victory' in this example is the triumph of this cellphone tower assailant. I liked the title because of its ambiguity. It's a mixture of triumphant underdog and a celebration of all things strange. We obviously participate—and actually love—social media, but like everyone, we're aware of some of its more glaring issues. Sometimes you should just live your goddamn life instead of trying to capture it."
The song is included in the deluxe reissue of their gloriously fab Master Volume album, which will rule magnificently over all the content on your preferred DSP. It was a track that, says the band, "deserves its own moment to fucking shine."
Watch the vid and make your day 80% better. And go see the Dirty Nil when they play your hemisphere this fall. Because the only thing the Dirty Nil can't do is take Carly Rae Jepsen in a fight. Tickets are available here with dates below.

Dates:
10/03 – St Louis, MO @ Firebird*
10/04 – Des Moines, IA @ Vaudeville Mews*
10/05 – St. Paul, MN @ Amsterdam Bar & Grill*
10/07 – Denver, CO @ Larimer Lounge*
10/08 – Billings, MT @ Yellowstone Valley Brewing*
10/10 – Seattle, WA @ The Crocodile*
10/11 – Vancouver, BC @ The Biltmore*
10/13 – Portland, OR @ Doug Fir Lounge*
10/15 – Sacramento, CA @ Holy Diver*
10/16 – Berkeley, CA @ Cornerstone Berkeley*
10/17 – Felton, CA @ Felton Music Hall*
10/19 – Los Angeles, CA @ Teragram Ballroom*
10/22 – Bristol, UK @ The Fleece^
10/24 – Glasgow, UK @ St Luke's^
10/25 – Manchester, UK @ Gorilla^
10/26 – London, UK @ Electric Ballroom^
10/27 – Cologne, DE @ Essigfabrik^
10/29 – Hamburg, DE @ Markthalle^
10/30 – Berlin, DE @ SO36^
10/31 – Munich, DE @ Technikum^
11/01 – Wels, AT @ SBAM Fest Fall Edition 2^

11/20 – London, ON @ London Concert Theatre#
11/21 – Detroit, MI @ The Shelter#
11/22 – Toledo, OH @ Ottawa Tavern#
11/23 – Chicago, IL @ Cobra Lounge#
11/28 – Toronto, ON @ Phoenix Concert Theatre#
11/29 – Ottawa, ON @ Babylon#
11/30 – Montreal, QC @ Petit Campus#
12/01 – Somerville, MA @ ONCE Ballroom#
12/03 – Brooklyn, NY @ Rough Trade#
12/06 – Washington, DC @ DC9#
12/07 – Philadelphia, PA @ Voltage Lounge#
12/11 – Columbus, OH @ The Basement#
12/12 – Lakewood, OH @ Mahall's#

* with White Reaper
^ with the Bouncing Souls
# with Single Mothers