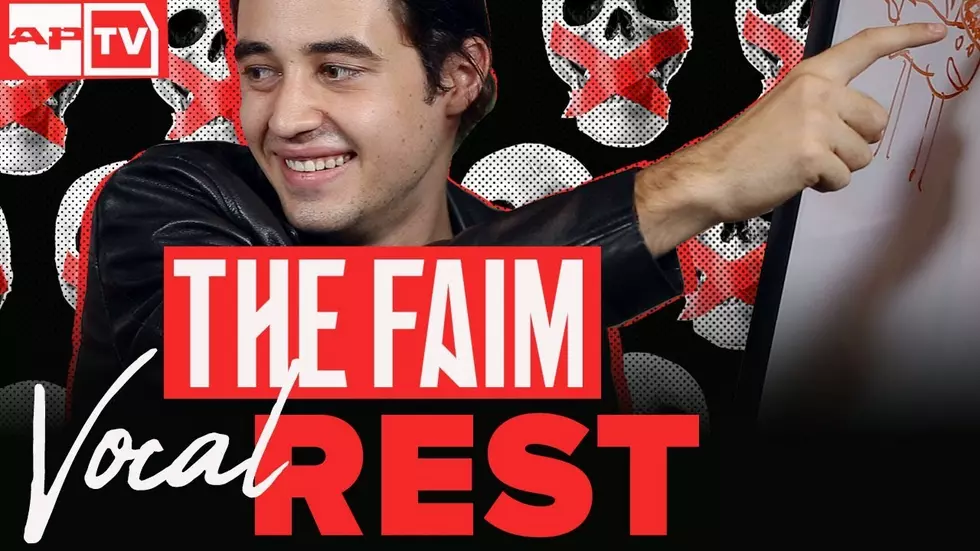 The Faim call it a draw, guiding their frontman through APTV's Vocal Rest
Right out of the box, the Faim did pretty damn good in America this year. On their RCA debut album State Of Mind, the Australian blokes delivered songs that straddled the line between perfunctory pop and the modern-rock hits that drive-time listeners could get positively captivated by.
The Faim also had a ton of fun and laughs here in the States, opening up for artists such as Stand Atlantic, as well as the mighty Andy Black. (In fact, Faim bassist Stephen Beerkens supplied some really great keyboard work on Black's second solo album, The Ghost Of Ohio.) During a moment of quality-hang downtime, the Faim—Beerkens, vocalist Josh Raven, guitarist Sam Tye and drummer Linden Marissen—stopped by the APTV studio to smile (and draw) for the cameras.
As the cameras were running, Raven was officially told to zip it in order to play Vocal Rest, our "whiteboard charades" game. The singer then rendered his best rock 'n' roll cave paintings in the hopes his bandmates could answer the questions put forth by APTV. Those questions include the names of Raven's top desert island discs; his favorite lyrics from State Of Mind; who he'd like the Faim to be confused for; his choices for his final meal on death row; and what tour he'd love the Faim to be on. (Points off if you too guessed "Metallicar.")  
Raven's philosophy toward the whole game? "It's not how you draw but what you draw," he says just prior to letting down his bandmates massively with what looks to be a drawing of an insect. Or was it supposed to be a dog? Or a farm animal? When it comes to APTV's Vocal Rest, let's just call it a draw, OK?