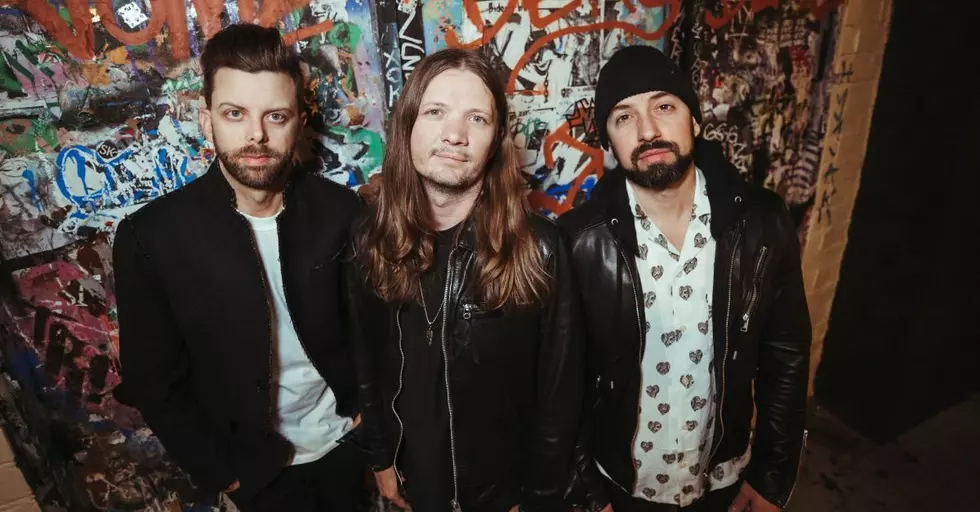 The Higher break down Elvis in Wonderland, their comeback EP after a 12-year hiatus
[Photo by Alex Bemis]
Las Vegas-based pop-rock group the Higher have always stuck out in a historically oversaturated genre. The band rose to prominence with their 2007 sophomore album On Fire, a collection of songs that fit with the Warped Tour crowd while seamlessly fusing genres such as R&B and funk to create their signature sound. During this time, the band also decided to lean on their Vegas roots, incorporating neon lights and casino imagery into their videos and photo shoots. The Higher went on to tour alongside major acts such as We The Kings and Motion City Soundtrack before releasing their final album in 2009, It's Only Natural. Now the Higher are reemerging after a 12-year hiatus to release their stunning new EP, Elvis in Wonderland, a fresh batch of material that contains the band's classic DNA, diverse sounds and their allegiance to Vegas.
Read more: How the Callous Daoboys ramped up the chaos and catchiness with Celebrity Therapist
On the EP's lead single "Free Ride," the Higher have proved once again that they know their way around a strong chorus while penning witty lyrics that'll stay in your head for days. Original members Seth Trotter (vocals) and Robert "Reggie" Ragan (guitar) have never sounded more in sync, and the resulting EP reflects a labor of love that's both tailor-made for die-hard fans and progressive enough to reach a whole new audience.
The Higher have such a distinct sound where you incorporate everything from R&B, funk and emo. With that being said, what went into developing your signature sound?
SETH TROTTER: We all listen to a bit of everything. Myself and Reggie listen to a lot of R&B, and we definitely still listen to the bands that are similar to our genre, but we usually like something that has a little more funk to it. We didn't go into it saying, "This is how we wanted to sound." We just wrote the songs and sounds that came to us. With us being '90s babies, we grew up on boy bands, and a lot of that got brought into the mix to go into the pop-rock emo sound that was prevalent in the scene that we were in. 
Your hometown of Las Vegas has always been a central part of your imagery and lyrics. What is it about the city that continues to inspire you so much? 
TROTTER: We go off the vibes that Vegas gives. When you live here, you get to see the city in a different light than a lot of people get to see. We lived it day in, day out. Vegas is the land of debauchery to celebrate and escape, which I will even say the title track "Elvis in Wonderland" is about. It's about getting lost in the debauchery and lost in the moment while trying to have the best night of your life. 
ROBERT "REGGIE" RAGAN: Adding on to that, the On Fire record was when we really started to embrace Vegas as a theme in the music, and I think that had to do with touring, going to other cities and realizing that we live in a really great city. 
[Photo by Alex Bemis]
Seth, if I'm not mistaken, you perform on Freemont Street in Vegas quite often with a cover band, right? 
TROTTER: I do the cover band thing all the time. It's something that happened after our band [went on hiatus] because I wanted to keep singing. It's fun to experience the people you run into, and it's just a different world. We do everything from top 40 '90s stuff and hip-hop to classic rock. 
Elvis in Wonderland is your first new music in over 12 years. What was the journey like? 
TROTTER: It was very collaborative, and that has always been in our DNA. With this record, each song was written by a collaborative group of our bandmates, old bandmates and our producers. What's great about this new record is that COVID inspired the band to reunite. We all had this time where we weren't working, but were all writing separately and decided to meet up together in LA to see what would come. We wrote probably an album's worth of music and took the best five that we felt were the most finished products, and I will say that all of these songs are cohesive with that the Higher sound but also different. 
What did it feel like to get back into a jam space together for the first time in so long? 
TROTTER: We felt really old. [Laughs.] 
RAGAN: In all seriousness, it felt good. It was like riding a bicycle. We all were just ready to get these ideas to the finish line. "Free Ride" was done in 10 hours. 
What are you looking forward to most about your upcoming tour this fall with your scene counterparts Anarbor? 
RAGAN: Seeing old faces. We have so many fans that have been hitting us up on Instagram, so we're just excited to see the old fans coming out. Anarbor is gonna draw people, and we're excited to also make new fans. 
TROTTER: We're both big fans of Anarbor, so when the opportunity came, we knew it was a perfect fit for us. I think our band still has that sound that will draw some of the newer fans while also giving a rebirth to the Higher's older music as well.
Can you recall the most surreal moment you experienced in your career? 
RAGAN: We were playing a show in Tokyo, and myself and the drummer were walking around in Shibuya. There was a big video board up with music videos playing, and I remember saying, "Wouldn't it be cool if we were up there?" Literally, it was like somebody heard me and our video popped up. This was like 2007 so I didn't have a smartphone to take a video of it, but we were literally on the biggest screen in the most populated area of Tokyo. 
TROTTER: The screen was on the three-story Tower Records. Just seeing our CD on the endcap with the cardboard cutouts, we really felt like we came a long way.