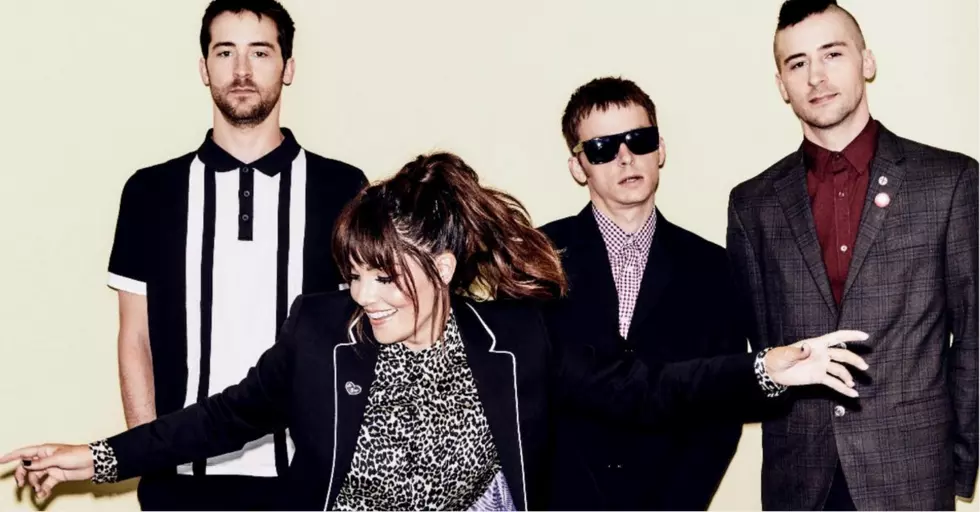 Listen to the Interrupters' lovable ska team-up "As We Live"
[Photo by Jimmy Fontaine]
Following hot on the heels of their last release, the Interrupters are back with another dose of ska goodness. "As We Live" is a love letter to the genre made all the more heartfelt with features from Tim Armstrong and Rhoda Dakar.
The Interrupters' new album, In The Wild, drops Aug. 5 via Hellcat/Epitaph Records.
Read more: The Interrupters preview In The Wild with new single "Jailbird"
On "As We Live," Aimee Interrupter leads the charge with her two predecessors close behind. Their voices are remarkably distinct, and each coaxes a different element of their accompaniment to the fore. Aimee's bright delivery imparts a slightly eerie quality onto the backing vocals, whereas Armstrong's gruff register makes each guitar hit that much more iridescent.
The Interrupters are currently in the midst of their co-headlining tour with Flogging Molly. Look below for tour dates, and get your tickets here.
Listen to "As We Live" below.
The Interrupters 2022 tour dates
08/07 – Tilburg, NL @ Poppodium 013*
08/08 – Lokeren, BE @ Lokerse Feesten*
08/09 – Cologne, DE @ Live Music Hall*
08/11 – Tolmin, SI @ PUNK ROCK HOLIDAY 2022*
08/13 – Linz, AT @ Tabakfabrik Linz*
08/16 – Berlin, DE @ Huxleys Neue Welt*
08/17 – Hamburg, DE @ Markthalle*
08/20 – Tiverton, UK @ Beautiful Days Festival 2022*
09/09 – Denver, CO @ Mission Ballroom Outdoors
09/10 – Dillon, CO @ Dillon Amphitheater
09/11 – Salt Lake City, UT @ Complex Outdoors - The Lot
09/13 – Bonner, MT @ KettleHouse Amphitheater
09/14 – Boise, ID @ Ford Idaho Center Amphitheater
09/16 – Eugene, OR @ Cuthbert Amphitheater
09/17 – Seattle, WA @ WaMu Theater
09/21 – Paso Robles, CA @ Vina Robles Amphitheatre
09/23 – Chula Vista, CA @ North Island Credit Union
09/24 – Irvine, CA @ Five Point Amphitheatre
09/25 – Las Vegas, CA @ Mandalay Bay Beach Stage
*The Interrupters will appear in the U.K. and various festivals separate from the Flogging Molly co-headline tour