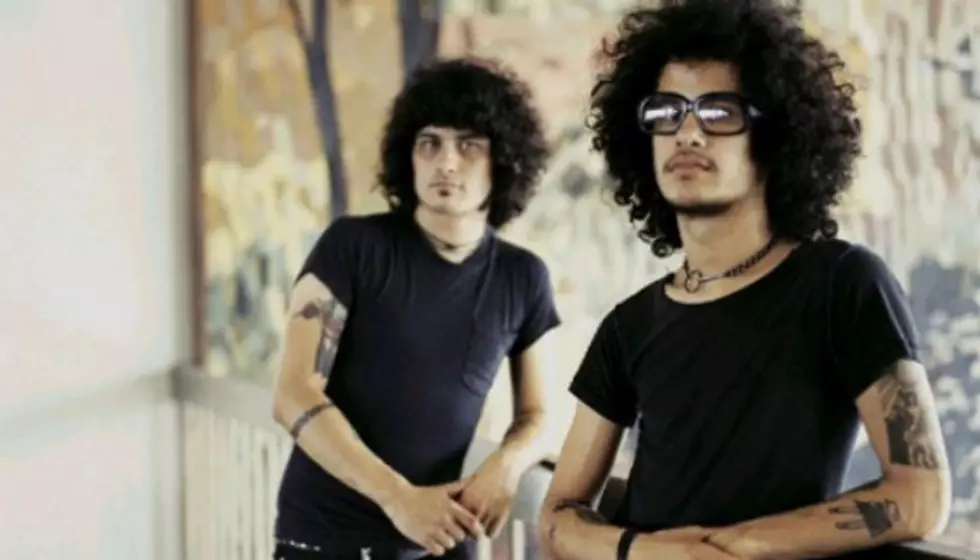 The Mars Volta return to debut album era with "Inertiatic ESP" demo—listen
The Mars Volta are treating fans to the ultimate throwback this week. As part of their upcoming box set collection La Realidad De Los Sueños, they have released an early demo of "Inertiatic ESP."
The track originally appeared on the Mars Volta's 2003 debut album De-Loused In The Comatorium. Prior to the LP's release, the band recorded various demos that they have now decided to share with fans. 
Earlier this month, the Mars Volta launched preorders for their box set La Realidad De Los Sueños that includes 18 vinyl pressings that span their entire career. Among these is the massive release Landscape Tantrums, a collection of unfinished early demos from the De-Loused In The Comatorium recording sessions. The $479 box set doesn't arrive until April 23, but fans were clearly eager to get their hands on it. According to Rolling Stone, all 5,000 copies of the limited edition box set sold out almost instantly in the U.S.
Now, the Mars Volta are giving fans a taste of the upcoming release. On Friday, they debuted an early demo of "Inertiatic ESP," one of eight tracks included on Landscape Tantrums. The collection of unfinished demos was created before the Mars Volta teamed up with legendary producer Rick Rubin who co-produced their debut LP alongside guitarist Omar Rodríguez-Lopéz. 
Rodríguez-Lopéz has been personally storing these rare recordings over the years. However, he felt now was the right time for the demos to finally have a release date.
"It is the right time to open these recordings up to the public," he said in a statement via Rolling Stone. "As a work of art in its own right, this set also needs to be seen as the end of a story."
The raw audio and unpolished finish make it clear this "Inertiatic ESP" recording is a demo. However, it still closely resembles the final track that appears on De-Loused In The Comatorium. Lead singer Cedric Bixler-Zavala's signature vocals still dominate the song while the powerful drums and memorable progressive rock breakdown in the bridge are completely intact. Ultimately, the "Inertiatic ESP" demo proves that the Mars Volta didn't tweak much between the early stages and final recording of "Inertiatic ESP."
"Inertiatic ESP (Unfinished Original Recording Of De-Loused In The Comatorium)" and the final album version of "Inertiatic ESP" are available to stream below.
Earlier this month, Clouds Hill's Johan Scheerer, who produced La Realidad De Los Sueños, told Rolling Stone that these Landscape Tantrums recordings show a whole new side to Rodríguez-Lopéz. 
"Anyone listening to these tracks will get a glimpse into that time, into Omar's soul," Scheerer told Rolling Stone. "It is a central part of the band's history. The recordings prove just how much this band had to share, even so soon after its founding."
Rodríguez-Lopéz and Clouds Hill oversaw all of the details for the anthology box set. Along with the 18 different vinyl discs, La Realidad De Los Sueños also includes an exclusive behind-the-scenes photography book and two pins. Within the De-Loused In The Comatorium material are two unreleased songs from the album sessions: "A Plague Upon Your Hissing Children" and "Eunuch Provocateur." 
Although "A Plague Upon Your Hissing Children" was never released, lyrics and melodies from the track can be heard on the 2006 track "Days Of The Baphomets." Meanwhile, "Eunuch Provocateur" previously came out in a different form on the 2002 Tremulant EP.
The box set officially arrives April 23 via Clouds Hill, and more information can be found here.
Landscape Tantrums tracklisting
1. Roulette Dares (The Haunt Of)"
2. "Son Et Lumière"
3. "Inertiatic ESP"
4. "Drunkship Of Lanterns"
5. "Eriatarka"
6. "This Apparatus Must Be Unearthed"
7. "Televators"
8. "Take The Veil Cerpin Taxt"
More on the Mars Volta
The Mars Volta went on hiatus after the release of their 2012 album Noctourniquet before finally breaking up in 2013. Then, in 2014, Rodríguez-Lopéz and Bixler-Zavala reunited to form the supergroup Antemasque with Red Hot Chili Peppers bassist Flea and release their debut self-titled album. In 2015, Bixler-Zavala teased that blink-182 drummer Travis Barker was featured on Antemasque's sophomore album SADDLE ON THE ATOM BOMB. Although the LP was never released, Barker did perform some of the unreleased material with Antemasque in 2015.
As well, in 2016, Rodríguez-Lopéz and Bixler-Zavala also joined forces with At The Drive-In again when the band came out of hiatus. They went on to release in•ter a•li•a, their first full-length album in 17 years, in 2017.
Over the years, there's been speculation that Rodríguez-Lopéz and Bixler-Zavala may bring back the Mars Volta. In 2016, Rodríguez-López told Rolling Stone he was hopeful a reunion could happen.
"At some point, we'd love to do [Mars Volta] again too," he told Rolling Stone. "There's so much to do there as well. Obviously now we're focused on At The Drive-In and making this record great and touring."
Then, in 2018, Bixler-Zavala tweeted that the project "will be back soon." The following year, he sent out another tweet confirming that the Mars Volta were reuniting. Shortly after, he also spilled on Twitter that they were working on new music before swiftly deleting the tweets. However, Rodríguez-Lopéz and Bixler-Zavala still have yet to reunite.
What are your reactions to the Mars Volta's "Inertiatic ESP" demo? Let us know in the comments below