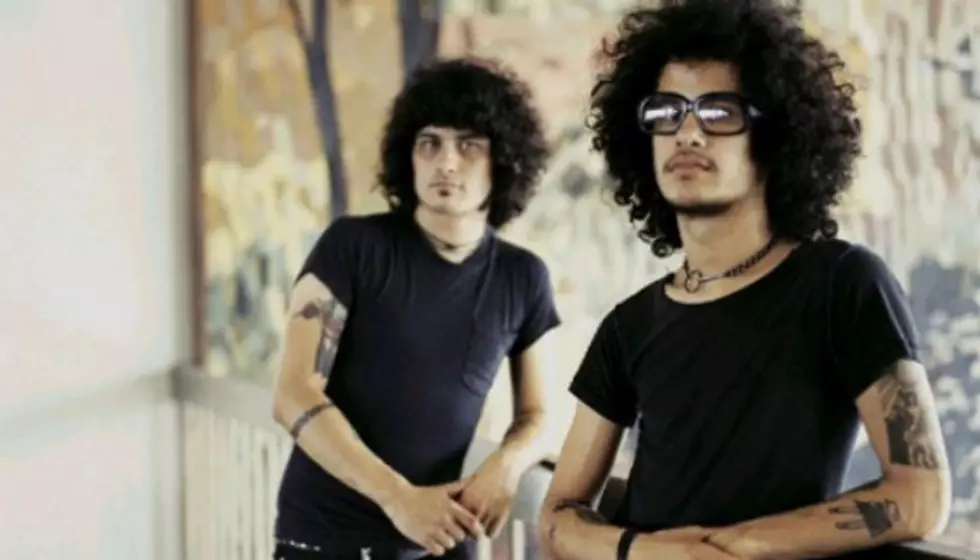 The Mars Volta reportedly working on new music according to deleted tweets
Cedric Bixler-Zavala sent The Mars Volta fans into a frenzy a few days ago when he tweeted that a reunion of the progressive rock band was "happening."
Last year, Bixler-Zavala said the band "would be back soon."
The Mars Volta broke up back in 2013 after frontman Bixler-Zavala and guitarist Omar Rodriguez-Lopez had a falling out. More recently (and after making up), the two musicians have been working on the resurrected At The Drive-In, their previous project before The Mars Volta formed.
At the time of the original breakup, Bixler-Zavala said in an official statement: "What am I suppose to do be some progressive house wife that's cool with watching their partner go fuck other bands? The falling out had been four years in the making, so the final announcement on my part was really just to let the children know that Mom and Dad were splitting up."
That being said, soon after the musicians were working together on another new project.
Back in 2016, Rodríguez-López told Rolling Stone he'd love a Mars Volta reunion: "At some point, we'd love to do [Mars Volta] again too. There's so much to do there as well. Obviously now we're focused on At the Drive-In and making this record great and touring."
Then, a few days ago,
Bixler-Zavala
shared a throwback
video of the duo on Twitter.
Then, a fan responded about how they longed for a reunion.
In a since-deleted tweet, the musician said that it is happening.
Now, in more since-deleted tweets, he gave a little more information, according to Pitchfork. He basically outlined what a reunion would look like and admitted Rodriguez-Lopez has started working on new music.
"What it's NOT going to be is your 'fav member lineup' playing their 'classic records' in full etc. Maybe we'll play old shit, who knows how we feel. Just remember out past campaigns never relied on playing requests of going full backwards."
"It's new shit, new people, left turns, tangent inconsistencies, mazapan dreams and churro wishes. I will say this though, when ORL played me a grip of new shit I fucking cried. Like Claire Daines in Romeo and Juliet cried."
"Yeah it was fucking weird. It's in its infancy right now. No deadlines, no ball tripping, no drama, just 2 grown ass men using essential oils and bold new perfumes shooting ideas and scooting their ass across the fucking lawn trying to get rid of these worms."
Who knows why he deleted the tweets, but hopefully, this means that we'll be getting new music. Also, maybe a possible performance during the campaign of Beto O'Rourke.
In case you have no idea what we're talking about, the democratic presidential candidate was previously in a band Foss with Bixler-Zavala.
The Mars Volta has been inactive since 2013, but that didn't stop someone from asking O'Rourke if he'd have the band play at his inauguration.
"We would be honored to have The Mars Volta play anything along the campaign or in the presidency," O'Rourke responded. "That group is one of the most talented collections of individuals, and I'm really proud that they're from El Paso."
We can't wait to hear what they have in store for us.
What do you think about a possible Mars Volta reunion? Sound off in the comments below!
[envira-gallery id="186695"]