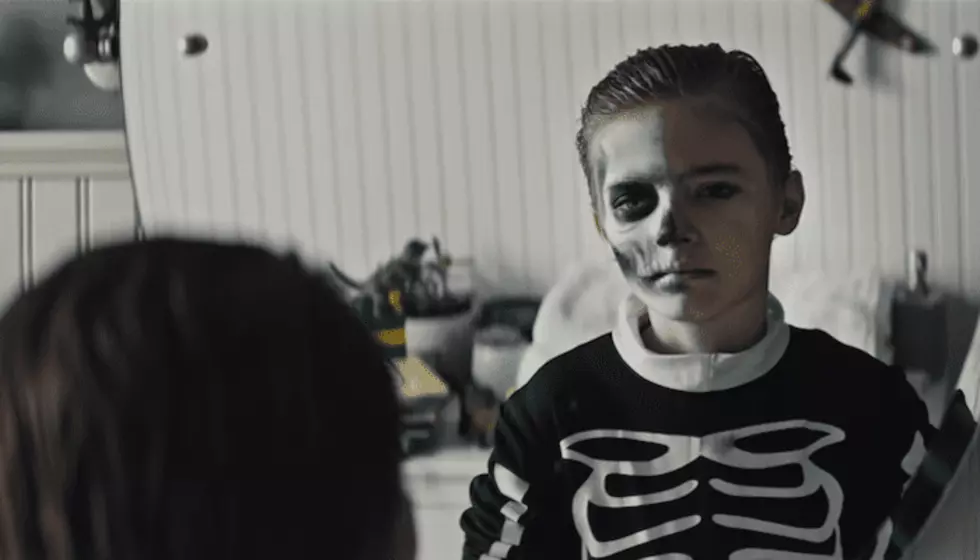 This horror movie's new poster will give you major goosebumps
[Photo via YouTube]
Back in October, The Prodigy debuted its first teaser ahead of the Halloween reboot. The great minds from Orion Pictures who released such films as The Belko Experiment (2017) and the iconic The Silence Of The Lambs (1991) later dropped the trailer online.
Now, following that creepy clip, we're seeing a new just as terrifying poster ahead of a second trailer, which will debut tomorrow.
The movie stars Taylor Schilling (Orange Is The New Black) as Sarah, mother to Miles, played by Jackson Robert Scott. Scott is most well-known as Georgie from 2017's horror-hit It.
He's trading his yellow raincoat, red balloon and boat in for horrifying skeleton face makeup reminiscent of Tate Langdon from American Horror Story.
The plot follows Sarah as she sees her son Miles demonstrate some behaviors that are anything but normal. Evil may be lurking in her son, but Sarah's motherly instincts cannot be stopped.
The film was reportedly so scary that director Nicholas McCarthy revealed he needed to make some edits.
"The first time we previewed the movie, there is a section where people screamed so loud that we had to go back and re-edit the scene that followed it, because people were still recovering from what they had just seen, and they were missing the dialogue," he shares.
This film will be in theaters everywhere Feb. 8, 2019 with a full trailer hitting the internet tomorrow.
The film's first teaser depicts Miles in a therapist's office who's speaking in a soothing voice to the sound of a metronome. Who knew a simple ticking sound could make your hair stand up?
Only those brave enough should proceed and watch what happens next. Hold your popcorn tight. The end of The Prodigy trailer might send it flying. Check it out below.
Do you think of The Prodigy looks scary? Sound off in the comments below!
[envira-gallery id="195048"]