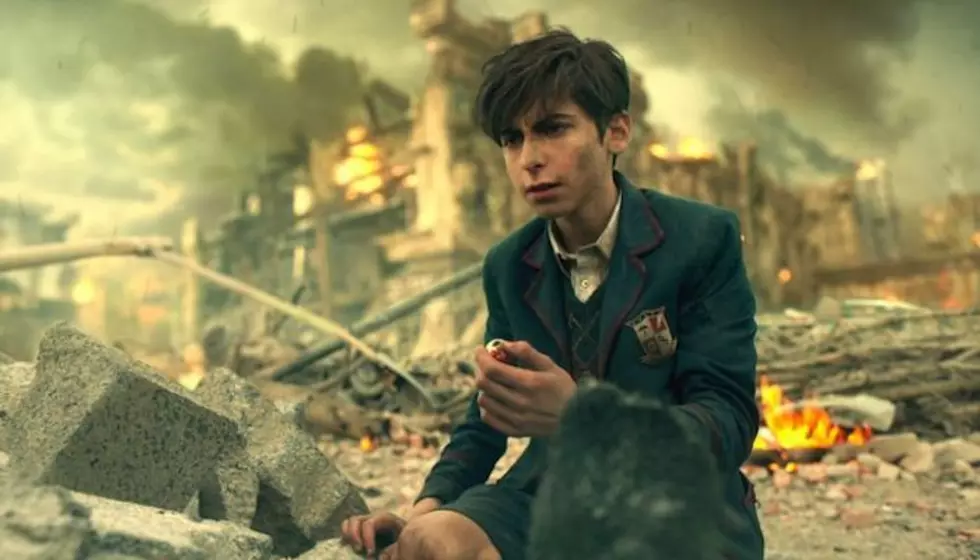 Fans are convinced this 'Umbrella Academy' teaser has a hidden message
[Photo via Netflix]
After an agonizingly cryptic tease on May 27, Netflix's The Umbrella Academy has unveiled what was in the pneumatic tube. Within, we've received our second look at the Hargreeves family for season 2. 
Back in February, we got a look at all of the Hargreeves' eyes in funky, arthouse posters. Now, we're getting to see everything else. 
If you're unfamiliar with The Umbrella Academy, then boy are you missing out. In summation, it's a comic book series-turned Netflix TV show based on My Chemical Romance frontman Gerard Way's comic. Sir Reginald Hargreeves adopts children and numbers them one through seven. The Hargreeves family learns how to control their powers and become the ultimate team: The Umbrella Academy.
The heroes as a whole also work through the secrets their adoptive father left behind for them and attempt to stop the impending apocalypse. 
Back in February, The Umbrella Academy gave us our first look at the band of misfits with some posters of their eyes. 
Then, we learned when season 2 of The Umbrella Academy would be hitting the small screen in a Tiffany "I Think We're Alone Now"- fueled dance video. 
Following that, The Umbrella Academy posted a pneumatic tube teaser saying that the Hargreeves were still missing and we would soon be receiving "time travel composites." 
Well, those are finally here and we get our second look at the Hargreeves family. 
In a series of posts, we get a look at everyone from numbers 1-7 and can now painstakingly look for any clues their outfits might tell us. See for yourself below. 
As you might have noticed, the characters' images were updated out of numerical order. It's especially noticeable on Twitter where they all were uploaded separately.  It went 6, 4, 3, 1, 2, 7, 5. This is most likely a clue as to their whereabouts or when-abouts. Either that, or whoever is running The Umbrella Academy's Twitter is bad at their job but we highly doubt it given the nature of this show.
In a recent interview with Comicbook.com, The Umbrella Academy's music composer, Jeff Russo explained that a big setting change is coming. He also went into how they're planning to approach incorporating music in the show revealing it will take a similar direction as season 1.
"Well, there's definitely a big change in setting, that's for sure," Russo says. "And we tried not to change too much the approach of how to tell the story musically. I mean, we used a lot of really great songs in season one. We're going to be using a lot of great songs in season two. We use score in a very meaningful way to support the emotional arcs of all of our characters in season one. We'll be doing that again in season two. There are some new characters that we're going to be having some fun with from a score perspective and that's always fun, coming up with new thematic ideas for new characters and how to underscore them. So there's a lot of new and then there's a lot of the same. It's a lot of both, but it's definitely a thrill ride this year."
The Umbrella Academy season 2 hits Netflix on July 31. We can't wait until then.
What do you think of the new images? Tell us any theories you might have in the comments below!
[envira-gallery id="195048"]