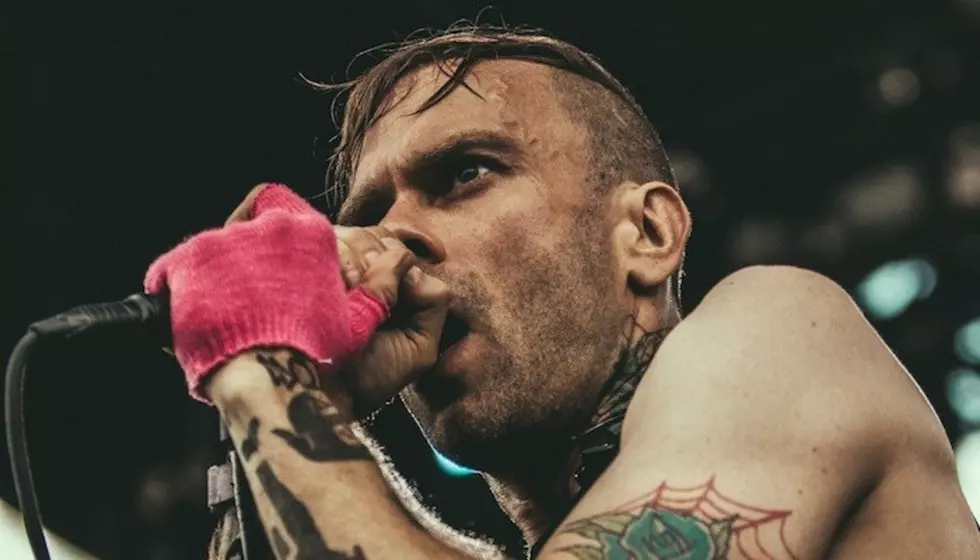 Top 10 Bert McCracken collabs every the Used fan needs to hear
[Photo by: Nick Prezioso]
Besides traveling the world and creating albums with the Used, Bert McCracken has also been known to dabble with collaborations. In fact, genre-blending musician Machine Gun Kelly recently confirmed the energetic frontman will appear on his debut pop-punk album.
To hold us over, and to celebrate McCracken's birthday, revisit some of his most iconic recorded and live collabs below.
1. The Veronicas – "Taste Of Ink" cover
McCracken joined Australian pop icons the Veronicas onstage at the Good Things Festival in Sydney this past December. Before breaking out in a wall of death during "Untouched," the energetic crowd assisted with a "Taste Of Ink" cover. The Used frontman begins the first verse before the sisters hop in to add their beautiful harmonies, adding an iconic twist to this timeless track. 
2. The Used – "Blow Me" featuring Jason Aalon Butler
Combining two of the most present and unrestrained frontmen for a vocal collaboration was a dream come true. FEVER 333 vocalist Jason Aalon Butler threw in a touch of his own charisma and angsty vocalization. The result perfectly blends with McCracken's iconic snarl for the first track shared off their pending collab-packed Heartwork out April 24.
3. Black Veil Brides – "Days Are Numbered"
Black Veil Brides recruited McCracken to assist with vocal duties on their third full-length record Wretched And Divine: The Story Of The Wild Ones. On "Days Are Numbered," McCracken echoes a very Lies For The Liars-era the Used as he croons alongside the classic BVB sound.
4. Linkin Park – "Faint"
The Used joined Linkin Park as support during the 2004 installment of their Projekt Revolution festival. The latter's hit "Faint" got a live makeover when McCracken joined the band onstage to add his signature screams.
5. Street Drum Corps – "Happy X-Mas (War is Over)"
Street Drums Corps, which features Sum 41 drummer Frank Zummo, teamed up with McCracken to turn John Lennon classic "Happy X-Mas (War is Over)" into an emo Christmas anthem. The group's collaborating didn't stop there as he joined them on Warped Tour around releasing In Love And Death. This iconic friendship is one that we hope offers more collabs down the road. 
6. The Distance – "At Least I'm Good At Something"
The Distance were a hardcore band out of Connecticut that requested McCracken's assistant on their 2006 album The Rise, The Fall & Everything In Between. The Used frontman appears on "At Least I'm Good At Something" with his iconic vocal range and occasional heartbroken aches.
7. The Used – "Heart-Shaped Box" featuring Anthony Green
In 2019, Circa Survive and Saosin frontman Anthony Green joined McCracken and the Used guitarist Joey Bradford onstage during an Emo Nite LA. The trio performed the Nirvana's "Heart-Shaped Box" on the anniversary of Kurt Cobain's death where Green noted how "honored" he was to be performing with McCracken for "the first time ever." This unique collab with two of our favorite frontmen performing the grunge classic remains one of our beloved collabs to date. 
8. The Used – "Under Pressure" featuring My Chemical Romance
In 2005, the Used and My Chemical Romance teamed up to cover the Queen and David Bowie classic "Under Pressure" to raise money for tsunami relief. It was originally released as a download online and later included as an In Love And Death bonus track. Just as Queen and Bowie united, the cover brought two of the biggest names in the emo scene and blended them together. However, this wasn't the first time the two bands crossed paths as MCR also enlisted McCracken on Three Cheers For Sweet Revenge track "You Know What They Do To Guys Like Us In Prison." He's credited as "additional vocals" and can be heard assisting Gerard Way on his vocal duties throughout the song. 
9. Goldfinger – "Open Your Eyes"
Goldfinger frontman John Feldmann has worked with the Used on production for years, so it's no surprise that a lot of McCracken's collabs are with Feldmann's band. The frontman's unique screams dance through the bridge of "Open Your Eyes" from Goldfinger's fourth album of the same name. The Used are now signed to Feldmann's label Big Noise, so this is certainly not the end of the duo's epic matchups.
10. Night Dragon – "Digital Enema"
On the 2014 debut EP from Australian act Night Dragon, McCracken can be heard on the first track "Digital Enema." Other than "a band that started as a joke and snowballed into a farce," nothing else is known about this band that is from where McCracken currently resides. The mysteriousness behind Night Dragon reflects the curious and private frontman perfectly, making this collab as iconic as he is. 
What is your favorite Bert McCracken collab? Let us know in the comments below!