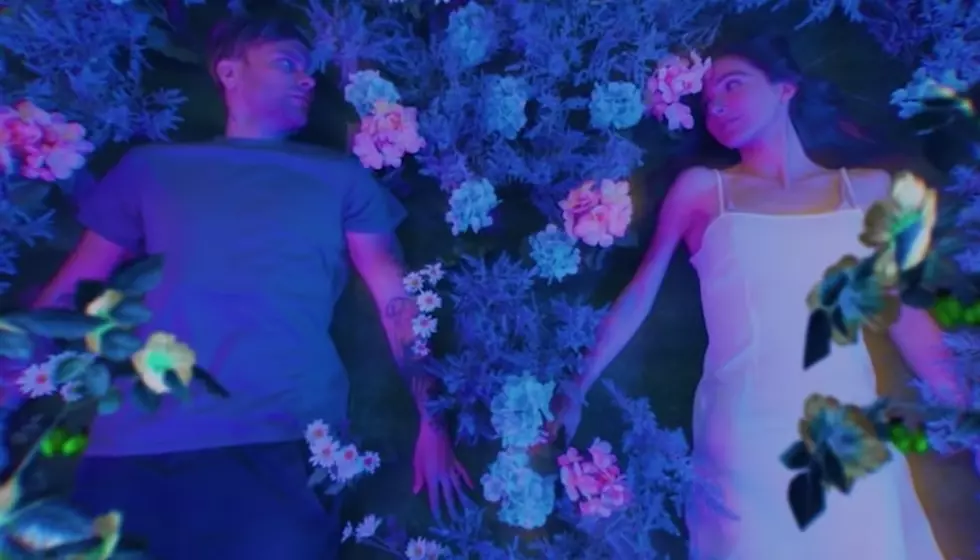 The Used enter neon chaos with "Paradise Lost, a poem by John Milton"
[Photo via YouTube]
The Used dropped the details for their forthcoming album 'Heartwork' on Feb. 6. The record is a highly anticipated followup to 2017's The Canyon. Previously, the only news we had regarding new music was December's brutal single "Blow Me" with Jason Aalon Butler of FEVER 333.
Now, the Used have released a new single "Paradise Lost, a poem by John Milton." The single has a trippy accompanying music video as well.
Yesterday, the Used revealed the details fo their upcoming album. Within the announcement tweet, we see the collaboration-packed tracklisting for the 'Heartwork.'
blink-182
Mark Hoppus
Travis Barker
Beartooth
Caleb Shomo
"Blow Me" was the first new music The Used had released in two years. The song "Blow Me" explores the consequences of gun violence and the harsh realities therein.
"Whether metaphorically signifying the power of words in general or magnifying concern for the situation of societal gun violence, we urge the fans of our music to find individual and personal meaning in all of our songs." Bert McCracken says. Listen to "Blow Me" below.
The Used are continuing their trend of rip-roaring venom with their all-new single "Paradise Lost, a poem by John Milton." The 2:48 song is a fast-paced lesson in melodic suffocation. The central riff is heavy, yet catchy enough to form a metallic spine supporting Bert McCracken's incredible vocals. The video for the track is longer at just over four minutes and provides an overload of visual stimulation to truly make you lost in the music.
Speaking on the song, McCracken discusses his love for John Milton.
"I've always been a bit obsessed with Paradise Lost," McCracken says. "I really dug deep into the poem and its author, John Milton. As I was reading a lot of his political essays I realized that a lot of what 'Satan' says in Paradise Lost are quotes directly from John Milton's own mouth."
"A lot of people thought he was the devil back then. He had a huge problem with the show of opulence from the Church. He thought it was disgusting. His poem is about the failed revolution against the Church of England, which is Satan's failed revolution on earth. And what's more incredible or exciting than a failed revolution?"
Check it out below.
"Paradise Lost, a poem by John Milton" Lyrics
To whom it may concern, and all the tragic we've been through
No matter where I go I keep on running into you
Blink of an eye, feels like forever
Same as it ever was, same as whatever
Before the yellow fades to blue
I'm shaken
Can't bring myself to cut ties
I know you better than anyone
Blessed with this curse my whole life, won't let me shake the shadow
Paradise lost in your eyes
I know you better than anyone
Blessed with this curse my whole life, won't let me shake— I'm shaken
Found the key but couldn't open the cell
This selfishness was part of saving myself
From you now I hold the disease
Planted the poisonous seed
Tried not to eat from the tree
Will I survive?
It's so hard to tell
Heartwork by the Used drops April 24. on producer John Feldmann's Big Noise label. The album can be preordered here. Check out the tracklist below.
Heartwork Tracklist
1. "Paradise Lost, A poem by John Milton"
2. "Blow Me" (Feat. Jason Aalon Butler)
3. "Big, Wanna Be"
4. "Bloody Nose"
5. "Wow, I Hate This Song"
6. "My Cocoon"
7. "Cathedral Bell"
8. "1984 (Infinite Jest)"
9. "Gravity's Rainbow"
10. "Clean Cut Heals"
11. "Heartwork"
12. "The Lighthouse" (Feat. Mark Hoppus)
13. "Obvious Blasé (Feat. Travis Barker)
14. "The Lottery" (Feat. Caleb Shomo)
15. "Darkness Bleeds, FOTF"
16. "To Feel Something".
Besides the news of their new music, the Used have been staying in recent headlines with the rumor of them touring with My Chemical Romance. While that would certainly be the tour to end all tours, the Used are currently on their own intimate club tour with Dragged Under. A full list of remaining dates is below.
Dates:
02/07 – Baltimore, MD – Baltimore Soundstage
02/09 – Boston, MA – Paradise Rock Club
02/11 – New York, NY – The Gramercy Theatre
02/12 – Philadelphia, PA – Theater of Living Arts
02/14 – Atlanta, GA – Terminal West
02/15 – Orlando, FL – The Beacham
02/18 – Dallas, TX – Gas Monkey
02/19 – Austin, TX – Mohawk
02/21 – Albuquerque, NM – Sunshine Theater
02/22 – Phoenix, AZ – Crescent Ballroom
05/23 – Leeds, UK @ Temple Newsam Park (Slam Dunk)
05/24 – Hatfield, UK @ Hatfield Park (Slam Dunk)
05/26 – London, UK @ Lafayette London
05/27 – Brighton, UK @ Concorde 2
05/30 – Paris, FR @ Slam Dunk Festival France
What do you think about "Paradise Lost, a poem by John Milton?" Sound off below!
[envira-gallery id="194483"]