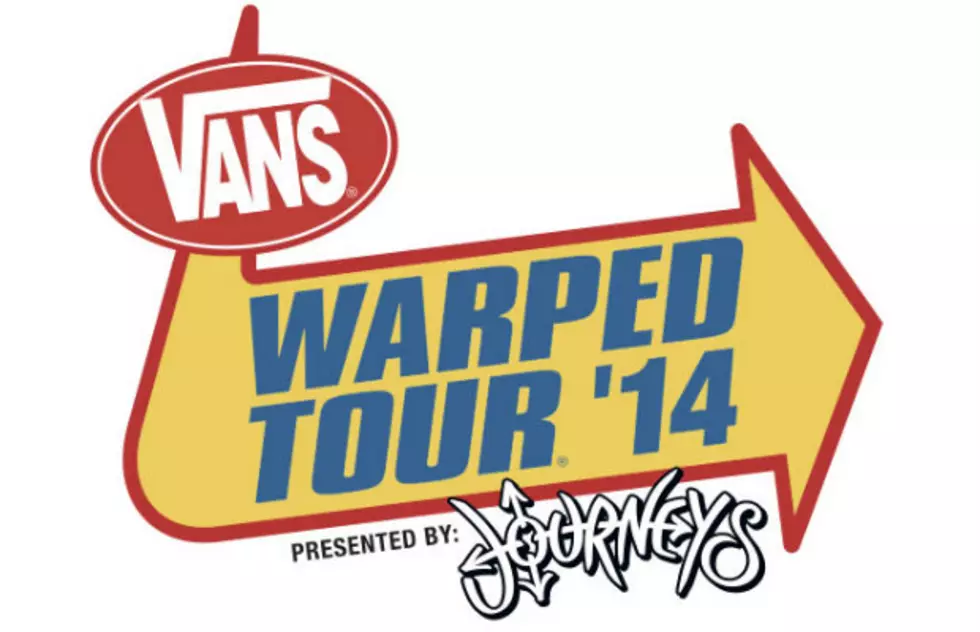 The 15 wildest, craziest or downright weirdest things we saw at Warped Tour
Warped Tour is legitimately a holiday in the AP office. When Kevin Lyman's traveling carnival rolls into town, we shut off the lights, lock the front door, slather on the sunscreen and boldly venture into the 10,000-strong crowd—and we love it. Here's some of the wildest, craziest or downright weirdest things the AP editors saw at the Cleveland stop of the 2014 Vans Warped Tour.
1. WHERE'S ROU?



Enter Shikari were ready. As I was standing backstage for their mainstage set, I heard the band warm up and had a very good view of their backs. Then I heard frontman Rou Reynolds' distinct British accent making his stump speech to get the crowd riled up. (Something about entertainment being a two-way street.) I could hear him, but I couldn't see him. I kept casting my eyes around the stage, until finally I spotted him in the middle of the crowd, microphone cord held aloft by a member of his crew. As the first song started, the crowd began a mini-circle pit right around Reynolds. The frontman and the pit never touched, making the whole thing look like a kind of punk-rock ballet. It set the mood for the entire set, which was a high-energy maelstrom, fueled by Enter Shikari's unique blend of electronic, punk rock, hardcore and metal, performed at blistering speed. And major props to Enter Shikari's crew: After I watched them race around the stage catching microphones mid-fall and changing guitars out like it was some kind of factory conveyor belt, I have no problem saying they are officially the hardest working team on Warped Tour. —Brittany Moseley
2. OFFICIALLY THE CHILLEST DUDE AT WARPED
There's always a plethora of cosplayers at any given Warped stop—yesterday, I saw Gumby, Spider-Man and even Kick-Ass. But the absolute best costume I saw was from the person who was (presumably) paid to dress up as a real-life, anthropomorphic Polar Pop, the signature drink of the Circle K convenience store chain. Now, Polar Pop's claim to fame is that it stays cold longer than a fountain beverage from any of their competitors, and given that the weather yesterday was surprisingly mild (low 70s and cloudy), this mascot seemed to live up to their chilled-out beverage counterpart. I even saw Polar Pop go into the pit after being summoned by a band mid-song as he walked by the Ernie Ball stage. Punk!  —Scott Heisel
3. ANDY WILLIAMS: KING OF ALL MEN, CIRCLE PITS




I have seen vocalists walk out into the center of circle pits to sing and bark directions (Frank Carter fronting Gallows in 2008). I've seen guitarists jump offstage and do a couple laps with the audience (Stephen Harrison of the Chariot, 2013) while still bringing the noise. Every Time I Die's riffmaster general Andy Williams took the prize this year by going out into the crowd and laying down in the middle of the circle pit as the bodies swirled around him. The mitigating factor here is that this year's Monster stage was set up in an area where there wasn't a whole lot of grass, but plenty of dirt. So when the pit warriors achieved maximum velocity, they essentially created a dustbowl tornado, and Williams kept riffing through it like he was in a sandstorm. It probably took him a good hour to comb all those Warped particulates out of his Bismarck moustache. In a right and just world, there would've been a line of supermodels waiting to do it for him, post-gig. —Jason Pettigrew
4. BOWLING FOR STACY



Bowling For Soup, who legitimately had one of the biggest crowds at Warped (seriously!), got a huge response when they played the hit single, "Stacy's Mom." Funny thing: "Stacy's Mom" isn't a BFS song; it's by Fountains Of Wayne—but the crowd literally didn't give a fuck or even notice. Everyone just sang along. It just goes to show that, in this case, you could rewrite history and no one would care. The president could go on TV tomorrow and say, "I stand here today, to announce that from now on, 'Stacy's Mom' will be known as a song by American rock band Bowling For Soup." And everyone would just be like, "Sure, whatever, man." —Matt Crane
5. THE PIED PIPER OF WARPED TOUR




Mere moments after passing a kid with "SUCK MY FUCK" scrawled across his chest in sharpie glory, I founded myself stumbling down a hill behind the faded-neon-covered man behind the catchphrase himself, Attila's Fronz. What followed was a series of bizarre, brief interactions between him and people who tried not to fall as they chased him. Pictured, these two girls went stumble-speedwalking past me, only to approach the 'Zilla, get a smile from him and run off giggling. (Also note the joy on the girl with the red hair's face upon seeing him.) I saw at least three more similar interactions (the next guy got a high five out of the exchange) and one small herd followed him until he disappeared from my view. Thanks to the steep hill and Fronz's determination to get to his destination quickly, it was the chillest, strangest, most awkwardly gaited musician-accosting I have witnessed. Think we should get more security for his APMAs appearance, or…? —Cassie Whitt
6. DO YOU EVEN DANCE, BRO?



I've written about my love for Plague Vendor before, so finally getting to see the Los Angeles band do their thing live was the highlight of my Warped Tour experience. And when I say, "do their thing," I mean do their fucking thing. Frontman Brandon Blaine is somewhere between Iggy Pop and James Brown with his wailing vocals and lightning-quick feet. The dude can dance. The crowd never got very large, but it's a testament to the band's stage presence that many audience members showed up mid-song, intrigued by what they were hearing and seeing as they were walking by. Plague Vendor also get the distinct (if totally useless) honor of being the band at Warped with the most AP editors in the crowd. (The entire editorial staff made it a point to catch the Plague boys yesterday, even without comparing schedules beforehand.) Need any more proof that Plague Vendor should be your new favorite band? Check out this short video from their set yesterday. It doesn't do them nearly enough justice, but it will whet your appetite for more. —Brittany Moseley
7. THE NICEST COMPLIMENT EVER HEARD AT WARPED




During Marmozets' absolutely scorching-hot set (musically speaking, at least; thanks, clouds, for doing your job and not letting the sun burn my skin!), they worked in a new song called "Hit The Wave," which was a little more streamlined and focused than their earlier material (best described as the middle ground between Paramore and the Dillinger Escape Plan. Really). The song was a bona fide rock jam, but I clearly wasn't the only one to think that: As soon as the soon-to-be anthem ended, one middle-aged guy in the crowd yelled out, "That was the best rock song I have ever heard! And I listen to a lot of rock music." Frontwoman Becca MacIntyre, a manic ball of energy just a few seconds prior, blushed a little bit and politely responded, "That was one of the nicest things anyone has ever said to us, thank you," before the band immediately launched into another pop-rock/metalcore neutron bomb. —Scott Heisel
8. INFLATABLES ARE PUNK




British angular-metal contingent Marmozets tossed beach balls during their remarkable set. Likewise, Beartooth pumped up both their crowd and some huge black, plastic balloons during their stint on the Monster Stage. Our intrepid web editor Cassie Whitt kept getting bonked by the huge red spheres ricocheting into the crowd during Breathe Carolina's performance. Less Than Jake didn't launch any high-bouncing orbs into their set, but trombonist wiseguy Buddy Schaub did some '80s cock-rock maneuvers while pounding on an inflatable electric guitar with a similarly air-filled toy hammer, before launching both pieces into the assembled throng. He also modeled a patently ridiculous inflatable dreadlock wig that looked more like a bowl of mutant spaghetti turned upside-down. A thousand bands at Warped and not one of them had a singer willing to crowd-surf sitting in an inflatable chair. Plan your 2015 now, rockers. —Jason Pettigrew
9. BREATHE CAROLINA




In a risky game of bumper boats, Tommy Coops and David Schmitt from Breathe Carolina surfed their massive Warped crowd, which was rage-ready to bounce and spill them. (In this picture, you can see their rafts as they had just collided.) Surprisingly, no one got hurt—even with giant red inflatable beach balls overhead also vying to knock them over. Relief that no one toppled to the asphalt aside, the most fascinating thing about Breathe Carolina's set was the how naturally the audience moved, and how ready they were to act on the cue of a drop to, as Schmitt said, "fucking rage." While most of the crowds you see at Warped are filled with stiff headbanging, jumping and your various-shaped pits, this felt like a massive party. Topping the fun of the set off, Balz from Motionless In White was watching from the shadows of the stage, looking like a fabulous Sith Lord in his stage clothes, a stark, dark contrast to the neon vibes everywhere else. —Cassie Whitt
10. HOW MANY BLONDS DOES IT TAKE TO FIND AN ANBERLIN SHOW?




After a bit of searching and asking, I literally could not find the Warheads Stage. Anberlin were playing on that stage in, like, five fucking minutes, and I needed to see them, because it may've been my last chance (thanks to their pre-determined breakup, announced earlier this year). After deciding the stage just didn't exist, I eventually went backstage to catch the end of Echosmith's set on the Journeys Stage, which was in the amphitheater. What I didn't realize: Both the Journeys and Warheads stages are next to each other in the same amphitheater. So as soon as Echosmith finish their set, I see Stephen Christian run right by me onto the stage and Anberlin burst into "Feel Good Drag." It was a huge relief and a bittersweet sight. Anberlin are so powerful live; it really makes you wish they weren't breaking up. —Matt Crane, blond dude
11. THIS WILD BEARTOOTH



Although I saw more bands at yesterday's Warped than I ever have (16 in total), one band I regret not catching was This Wild Life. They were on my list to see, but the Warped gods did not align—or at least didn't align my schedule with This Wild Life's. However, I did spot one-half of This Wild Life while I was watching Beartooth. Guitarist Anthony Del Grosso was also in the crowd, cellphone held aloft catching the first song in the set, a smile on his face the whole time. This isn't a monumental moment, nor is it even that surprising, but it was a nice reminder that our favorite bands are just excited music fans like the rest of us. Plus, I always get a kick out of seeing musicians outside their usual role. To loosely quote Mean Girls, "It's like seeing a dog walk on its hind legs." —Brittany Moseley
12. EVERYTHING IS AWESOME!




A long-standing tradition at Warped Tour is the incorporation of goofy covers into your set. It's an easy way to catch passers-by, tricking them with something they know and hoping they stick around for your originals. Chicago Nintendocore-pop outfit I Fight Dragons did just that by seamlessly segueing from their song "Money" into Daft Punk's "Get Lucky" and back again. But the real cherry on top of their Ernie Ball stage set was a hyperactive, set-closing cover of "Everything Is Awesome," best known as the theme song to The LEGO Movie, performed by Tegan And Sara. It left a great taste in everyone's mouths—and a growing line at their merch table after the show. —Scott Heisel
13. ROCKIN' ON HEAVEN'S DOOR



It's always inspiring and great to see people with disabilities coming to Warped. The stages are far apart, the heat can be oppressive and it can wear a person down quite quickly after a few hours. But there was something kind of chilling about witnessing an elderly woman sitting in a wheelchair, tubes connected to an oxygen tank into her nose. She looked really uneasy during Motionless In White's early-evening set: I couldn't help but think that she was staring the dynamic Chris Motionless down because she didn't want to get on the gondola he was about to take her on across the river Styx. —Jason Pettigrew
14. CAN YOU SIGN MY PHONE?

While walking to the press room to interview somewhere in the vicinity of a thousand bands, a Ready Set superfan ran up to Cassie and I, frantic, and said something like this: "Oh, my God! You have an all-access pass! Can you have Jordan sign my phone?! He just went back there!" First off, she was obviously following him, because she knew he had just went into the press room. We told her no, because we had no plans of seeing Jordan that day. Not even 20 minutes later, unexpectedly, my first interview ended up being with Mr. Witzigreuter. I felt kind of bad—it looks like I could've gotten that girl's phone signed for her after all. —Matt Crane
15. APTV HERO OF THE DAY, NICK MAJOR

Despite bossing him around for about a year now, I had never actually met Los Angeles APTV correspondent Nick Major until yesterday. As Falling In Reverse closed out the show, he, Brittany and I stood near the back watching, when a guy walked right by us, half-holding up an injured, limping girl. While we all made our sympathetic gasps, Major took it a step further and followed the two, eventually hoisting the young girl completely off the ground with the help of her friend. My final memory of the day was being proud as I followed behind Nick helping the two total strangers in need with the sun setting behind us. The community spirit of Warped Tour embodied! —Cassie Whitt