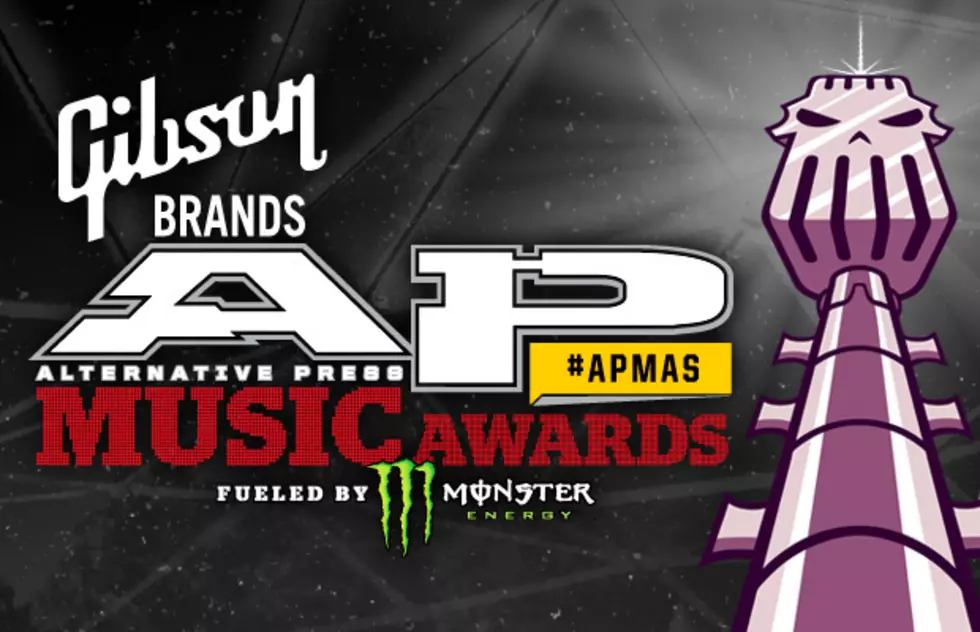 The 2014 AP Music Awards: Watch it all again here!
As the rock waves finally begin to settle across Lake Erie beyond the Rock And Roll Hall Of Fame And Museum after last night's APMAs, we're giving you a chance to enjoy the show again. We know leading up to the show, many of you were excited to see it, but weren't sure if you could. C'mon! Did you really think we'd let you down like that? With the help of our friends at AXS TV who broadcasted the show live last night, we're collecting clips of the entire show on our YouTube channel.  
Check back here all day as we continue posting new videos, so whether you missed just one clip or the whole show, or just want to watch it all again (or find yourself in the audience!), it will all be here!
The Contemporary Youth Orchestra kicked off the night with an overture comprising all six nominated Songs Of The Year


Brendon Urie opened our show with Cleveland's Contemporary Youth Orchestra performing two Frank Sinatra covers, "Luck Be A Lady" and "Fly Me To The Moon
Host Mark Hoppus welcomes you to the APMAs
Ice T and Body Count lay down the APMAs ground rules. "Stand still = get shot"
AP "accountants" Ronnie Radke and Max Green take us to Gangsta's Paradise with Tyler Carter and Coolio
Craig Owens and Tyler Carter present the first Skully for Best Vocalist to Brendon Urie
Crown The Empire, We Are The In Crowd and the Word Alive present the Skully for Best Live Band to Pierce The Veil
Sleeping With Sirens make their first live performance of the year with "If You Can't Hang" 
Sleeping With Sirens perform "Alone" with Machine Gun Kelly
Sean Mackin and Ryan Key of Yellowcard present the Skully for Breakthrough Band to Crown The Empire
Pierce The Veil's Jaime Preciado wins the APMA for Best Bassist, presented by I See Stars
Asking Alexandria cover Duran Duran's "Hungry Like The Wolf" with Jonathan Davis of Korn
Asking Alexandria perform "Killing You"
Pierce The Veil present the Skully for Best International Band to Bring Me The Horizon
Paramore introduce twenty one pilots who perform "Car Radio" with Issues' Michael Bohn
Tyler Joseph of twenty one pilots makes a death-defying climb during their "Guns For Hands" performance
Members of Bayside, letlive. and Less Than Jake present the Artist Philanthropic Award to All Time Low
Every Time Of Die accept the Best Guitarist Skully for Phil Manansala from Of Mice & Men
All Time Low performed an awesome pop-punk medley with Yellowcard and New Found Glory, introduced by Mayday Parade
All Time Low perform "A Love Like War" with Vic Fuentes of Pierce The Veil
Mark Hoppus introduces you to our Dyin 2 Live honored guest Christina Billman. CM Punk introduces Vanguard Award recipient Billy Corgan

Ice T and Body Count perform "There Goes The Neighborhood"
Body Count perform "Talk Shit = Get Shot"
Members of Beartooth, Silverstein and Sleepwave present the Skully for Best Drummer to Mike Fuentes of Pierce The Veil
Joan Jett receives the AP Icon Award presented by Laura Jane Grace of Against Me!
Machine Gun Kelly performs "See My Tears" with Cleveland's Contemporary Youth Orchestra, introduced by Attila
Members of Miss May I and Emmure present the award for Most Dedicated Fans to the Black Veil Brides, accepted by Andy Biersack, who then gave it to a member of the BVB Army.
A Day To Remember perform "City Of Ocala" and "Right Back At It Again," introduced by Neck Deep and featuring guest vocals by Ben Barlow

Joe Perry of Aerosmith presents Slash with the Guitar Legend Award
Members of the Maine and the Devil Wears Prada present the Skully for Song Of The Year to All Time Low and Vic Fuentes for "A Love Like War"
The Misfits, introduced by Motionless In White, perform a 5-song set with guest vocals from Black Veil Brides' Andy Biersack
Oli Sykes Of Bring Me The Horizon thans fans for helping him through Ketamine addiction in Album Of The Year acceptace speech
Joan Jett And The Blackhearts perform with Slash, Laura Jane Grace and Billy Crooked
Korn present Fall Out Boy with the Skully for Artist Of The Year
Fall Out Boy close it down with a performance of "The Phoenix"
The rest of the videos from the night are coming soon! Check back here!