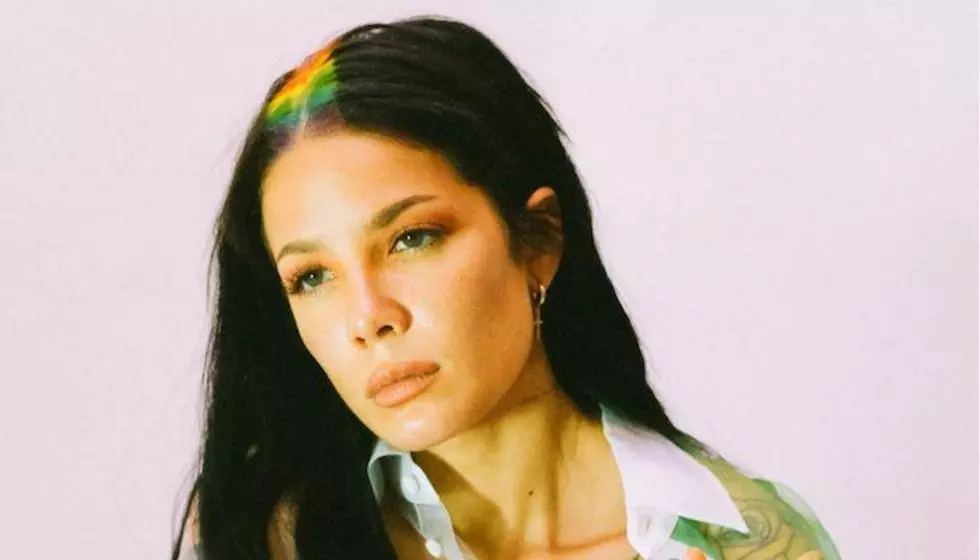 There's only one way Halsey will make a punk rock album
It looks like we could hear a punk rock album from Halsey in the future.
She recently revealed that she would love to eventually make a punk rock album, but it may be a while before fans get to hear it.
Although Halsey is known for her mega pop collabs with the Chainsmokers, Marshmello and BTS, she has definitely shown her love for rock music in the past. Halsey has previously collaborated with Bring Me The Horizon on two different tracks. BMTH produced her song "Experiment On Me," which appears on the Birds Of Prey soundtrack. As well, Halsey's is featured on a Bring Me The Horizon track off of their Music To Listen To... EP.
More recently, Halsey truly showed her pop punk side on the Machine Gun Kelly collab "forget me too," off of his new album Tickets To My Downfall. Back in October, the duo even teamed up for a tumultuous and angst-filled video for the new track.
Now, it looks like Halsey may make a punk rock album in the future, but there's a catch. She tells Vogue that her love for the genre will eventually lead to an album. However, the genre jump will have to come naturally.
"I do really want to, but it needs to come naturally," she says. "I've never sat down before and been like, 'Okay, I want to make this type of album.' The album kind of makes itself. When that time comes, it'll happen on its own. I definitely need to do it eventually though, because I'm starting to age out of being angsty and punk."
Halsey has expressed her love and appreciation for various rock and pop punk artists over the years. Back in 2018, videos of Halsey moshing at a The Story So Far concert emerged. As well, she credits TSSF and The Wonder Years for helping inspire one of her Manic songs.
Back in January, she told Zane Lowe that both of the band's style and sound influenced the melody on "929."
Along with her eventual plans to drop a punk rock album, Halsey also hopes to collaborate with some new artists in the future.
"I really want to work with Grimes, because I love her, and I have always loved her," she continues. "I'm also everyone's biggest fan. I'm such a fangirl. I want to work with Harry Styles. I loved his last record. I'm so proud of him just as a fan and as a peer. He's a real one. I think we could make something really cool together."
Halsey has been subtly teasing a new album over the past few weeks. She recently updated her Twitter photo and bio which now says "L¿ P¿."
[Photo via @Halsey on Twitter][/caption]As fans continue to wait for new music from Halsey, the singer is staying busy in other ways. This week, she released her first book of poetry I Would Leave Me If I Could. You can pick up your copy of the book here.
What are your thoughts on Halsey eventually making a punk rock album? Let us know in the comments below.