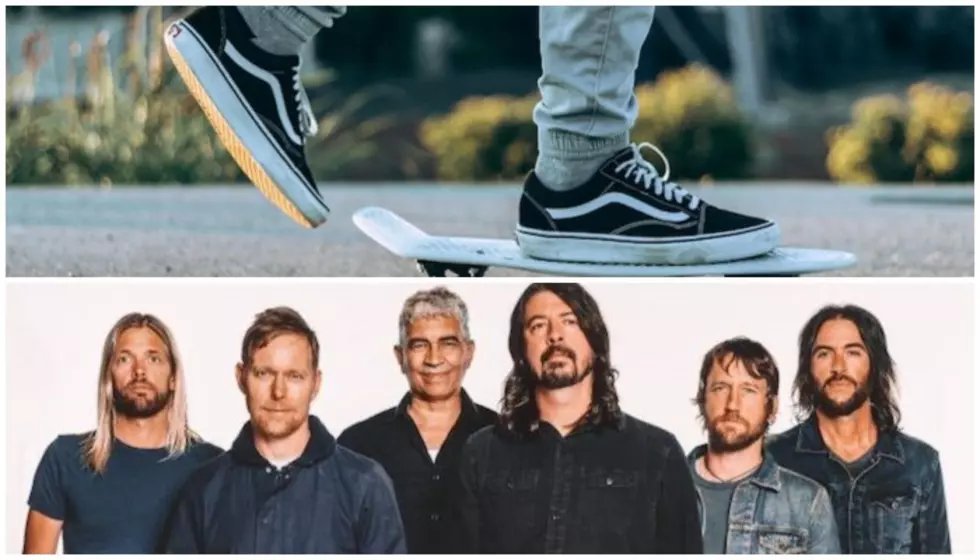 These limited edition Vans are the ultimate nod to Foo Fighters
[Photos via Vans/ Harry Hundal via Unsplash]
On Feb. 5, Foo Fighters are releasing their new album Medicine At Midnight. The forthcoming LP is not only the band's 10th studio album, but it also marks their 25th anniversary.
In celebration of their anniversary, Foo Fighters have teamed up with Vans for a limited edition pair of Sk8-His every fan will want to get their hands on.
For over two decades, Foo Fighters have shared numerous rock hits that have truly stood the test of time. From "Everlong" to "The Pretender" and the iconic "Best Of You," Foo Fighters have forged a longstanding career in music since their inception in the '90s. In fact, Taylor Hawkins recently revealed that one of Foo Fighters' oldest songs is actually his favorite they've ever released.
The Foo Fighters' Vans will be available in limited quantities. At this time, a release date for the Sk8-His has not been shared. However, it's possible the shoes could drop around the release of Medicine At Midnight on Feb. 5.
We are just under a month away from the release of Medicine At Midnight. However, it looks like that isn't stopping Foo Fighters from giving fans another sneak peek of their new music.
So far, Foo Fighters have released their lead single "Shame Shame" which was accompanied by a nightmarish video. As well, to help ring in the New Year, they dropped their latest track "No Son Of Mine."
Shortly before the snippet was posted, Dave Grohl detailed what "Waiting On A War" is about. Due to the riots that took place at the U.S. Capitol last week, Foo Fighters felt now was the time to release "Waiting On A War."
Previously, Grohl revealed that Medicine At Midnight is a critical release in Foo Fighters' decades-spanning career.
"It's filled with anthemic, huge, sing-along rock songs," he said. "[It's] kind of like a dance record, but not an EDM, disco, modern dance record. It's got groove. To me, it's our David Bowie's Let's Dance record. That's what we wanted to make, we wanted to make this really up, fun record."
Along with Foo Fighters' upcoming album, Taylor Hawkins has been busy in the studio with a few other familiar faces. Producer Andrew Watt recently shared that Hawkins is among the musicians working on Ozzy Osbourne's new album. Metallica's Robert Trujillo and the Red Chili Peppers' Chad Smith are also part of Ozzy's studio band.
As we wait for "Waiting On A War" to debut on Thursday, Foo Fighters' latest song "No Son Of Mine" is available to stream below. Medicine At Midnight arrives on Feb. 5 and pre-orders are available here.
Do you want a pair of Foo Fighters' limited edition Vans? Are you ready to hear their new song on Thursday? Let us know in the comments below.