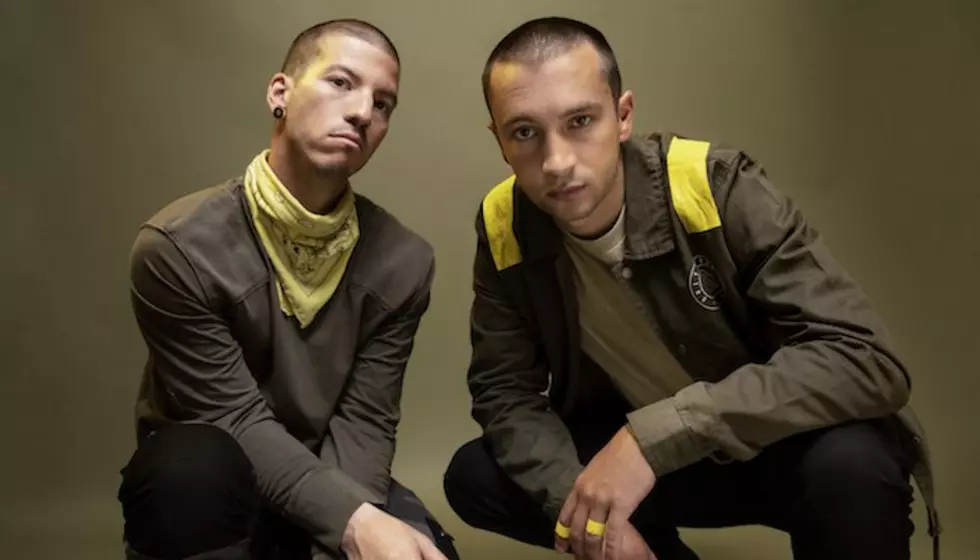 This clue has fans theorizing a new twenty one pilots era is on the way
It looks like twenty one pilots may be teasing their next era.
This week, a new cryptic clue emerged and a lot of fans are theorizing it has to do with twenty one pilots' new music.
It's been well over two years since twenty one pilots released their last full-length album Trench. Since then, Tyler Joseph and Josh Dun have put out their chart-topping single "Level Of Concern" and an original Christmas song "Christmas Saves The Year."
Over the course of 2020, twenty one pilots have shared quite a few details regarding their next album. In May, Joseph told Zane Lowe that the duo has pushed up their album plans amid the coronavirus pandemic.
"I'm writing a record right now," Joseph said at the time. "I'm not sure when it'll be released. But it's definitely going to be sooner than we were planning on releasing a record."
More recently, Joseph gave an update in mid-November with a brief video on his Instagram Story where he shared a simple, "I'm working on the album." No specific release timeline or details have been revealed just yet, but that hasn't stopped fans from theorizing their own.
However, it now looks like the duo may be finally teasing their next era. This week, twenty one pilots updated the header image on their social media platforms. Joseph and Dun can be seen amidst an orange haze while looking upon a large building. Some fans are convinced this image is a hint at twenty one pilots' next era.
As we know, twenty one pilots associate one strong color with each of their albums. 2015's Blurryface is associated with red while the Trench era is known for its distinct yellow. Seeing as the new image is orange, a color that twenty one pilots haven't used before, fans think this may be a clue about their new music.
Trench
Blurryface
There are already circulating theories about when twenty one pilots' next album may arrive. Last month, the duo's never-ending video for "Level Of Concern" officially came to an end after 178 days. However, some fans theorize that the "178" is significant to the possible release of new music.
A lot of listeners took to Reddit to share their ideas on what 178 may signify. Some believe it could mean new twenty one pilots music is arriving on Aug. 17, 2021 (8/17). Meanwhile, others think we could hear new music on June 22, 2021 which is 178 days after the video originally ended.
Another theory is that since the livestream began on June 21 (6/21) and ended up Dec. 16 (12/16), those dates are particularly significant. A few fans theorize that new music or even a new album could arrive on Feb. 16, 2021 (2/16), a date that include the numbers 1, 2 and 6.
after 178 days the never-ending music video for Level of Concern has ended from r/twentyonepilots
Do you think twenty one pilots are teasing a new era? Let us know in the comments below.