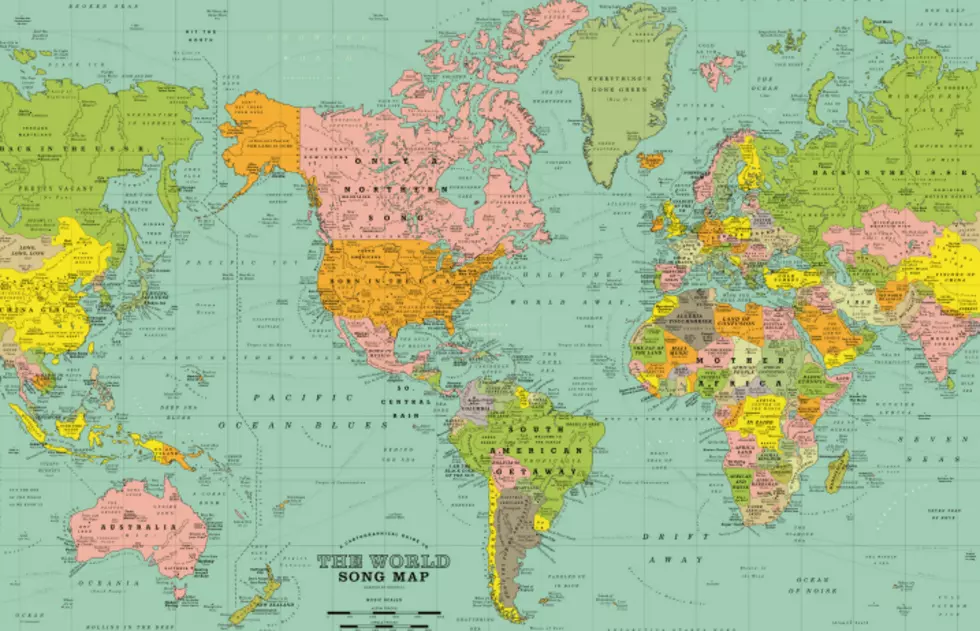 This world map is made of 1,200 songs, including tracks from Green Day, Weezer, Foo Fighters, more
[Photo credit: Dorothy]
Following in the footsteps of their mind-blowing alternative music map, the designers at Dorothy have created the ultimate musical trip around the world with their new World Song Map, featuring over 1,200 songs.
Check it out below!
Read more: From the Smiths to Green Day, map explains the detailed history of alternative music
Now you may be wondering how this works—well, the design, based on the style of a vintage 1950s world wall chart, imagines a world where continents, countries, cities, oceans, rivers and landmarks are made up of strictly song titles, and we can't get enough of just how intricate design it is. (In case you were wondering, it took the team eight months to create.)
The print features obvious tracks, like "Born In The U.S.A." (Bruce Springsteen), "Back In The U.S.S.R." (The Beatles), "China Girl" (David Bowie), "New York, New York" (Frank Sinatra), and Radio Free Europe (R.E.M).
Plus, some of our favorite bands in the scene get some love. Think Green Day's "American Idiot," Weezer's "Island In The Sun," Foo Fighters' "The Feast And The Famine," the Killers' "The World We Live In," Beastie Boys' "No Sleep Till Brooklyn"—and so many more.
And, understandably, some songs titles had to get a little creative—like choosing Joy Division's "Isolation" for North Korea, placing LCD Soundsystem's "Losing My Edge" near the Polar Cap and using Flock of Seagulls' "I Ran" for Iran. (Pretty clever, right?)
If you're thinking that you'd like to rock along with this musical trip around the world, then you're in luck. Dorothy are currently in the process of creating a Spotify playlist to accompany the print, with a whopping 73 hours worth of playing time at this point with more to go.
If you're thinking about picking up a musical map around the world, they're available for purchase here.
What are your thoughts on the map? Let us know in the comments below!
SaveSave