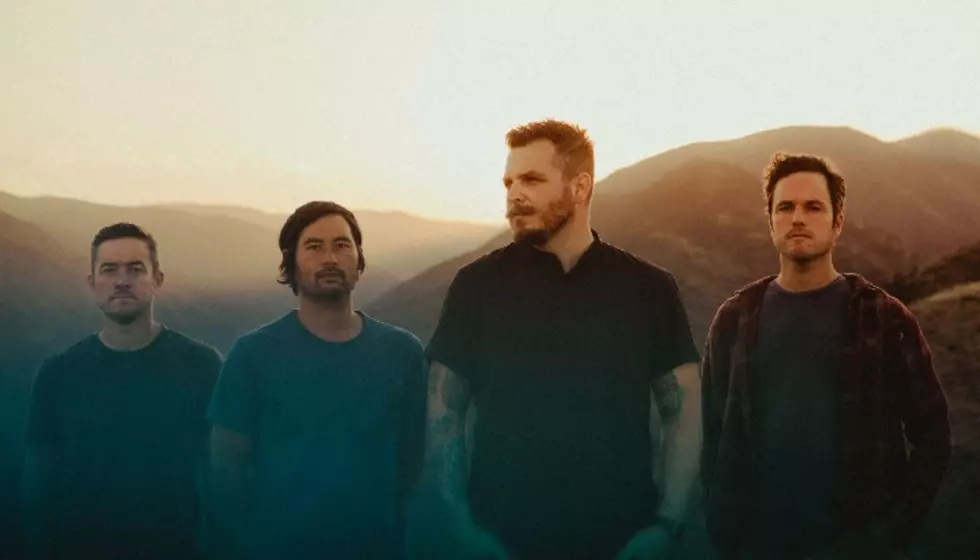 Thrice drop "Scavengers" and announce new album 'Horizons/East' —listen
[Photo by: Matt Vogel]
Thrice have announced their 11th studio album, Horizons/East. The album is set to drop via Epitaph Records Sept. 17. The new release was self-produced and recorded by the band—Dustin Kensrue (vocals/guitar), Teppei Teranishi (guitar), Eddie Breckenridge (bass) and Riley Breckenridge (drums)—in their New Grass Studio. The mixing was done by Scott Evans.
The announcement comes with the release of the album's first single, "Scavengers." On the new track, the cool, gravelly vocals of Kensrue lead listeners through a maze of jagged drum parts and guitar riffs. The juxtaposition of sounds provides a sense of peace in the middle of a musical minefield, giving off the impression of calm under pressure. 
Thrice announced the new music on Twitter, writing, "We are extremely excited to announce our new record, Horizons/East, out digitally September 17th (Physical available October 8) on @epitaphrecords. Pre-orders are available NOW, plus you can hear our first single from the record, "Scavengers", at https://thrice.ffm.to/horizonseast." 
The news came as a welcome surprise for many fans.
Read more: Green Day to play surprise performance ahead of Hella Mega Tour 
Thrice also recently announced that they will be going on tour in fall 2021, joined by special guests Touché Amoré and Self Defense Family. Jim Ward will also appear during select dates. But before they go on tour, Thrice will be performing alongside a range of artists, including Eyedress, Meet Me @ The Altar and girlpuppy, as part of Riot Fest Sept. 17. A full list of performance dates is below. 
You can preorder Horizons/East here, and check out the tracklist below. 
Horizons/East
tracklisting: 
"The Color Of The Sky"

"Scavengers"

"Buried In The Sun"

"Northern Lights"

"Summer Set Fire To The Rain"

"Still Life"

"The Dreamer"

"Robot Soft Exorcism"

"Dandelion Wine"

"Unitive/East"
Thrice live performances: 
09/17 – Chicago, IL @ Riot Fest
09/24 – Houston, TX @ Warehouse Live*
09/25 – Dallas, TX @ Gas Monkey Bar N' Grill*
09/26 – Austin, TX @ Emos Austin*
09/28 – Atlanta, GA @ The Masquerade
09/29 – Nashville, TN @ Cannery Ballroom
10/01 – Orlando, FL @ Hard Rock Live Orlando
10/02 – St. Petersburg, FL @ Jannus Live
10/04 – Charlotte, NC @ The Fillmore Charlotte
10/05 – Norfolk, VA @ The Norva
10/07 – New York, NY @ Terminal 5
10/08 – Baltimore, MD @ Baltimore Soundstage
10/09 – Philadelphia, PA @ The Fillmore Philadelphia
10/10 – Boston, MA @ House Of Blues Boston
10/12 – Buffalo, NY @ Town Ballroom
10/13 – Columbus, OH @ Newport Music Hall
10/15 – Detroit, MI @ Saint Andrews Hall
10/16 – Cincinnati, OH @ Bogart's
10/17 – Chicago, IL @ Concord Music Hall
10/18 – Sauget, IL @ Pops
10/20 – Denver CO @ Ogden Theatre
10/21 – Salt Lake City, UT @ The Union Event Center
10/23 – Portland, OR @ Roseland Theater
10/24 – Seattle, WA @ Showbox SoDo
10/26 – Berkeley, CA @ The UC Theatre Taube Family Music Hall
10/27 – San DIego, CA @ The  Observatory North Park
10/28 – Tempe, AZ @ Marquee Theatre
10/29 – Los Angeles, CA @ Hollywood Palladium
10/30 – Anaheim, CA @ House of Blues Anaheim
07/06 – Madrid, Spain @ Mad Cool Festival 
*with special guest Jim Ward
"Scavengers" lyrics: 
Overhead, are those angels or vultures?
Heavy wings and the hum of decay
They seethe and hover
Skew and smother the light of day
Every word is dissonant whisper
They've got you wearing a smile like a mask
And all you're left with
Is every question you're scared to ask
I will find you
In the black light
Of that cold dry land
Never mind who
Held you last night
Come and take my
Come and take my hand
Every tether is tangled and twisted
They slowly sever your heart from the whole
Iron shackles, hungry jackals with eyes like coal
Underfoot, as you steal past the gallows
Brittle branches or pieces of bone?
Feel your chest heave
Are you ready to come back home?
I will find you
In the black light
Of that cold dry land
Never mind who
Held you last night
Come and take my
Come and take my hand
I will find you
In the black light
Of that cold dry land
Never mind who
Held you last night
Come and take my
Come and take my hand
I will find you
In the black light
Of that cold dry land
Never mind who
Held you last night
Come and take my
Come and take my hand
I will find you
In the black light
Of that cold dry land
Never mind who
Held you last night
Come and take my
Come and take my hand