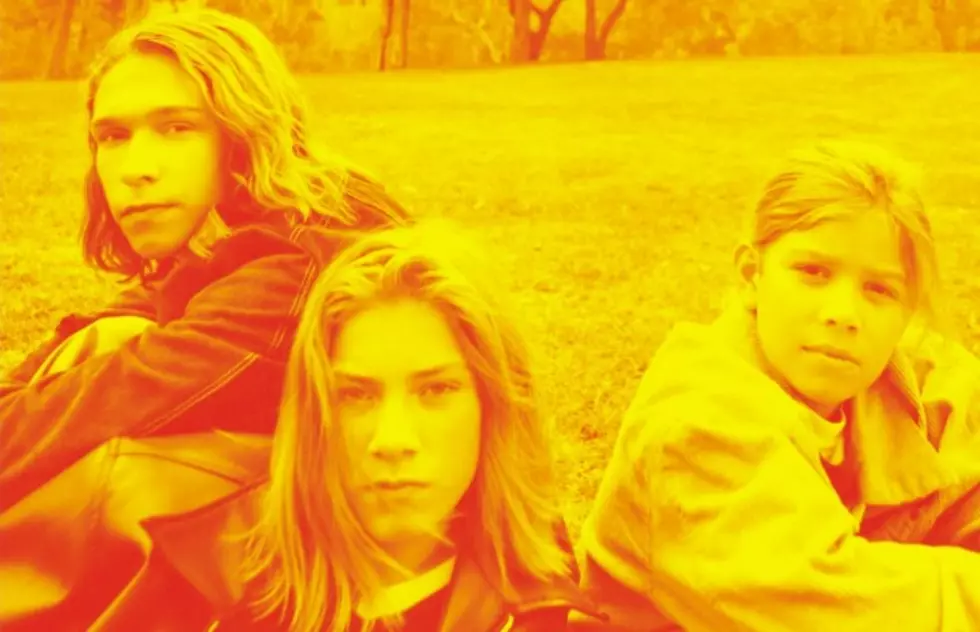 Throwback Thursday: The First CDs We Bought
The first time you unclench your youthful fists and drop your own cash on an album is one of those life moments you'll never forget. Because this monumental event usually takes place when you're still in primary school, you may reflect on it later with a palm placed firmly to your face (we almost just titled this playlist "Throwback Thursday: The Worst"), but there are no take-backs here. Let the shame live on!
It's Throwback Thursday again, and this week we want to know: What were the first albums you bought with your own money?
A CERTAIN RATIO - Force



I distinctly remember going into my favorite record store in Pittsburgh in the mid-'80s, frowning about them thar compact discs and how I was avoiding them because there was nothing I loved that was coming out in that format. The owner of the store laughed and said, "I promise you that you will buy 10 CDs before you drop the cash for a player. You're stockpiling food before you buy the dog. Watch." I responded with a mix of incredulity and laughter, and he responded with, "Here's your first one," showing me the album by A Certain Ratio, the Manchester, U.K., funk delegation who had toured the U.S. with New Order a year prior. (More history: I think I saw my first issue of AP that year, as well.) I had gotten the import vinyl LP a few weeks prior, but when I saw the damn thing had three bonus tracks, I knew that the music business had me by the wallet yet again. As a propulsive dance-rock record, Force still holds up with tight grooves ("Bootsy," "Mickey Way (The Candy Bar)") and a Latin percussion jam ("Si Fermir O Grido") that's still most righteous.  Decades later, iTunes took that additional-content model and ran with it for their Complete My Album cash-grab, nickel 'n' diming customers for bonus tracks that weren't good enough to be released in the first place. Oh, and Force was reissued four years ago with two more bonus tracks on top of the other three. And I bought it yet again! —Jason Pettigrew
BACKSTREET BOYS - Millennium



How did we find out album release dates when we were children? As I search my mind for how I knew this album's exact release date when I was nine, I'm stumped. All I know is somehow (probably through my older cousin), I owned BSB's previous two albums and my undying love for Nick Carter at the time demanded I buy their Y2K-named (such a thing in '99. Willenium, anyone?) follow-up immediately. I had put every penny of allowance toward my Backstreet Fund, and I bought this album as an act of defiance. My mom didn't see the point of her buying both CD and cassette, so I whipped out my allowance (which I kept in a see-through, sparkly change-purse, mind you) and bought them both regardless of her protests. I needed this album in every format that existed. I gloated so hard on the bus the next day as the cool girls at the back sang "I Want It That Way" a cappella while I listened to it on my CD player. Suckers. —Cassie Whitt
GREEN DAY - American Idiot



Green Day will forever hold a steadfast place in my heart, as their critically acclaimed seventh studio album, American Idiot, was the first CD I ever declared as my own. After some hefty amounts of incessant coaxing toward my mother, I found myself indubitably adrift within the vast expanse of the records' soaring, yet angst-laden vocal patterns and radio-ready punk-rock infused instrumentals. American Idiot had me enthralled; it had me consumed; it had me in love. I'll never forget the way "Are We The Waiting" and "Boulevard Of Broken Dreams" tugged at my preteen heartstrings, or how Tré Cool's fills in the title track first inspired me to get behind a drum kit. While some may be hesitant or embarrassed to admit American Idiot helped kickstart their journey into music, it's something I will never deny. —Tyler Sharp
HANSON - Middle Of Nowhere



Raised on a steady diet of Motown, classic rock, and '80s pop, I, unfortunately, lacked an older friend or sibling to clue me into the flourishing alternative rock scene of the '90s. In my single-digit years, the only music I really recall hearing—aside from what my parents listened to—was top 40 radio. Boy bands and girl groups were not my cup of tea, but, in 1999, 9-year-old me couldn't escape the infectious hit that was Hanson's "MMMBop." Sure, they were basically a boy band, albeit without the artificiality of choreographed moves. Still, I was hooked, and scraped my allowance together to buy a copy of their smash, Middle Of Nowhere. Shortly after I discovered Nirvana and Weezer and never looked back. —Philip Obenschain
KID ROCK – Devil Without A Cause



Say what you will about former AP cover star Kid Rock—and no one will stop you—but the man knows his way around a hook: "My name is KIIIIIIIIIIIID," Rock opens Devil Without A Cause an album that would eventually be (legally) owned by more than 9 million Americans (myself included). Rock raps on the title track, "Watch me throw like a fist of rage/Self made and paid and sawed off 12 gauges." Yeah, this one went right on my "must convince Mom to let me buy" list, along with Korn's Follow The Leader and Limp Bizkit's Significant Other. It was the very dark beginning to a musical journey into rock that would eventually (somehow!) lead me to good music à la the likes of Saosin and Senses Fail. —Matt Crane
MEAT LOAF - Bat Out Of Hell II: Back Into Hell



The first CD I ever received was a copy of the Cranberries' debut album Everybody Else Is Doing It, So Why Can't We? courtesy of my Aunt Paula, for Christmas 1993. But after playing "Linger" on repeat for the entirety of Christmas break, I was already over the album, so my parents took me to Best Buy where I plunked down some holiday cash for a shiny, new copy of Meat Loaf's comeback album, Bat Out Of Hell II: Back Into Hell. I knew absolutely nothing of Mr. Loaf's history, only that I had seen the music video for "I'd Do Anything For Love (But I Won't Do That)" on MTV a whole bunch, and was always sucked into the nearly six-minute clip. Little did I know that the track was more than twice as long on the album itself, and the record itself clocked in at nearly 76 minutes. (Ironic that the first CD I ever bought is the same one that pretty much maxed out the format, no?) I loved this record so much, I even played "I'd Do Anything For Love"—all 12 minutes of it—at my 6th grade dance, in between tracks off a Spin Doctors CD my elementary school crush Courtney Hannel lent me and the Joseph And The Amazing Technicolor Dreamcoat soundtrack. Roughly 15 years later, my now-wife and I dressed up as Meat Loaf and one of his female singers for Halloween. Everyone just thought I was Hurley from Lost in a tuxedo, though. —Scott Heisel
RICKY MARTIN - Ricky Martin



The summer after fifth grade, my family and I packed up a rented minivan for a month-long trip across the country (Ohio to so-north-it's-almost-Oregon California). Four weeks stuck in the car with your family can be, shall we say, trying at times, but luckily I had reinforcements: my Discman and as many CDs as I could stuff in my bag. Our first stop on this epic family vacation was the Mall Of America, where I stopped into FYE and bought a copy of Ricky Martin's self-titled album. (Although this was Martin's first English album and his "big break," it was actually his fifth solo album and his second self-titled album. #shinfo) By this point, "Livin' La Vida Loca" was all over the radio, and I was obsessed with the song, Martin's dancing and the video that was just sexy enough for my 10-year-old eyes. I played the CD from Minnesota to California, through Mount Rushmore, the Black Hills, Devil's Tower, Wall Drug and a million other places my mother dragged the rest of us to. Toward the end of our trip when we had finally made it to California to visit family, my cousin Caitlin bought the Backstreet Boys' just-released album, Millennium. I was insanely jealous, and suddenly my Ricky Martin CD felt a little less cool. But hey, we had a good three-week run, Ricky. —Brittany Moseley
NELLY - Country Grammar 



Prior to my 10th birthday, my music collection consisted solely of NSYNC's discography and a cassette recording of "All Star" by Smash Mouth that my neighbor gave me. When the song "Country Grammar" began to light up mainstream radio though, all of the cool kids at school were singing the chorus in the hallways and on the playground. We even learned to do the little hand sign that Nelly does in the music video when he yells, "LA!" I begged my grandma to take me to the mall on my birthday so I could get the album for myself. We walked into a Sam Goody (you guys remember Sam Goody?) and she gave me $20 to buy the edited version of Country Grammar. A couple of years later, I got a paper route and saved my own money to buy Blink-182's self-titled album. Blink set my life on a whole different trajectory, but I will always have fond memories of being a 10-year-old from the suburbs and attempting to connect with songs such as "Tho Dem Wrappas" and "Never Let 'Em C U Sweat." —TJ Horansky
OASIS - Be Here Now



I was given the second Oasis album, (What's The Story) Morning Glory?, by my uncle (a rock-radio DJ), because in the '90s, labels handed out CDs to radio stations like Halloween candy. Its overblown sequel, 1997's Be Here Now, was one of the first discs purchased with my own hard-earned coin from selling refurbished golf balls on the course across the street. People love to shit on this album, calling it the "Death of Britpop" and whatnot. The Gallagher brothers don't reflect kindly on it either, but they're too hard on themselves: it's a mean rock 'n' roll album. Speaking of mean—"D'You Know What I Mean?" is such a badass leadoff track, they needed to rent a dozen helicopters for the music video. "My Big Mouth" is so self-assured that hardcore brutes No Warning lifted its lyrics. "I Hope, I Think, I Know" is so criminally catchy, it doesn't deserve to be a deep cut. "The Girl In The Dirty Shirt" displayed pop-rock perfection in the Gallaghers' harmonies and "Don't Go Away" became the new "Don't Look Back In Anger" for the alt-rock generation. My original copy became so used and abused that I recently rescued another from the bargain bin. —Brian Kraus
SMASH MOUTH - Astro Lounge



While being a little kid has many leisurely benefits, having a stable income isn't one of the them. You're too young for a job so the only way to make money is on holidays (thanks, Grandma), or doing chores around the house/yard. However, the holidays just aren't frequent enough and the wages for doing chores are far too low. This made having enough money to buy my own things at that time in my life very difficult, and each purchase had to be methodically planned. The struggle was real, and it took a lot for me to say, "That's what I want to spend my money on!" But when I heard Smash Mouth's track "All Star", I knew the CD had to immediately be mine. While "All Star" was really the only track off Astro Lounge everyone got to know, that entire album is one nostalgic trip for my ears and will always be remembered as the first album I bought with my own money. I can't bear to separate with it for that reason, and I'm sure I never will, so it still sits in my CD collection. I can't help but smile every time I across it. —Nick Major