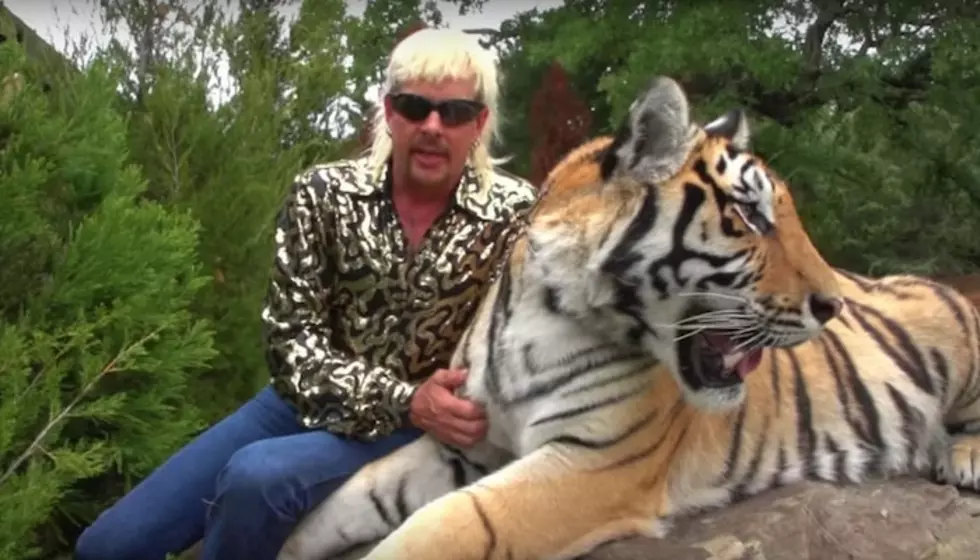 The 'Tiger King' zoo reopened and people forgot what social distancing is
[Photo via YouTube]
Netflix's Tiger King: Murder, Mayhem and Madness has absolutely swept the globe. The misadventures of Joe Exotic and crew leading up to his imprisonment has captivated the nation since it debuted in March. 
But, now, it's not just the show that draws attention. With coronavirus restrictions lifting, hundreds of visitors have allegedly flocked to Exotic's former zoo in Wynnewood, Oklahoma, previously named G.W. Exotic Animal Park. 
With some of the previous coronavirus regulations being lifted as many states enter the first stage of reopening, people are getting to experience some of their favorite things again. For some people, it might be a concert. The first one of those is happening in Arkansas just next week. For some, it may be shooting hoops in the park.
For others, it's visiting an exotic animal park that was the focus of a Netflix true-crime documentary in which the eccentric former owner is serving a 22-year sentence for a murder-for-hire-plot, among other charges. 
That's right. Now that things are opening up again, people have flocked to the Joe Exotic holy land to get a glimpse of some of the shows' stars and the animals they keep in cages. 
According to Daily Mail, hundreds of fans flocked to the exotic animal park, now called Tiger King Park, and completed ignored social distancing guidelines. 
Hundreds flooded the zoo without face masks or any other face coverings. They stood in lines less than six feet apart. In addition to sitting shoulder to shoulder for an opportunity to play with baby tigers. 
It seems none of the staff, such as Jeff Lowe or Erik Cowie (famously known as the head zookeeper, and infamously as the the guy who helped Joel McHale roast Mötley Crüe's Vince Neil) complied by the CDC guidelines either. 
Speaking with Daily Mail, Cowie also gave more insight into Joe Exotic's alleged behavior towards the cats. 
"Joe would often brag about being in a cage with 16 tigers, but in reality it was more like two or three of them. I would take the mean ones out of the cage, the cats who didn't like him."There was a liger and we used to use Joe as bait in order to get her out of its cage, this big cat would try to attack Joe every time she saw him."
"Several of the big cats would have eaten him alive if given the chance," Cowie added.
So, if you're a massive Tiger King fan, the park is now open and ready to be explored. 
More Tiger King
While the story of Joe Exotic on Netflix's docuseries Tiger King is wild enough standing on its own, Nicolas Cage is going to make the show's story a little more out there with a newly announced scripted series he'll be starring in.
According to Variety, an eight-episode series is being produced by Imagine Television Studios and CBS Television Studios centered on Exotic. The series is reportedly being "taken to market in the coming days."
It will be based on the Texas Monthly article "Joe Exotic: A Dark Journey Into the World of a Man Gone Wild," by Leif Reigstad.
The crew for the series is as follows. Dan Lagana will be a writer, showrunner and executive producer and Paul Young is executive producing via Make Good Content. Imagine's Brian Grazer and Samie Kim Falvey will also be executive producers. Nicolas Cage will executive produce representing Saturn Films. Scott Brown and Megan Creydt will executive produce for Texas Monthly. Lastly, Imagine's James Seidman and Natalie Berkus are overseeing the entire series.
The story for the show is revolving around Joe Schreibvogel (Joe Exotic). It focuses in on how he became who he is, lost himself in the character and the fight to keep his exotic animal zoo.
This is also marking the first time Nicolas Cage has ever had a regular television role.
The new show won't be the first scripted series about Joe Exotic though. The first was announced last year with Kate McKinnon playing the role of Carole Baskin. It's basing itself off of the Wondery podcast "Joe Exotic," but Universal Content Productions is still searching for a writer.
Ever since the Tiger King series arrived on Netflix, it's become a massive hit. Variety ended up reporting that the series has reached roughly 34.3 million individual viewers in its first 10 days, according to Nielsen data.
Would you visit the Tiger King Zoo? Tell us in the comments below!
[envira-gallery id="199143"]