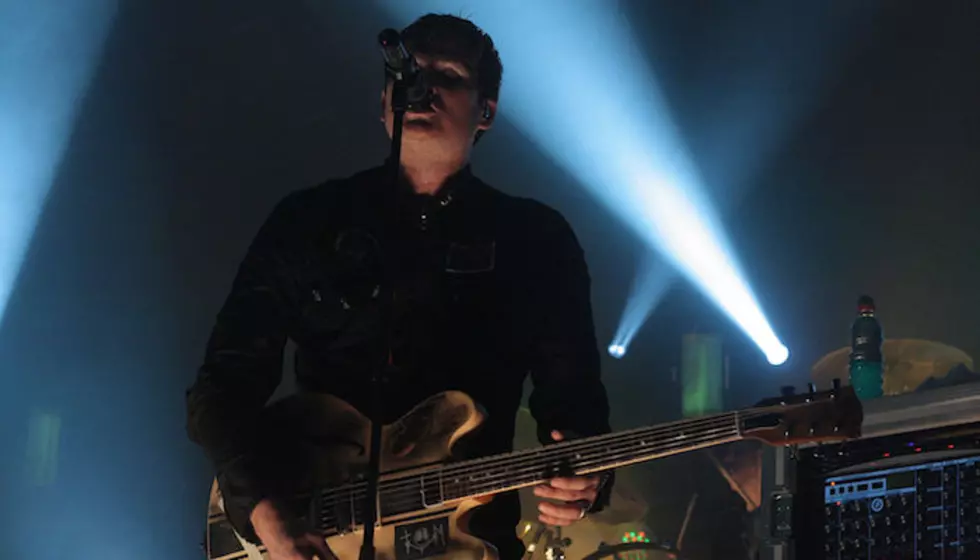 10 songs that show Tom DeLonge had aliens in mind for a long time
[Photo by: Tarah Dawdy/Wikimedia Commons]
Tom DeLonge, the face and leading voice of To The Stars Academy of Arts & Science, the Angels & Airwaves frontman and a former blink-182 cornerstone, has the ability to write lyrics that feel both personal and universal. Featuring mysterious space imagery, these lyrics from different points in his creative career invite listeners to explore both outer space and our individual worlds.
So, let's start the machine to take a flight through these tracks and see where we end up.
blink-182 – "Aliens Exist"
In "Aliens Exist" from blink-182's legendary Enema Of The State, DeLonge sings of being abducted and suggests that his biological father might also be an alien. The point being, he's not like everyone else. However, nobody believes his story, and if the CIA finds out about it, they would mock him just like his best friend—supposedly Mark Hoppus—does. Long story short, he feels like an alien in this dark, scary and ordinary world. Don't we all sometimes?
Box Car Racer – "Watch The World"
Three years later, in the same key as "Aliens Exist" yet a totally different mood, DeLonge resumed reflecting on the world and space with Box Car Racer on the third track of their one and only self-titled album. While the protagonist is watching the world collapse, he's thinking of things such as the state of Virginia getting rid of CIA's headquarters in Langley and their secrets (Area 51, anyone?). But in the end, who is there to survive the apocalypse? Just him and his loved one.
Angels & Airwaves – "Call To Arms"
The opening track on I-Empire is essentially an invitation to go watch the stars or maybe even go to the stars, which is only possible if you believe you can do it. No matter how down, hurt or lost you're feeling, DeLonge's voice, spacey synths and positive riffs are here to assure you that anything is possible. All you have to do is "get up and try."
Angels & Airwaves – "Love Like Rockets"
This energetic track takes off with a recording of President Dwight D. Eisenhower's greeting from a satellite in 1958—the first-ever space-to-Earth message. In one of AVA's live gigs, DeLonge introduced "Love Like Rockets" as a love song and went on to compare the feeling of falling in love to a rocket launching to the moon for the first time. Though Eisenhower's message was about world peace, it sets the scene for DeLonge's lyrics of falling in love as a celestial backdrop.
Angels & Airwaves – "The Flight Of Apollo"
Just like "Aliens Exist," this marvelous track from Love orbits around the theme of feeling alone in the universe. And like in "Love Like Rockets," an individual's feelings and experiences are paralleled with space travel. In this case, DeLonge uses NASA's Apollo program, which landed the first humans on the moon in 1969. The lyrics here, along with the album's cover that shows an astronaut sitting on the moon, work as a reminder that no matter how much suffering there is in life, we have to appreciate the wonders of human perception, such as our ability to see shapes and colors, as much as humanity's strength, resilience and drive.
Angels & Airwaves – "The Moon Atomic (...Fragments And Fictions)"
While the world may feel like it's ending once more given the current state of things, this AVA track reminds us it's all about perspective. DeLonge sings about our view of the moon from Earth making it appear as if it has a dark side. But if you look at the moon from space, you realize there is no dark side. In other words, life is far from perfect, but you can get through it by adjusting your point of view.
Angels & Airwaves – "One Last Thing"
If you're an AVA fan, you probably know that quote in the song from their sci-fi movie, Love, by heart. The one where space investigator Captain Lee Briggs talks about "a feeling of heartfelt purpose and a sense of hope" for "something bigger than ourselves." So what is that "one last thing" the protagonist found "to believe in"? Could be aliens. Could also be the message encoded in the title of the film and album.
Angels & Airwaves – "Behold A Pale Horse"
The end of the world never sounded more fun. Bright synths, major key and an upbeat rhythm set the stage for apocalyptic imagery largely based on the Book Of Revelation. The sound of crowds and children laughing while fire eats up the world and billions are dying is a "strange celebration" indeed. But who are they, the ones who "know who we are" and "will set us free"? Knowing DeLonge believes that when you follow UFO folklore, you can see how history, religion and science are interconnected, so they is probably an allusion to aliens that were described as angels in the final book of the New Testament.
Tom DeLonge – "Landscapes"
The same year he departed from blink-182 and two years before he founded his company, DeLonge dropped a solo album of previously unreleased material. "Landscapes" is a brief atmospheric composition that features a recording of astronomer Carl Sagan's monologue from the 1988 documentary God, The Universe And Everything Else. In the excerpt, Sagan questions the nature and accuracy of our perceived reality, which resonates with a recurring point in DeLonge's songs and interviews that only by questioning things we're feeling or are being told can we open and expand our minds.
Angels & Airwaves – "All That's Left Is Love"
Now we're taken to quarantine reality, slightly resembling the cataclysms in previous tracks. The chorus mirrors the line from 14 years ago about letting in "just a little more love" on "A Little's Enough." Now, our epic journey from feeling like an alien and seeking salvation in romantic love reached the point where the message of universal love is as loud as ever, with space and stars taking up a single metaphor of "looking up." The AVA members do just that in the last seconds of the music video, as if showing that looking up is what connects us all, even when we're alone.