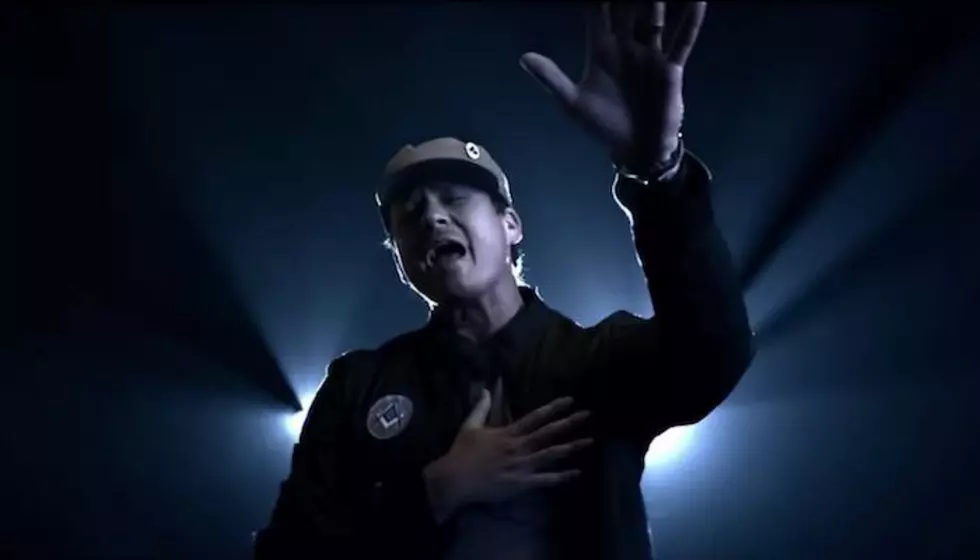 Top 10 most 'Tom DeLonge' moments to ever happen
[Photo via YouTube]
Angels & Airwaves are back teasing another new song, upcoming tour and hopefully more timeless Tom DeLonge moments. To prepare for the upcoming welcome onslaught of DeLonge, we're highlighting our favorite moments from AVA's hiatus.
1. Tweeting the way he sings
DeLonge may have some wild beliefs, but at least he's self-aware. This is illustrated by his willingness to
make fun of his own voice
on social media, particularly for his pronunciation of the word "head" in "I Miss You" or his voice inflection on the first line. DeLonge may be willing to meme himself, but he's not the only member of
blink-182
to
take a shot
at the ex-vocalist's lyrical delivery.
2. Reacting to "All The Small Things" at a Padres game
Anyone who follows DeLonge on Instagram knows he's a San Diego Padres superfan, showing off his fieldside seats frequently. What happens when the team uses "All The Small Things" as a hype song between innings? This befuddled reaction sums up how we would feel if our song played over the loudspeakers.
3. Allegedly receiving Christmas nudes from Travis Barker
Despite the drama swirling around DeLonge's departure from blink, his friendship with drummer Travis Barker seems to be alive, well and maybe even a little hot and heavy. Tom shouted out his friend on Instagram over the holidays, thanking him for a NSFW Christmas gift.
4. Looking for UFOs and Bigfoot while stoned
Barker and DeLonge's relationship was most likely cemented by their adventures on the road, which were full of much more than playing to sold-out crowds. Barker reminisced about his and DeLonge's intoxicated alien-hunting on The Joe Rogan Experience podcast in February, even spilling information about DeLonge's Bigfoot searches as well.
5. Producing his own History Channel UFO show
History Channel has created a reputation for paranormal-inspired series over the years, so why not double down and give DeLonge his own show? The six-part series is executive produced and hosted by DeLonge, who will interview other like-minded individuals.
6. Releasing a children's book…about losing your clothes
DeLonge is no stranger to authorship, responsible for several books from nonfiction to graphic novels. This wasn't his first stab at a children's book, but dedicating a whole book to running around in the buck is only fitting for a man notorious for nudity and dick jokes.
7. Also believing in mermen (but not mermaids)
An obsession with aliens and hunting for Bigfoot aren't the furthest DeLonge's beliefs stretch. The singer answered a fan inquiry in January concerning a mermaid documentary that many discredit as fiction. DeLonge fired back to
make his opinion known
, giving credit to mermen as "the supernatural leaders of our world." Mermaids though? Ridiculous.
8. Correcting fans on blink-182's pronunciation
World War III almost began on Twitter last November thanks to a disagreement between James Corden and the head writer for his late-night talk show, arguing about the pronunciation of blink-182. While the format of "182" may be different across the pond, DeLonge made sure to set the record straight on the 100% real way to say blink-182.
9. Taking on Instagram trolls
Reddit user r/CherokeePilot1997 shared this exchange between DeLonge and a critical "fan," comparing him to that creepy uncle we all have. In classic DeLonge fashion, he not only claps back but somehow works masturbation into his dig. Bravo!
10. Sharing his theories with Joe Rogan
Rogan is only one Mark Hoppus away from having the entire iconic blink lineup on his podcast. DeLonge took no time at all to share his theories with Rogan, even though many of Rogan's questions were met with ambiguous answers due to the classified nature of DeLonge's colleagues. Either way, it was an interesting hour-and-a-half dive into the mind of our favorite UFO chaser.
[envira-gallery id="194483"]