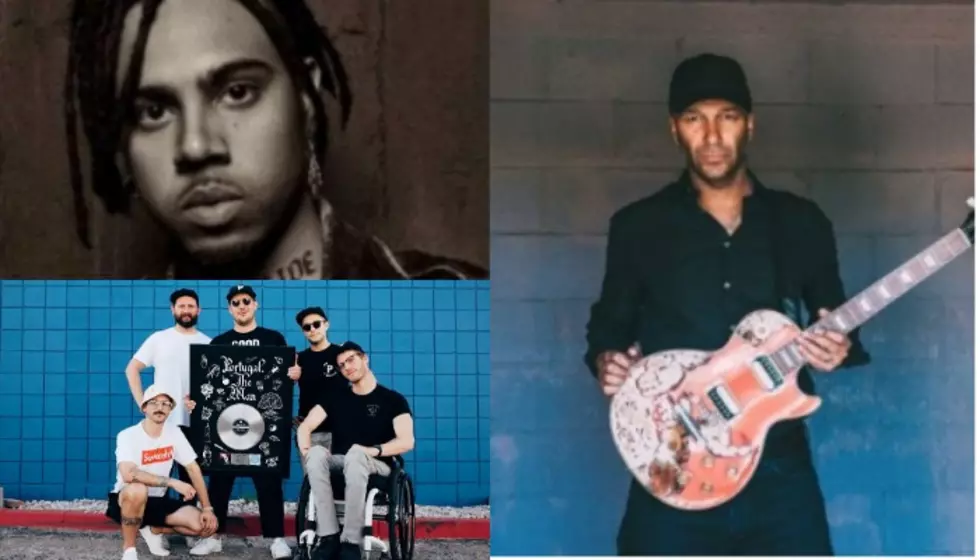 Tom Morello reimagines track with Portugal. The Man, Vic Mensa
[Photo: Tom Morello/Facebook]
Rage Against The Machine and Audioslave's Tom Morello has released a totally new version of his song "Every Step I Take" featuring Portugal. The Man and Vic Mensa.
The song was originally released in 2018 on his album The Atlas Underground. Now, the trio has given it a whole new spin.
Morello says that the "sonic conspiracy continues" following his collaboration with "super talented friends."
Portugal. The Man frontman John Gourley also said that he's done the song acoustically with Morello, but he couldn't believe what Mensa added to the table.
As for Mensa, he couldn't contain his excitement about working on the track with the two artists.
"It's always a dream come true to rock with Tom on anything, I'm his biggest fucking fan," Mensa said in the a press release. "Me & John actually met at like my 22nd birthday party at my house when I got cake faced by my girlfriend, so it was awesome to do some music together. "
You can listen to the new track below.
The Atlas Underground was the first album Morello released solo, and both Portugal. The Man and Mensa were featured on it.
Mensa performed with Morello back in March at an event to celebrate the American Civil Liberties Union's 100th anniversary in Los Angeles. You can see a clip of that below.
In other news, Morello presented at the Oscars and many people were confused about his appearance.
The musician has a string of upcoming tour dates beginning this month. You can check out the dates for that below and grab tickets here.
Dates
05/10 — Indianapolis, IN @ Deluxe at Old National Centre
05/11 — Louisville, KY @ Mercury Ballroom
05/12 — Rockingham, NC @ Epicenter Festival
05/14 — New York, NY  @ Irving Plaza
05/15 — Norfolk, VA @ The Norva
05/17 — Columbus, OH @ Sonic Temple Art and Music Festival
05/18 — Buffalo, NY @ Town Ballroom
05/19 — Columbia, MD @ DC101 Kerfuffle / Merriweather Post Pavilion
06/01 — London, UK @ London Stadium *
06/03 — Nottingham, UK @ Rescue Rooms
06/05 — Bristol, UK @ Ashton Gate Stadium *
06/08 — Manchester, UK @ Etihad Stadium *
06/15 — Tinley Park, IL @ 101WKQZ Piqniq
*with Muse
What do you think of the new version of the Tom Morello song? Sound off in the comments below!
[envira-gallery id="197607"]