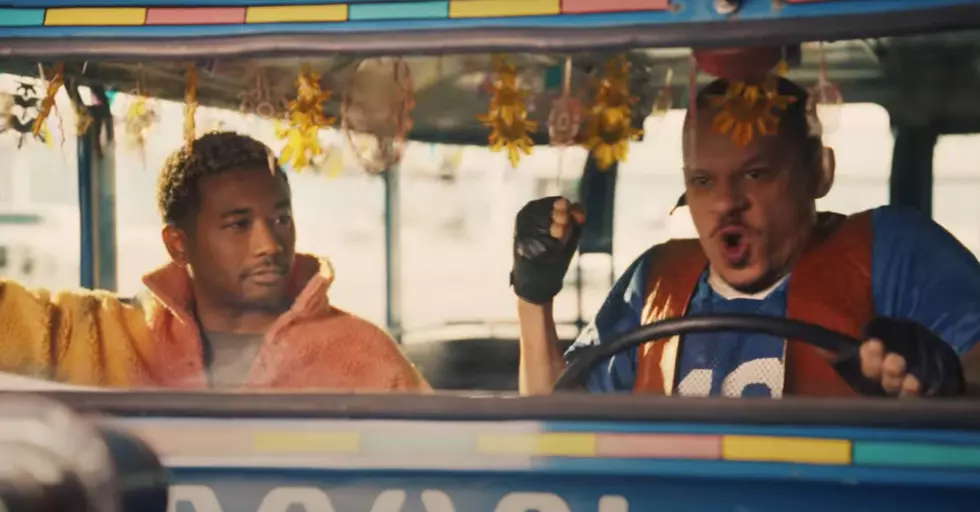 Toro y Moi and Eric Andre go for a ride in 'Goes By So Fast: A MAHAL Film'
[Photo via YouTube]
Toro y Moi, aka Chaz Bear, has released a short film for his seventh album, MAHAL. The musician is joined by Eric Andre, who co-stars with him in the video.
Goes By So Fast: A MAHAL Film was directed by Harry Israelson and written by Bear, Jared George Mattson and Jonathan Charles Mattson.
The film centers on Bear as he attempts to make it to his concert venue during a heat wave. His car breaks down, and he's left stranded until Panther (Eric Andre) happens upon him waiting on the side of the road. The two speed off in Pather's Jeepney, and absurd, heat-stroke-induced hijinks ensue.
Bear shared how the short film came to be in a press release.
"Shortly after finding the Jeepney, ideas for films and videos immediately came to mind," he says. "Given the more serious themes of the record, Harry and I both felt it fitting to come up with something humorous and fun. I wanted to make something that humanized the music and hopefully myself in ways."
Toro y Moi is in the midst of an international tour. Check below for a list of upcoming dates.
Watch Goes By So Fast: A MAHAL Film below.

Toro y Moi 2022 tour dates
06/19 - San Francisco, CA @ Stern Grove Festival !
06/23 - 06/26 - Rothbury, MI @ Electric Forest Festival
07/17 - Chicago, IL @ Pitchfork Music Festival
07/19 - Brooklyn, NY @ Brooklyn Mirage #
07/20 - Boston, MA @ House of Blues Boston ^
07/21 - Philadelphia, PA @ The Fillmore ^
07/23 - Seattle, WA @ Capitol Hill Block Party
08/05 - Denver, CO @ Vortex Festival
09/23 - 09/24 - Big Sur, CA @ Fernwood Resort [SOLD OUT]
09/25 - San Francisco, CA @ Portola Music Festival
10/04 - Paris, FR @ Le Trabendo &
10/05 - Amsterdam, NL @ Melkweg &
10/06 - Berlin, DE @ Metropol &
10/07 - Poznan, PL @ TAMA &
10/08 - Warsaw, PL @ Praga Centrum &
10/10 - Cologne, DE @ Kantine &
10/11 - Brighton, UK @ CHALK &
10/12 - London, UK @ St John at Hackney Church &
10/13 - Manchester, UK @ New Century Hall &
10/14 - Dublin, IE @ Academy &
10/29 - Los Angeles, CA @ The Greek Theatre @
11/11 - Perth, AU @ Red Hill Auditorium $ *
11/16 - Brisbane, AU @ Riverstage *
11/18 - Sydney, AU @ The Dome, Sydney Showground %
11/24 - Melbourne, AU @ John Cain Arena %
$ = Toro y Moi DJ set
! = with Hello Yello
# = with Noname and Enumclaw
^ = with Enumclaw and They Hate Change
& = with Sofie Royer
@ = with Nosaj Thing
* = supporting Flume with Channel Tres and MAY-A
% = supporting Flume with Caroline Polachek, Channel Tres and MAY-A