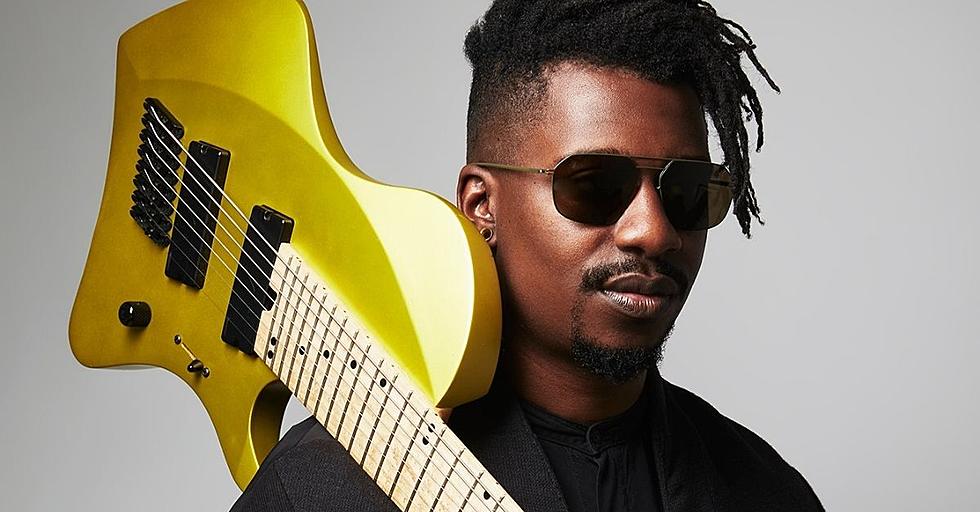 Animals As Leaders' Tosin Abasi on creating his own company to build the "super guitar"
Tosin Abasi has always taken a less than conventional approach to music, ever since he started learning guitar at the age of 12. It wasn't his first instrument — he had played clarinet in the school orchestra — "but clarinet wasn't cool," he says, laughing. And so he picked up guitar because of a friend who was taking lessons.
"I would see the guitar in his living room, and one day I just asked him to show me something," Abasi says. "I found it really fun and challenging to learn a little riff. It inspired me to want my own guitar, so I bugged my dad, and he ended up buying me one."
Unlike his friend, Abasi didn't have the help of a teacher. "For probably the first 15 years of playing, it was just figuring it out on my own," Abasi says. He learned by ear, playing along to Weezer and Nirvana songs on the radio. But he was also getting into the heavier sounds of nü metal — Korn, Limp Bizkit, System Of A Down, Staind and Deftones. Abasi was also inspired by John Petrucci and Steve Vai. Listening to these artists allowed him to level up as a guitar player. Soon enough, he began playing guitars with additional strings. He bought instructional videotapes made in the '80s and '90s and also learned from guitar magazines, building a robust music education for himself.
Abasi played in the band Reflux before attending the Atlanta Institute of Music and Media (AIMM), indicative of the guitarist's drive to keep learning and improving. Reflux's label Prosthetic Records offered Abasi the chance to make a record, so once he finished the program, he took up the offer, forming prog-rock instrumental group Animals As Leaders. 
Through the band, Abasi has become a celebrated guitar virtuoso, known for his advanced skill and technicality but also for his ingenuity and creativity — traits he would bring along with him when he began a new venture: making guitars.
In 2013, guitar brand Ibanez named Abasi a signature artist, and as part of the partnership, he got to personalize a guitar. But Abasi aspired to take it even further. He eventually designed his own guitar, based on custom handmade guitars he had. "It made me realize I really like designing, and I could actually do a lot more than just having a signature instrument under another company's name," he says. "I could release a whole range of instruments under my own name."
"Before the wedding day, I realized that I needed to do my own thing," he says. Abasi Concepts was founded in 2017. 
"I'm really into fashion, and I'm into supercars, and I wanted to make something that was like the Ferrari of guitars," he reveals of his motivations behind the company. Substance and style had to come in equal measure, however. "It's like something between Apple and Porsche," he says. "I wanted this thing [where] the design is really slick but the actual experience of using it was really seamless."
Abasi wanted to respond to guitarists whose needs — much like his own — went above and beyond that of a standard guitar. "I just tried to make the super guitar," he says. Abasi's not your average guitar player, and he doesn't make ordinary guitars. Unafraid to get creative with the shape and style, Abasi was able to create guitars that were original and advanced, made for guitar players with their own distinct style — in short, musicians like himself.
But that's not the only thing that makes Abasi Concepts stand out from other music brands. It's a Black-owned brand, which is rare in a world of guitar-making not renowned for its diversity because of factors — mainly financial — that make it less accessible. "Even though there are roots in rock and blues that do come from Black culture, it evolved to be a predominantly white space. That is reflected in guitar-building, too," he explains. Fortunately for Abasi, "I never hit a barrier that made me feel that because of my identity, it was harder to do it," he says.
Through his roles as both guitar-maker in Abasi Concepts and guitar player in Animals As Leaders, Abasi's seen more women and people of color at shows, and subsequently picking up guitar. "It used to be the kind of thing where I would go to a metal show, and I'd be one of the only Black people there, but now, I think there are more people who feel comfortable in those spaces," he says.
Over the past two years, there's been an even greater push for recognizing diversity in alternative spaces, challenging the idea that the genre is only "for" a particular type of identity. "There's negative reinforcement from within your culture, and then there can be negative reinforcement from outside your culture," Abasi says, explaining that he believes people of color have often felt uncomfortable listening to rock because of its white fans, but also because of other people of color who don't listen to rock.
"I think people who have a strong sense of individual identity and don't necessarily depend on community identity are the first people who enter these spaces where they're not reflected in who they see, but they don't care because they resonate with [it] — maybe it's the music, or maybe it's the fashion," he says. Thus, when partnering with artists, diversity was key. "Not necessarily even just identity-wise, but style-wise. And it all worked together to where we have all sorts of people playing Abasi guitars." Those artists include Isaiah Sharkey, Roopam Garg and Justus West. Sharkey even appeared on The Ellen DeGeneres Show in John Mayer's band playing an Abasi guitar. 
"It's interesting [to] make something and put it out into the world, and then someone uses that to express themselves," he says. "It's a very fulfilling thing to see. 
"The guitar is very personal," he concludes. "It's almost like an extension of you."
This story appeared in issue #403 with cover star Dominic Fike, available here.