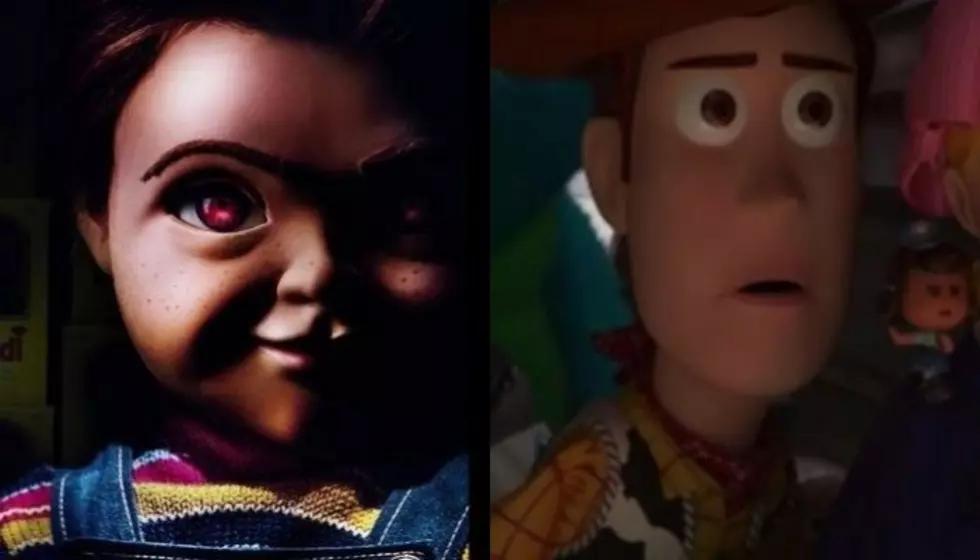 'Toy Story' fights back against Chucky in revenge-fueled fan art
[photos via YouTube]
The mutant toys of Toy Story have clapped back at the Child's Play posters showing Chucky terrorizing Toy Story 4 characters.
To backtrack, both the horror reboot and Toy Story 4 hit theaters this weekend, and Child's Play had to put out one more freaky poster to convince us to head to theaters one way or another.
The new poster shows Chucky torturing beloved dinosaur Rex with a lighter, completely burning his head off. It's just one of many of the characters from Toy Story that Chucky has harmed. Others including Woody, Buzz and more.
"Because friendship never goes extinct. Don't miss Child's Play, stomping through theaters starting this Thursday night," the caption to the latest poster reads.
You can see all the posters below.
Now, artist Jason A. Messina has imagined what it would be like if some of the toys just fought back.
So cool.
Other news
The reboot, based on the 1988 slasher flick, will see a number of changes to Chucky who will not be a haunted serial killer doll but instead an artificial intelligence that's conceited into Chucky's character.
Director Lars Klevberg intends to use more humane characteristics that are "understandable from his point of view but also to us," in addition to Chucky's AI rework. The idea originated from Greek tragedies and Mary Shelley's Frankenstein, which he claims as his key inspiration for the film.
It producers David Katzenberg and Seth Grahame-Smith are set to produce the movie. Aubrey Plaza (Parks And Recreation) and Gabriel Bateman (Lights Out) portray mother and son Karen and Andy Barclay respectively. Karen gives Andy a toy doll for his birthday and is unaware of its sinister nature.
In case you haven't seen the trailer for the movie yet, watch it in the player below.
Child's Play hits theaters this Thursday along with Toy Story 4. You can see the Toy Story trailer below as well.

What do you think of the poster where the roles are reveresed? Sound off in the comments below!
[envira-gallery id="194356"]