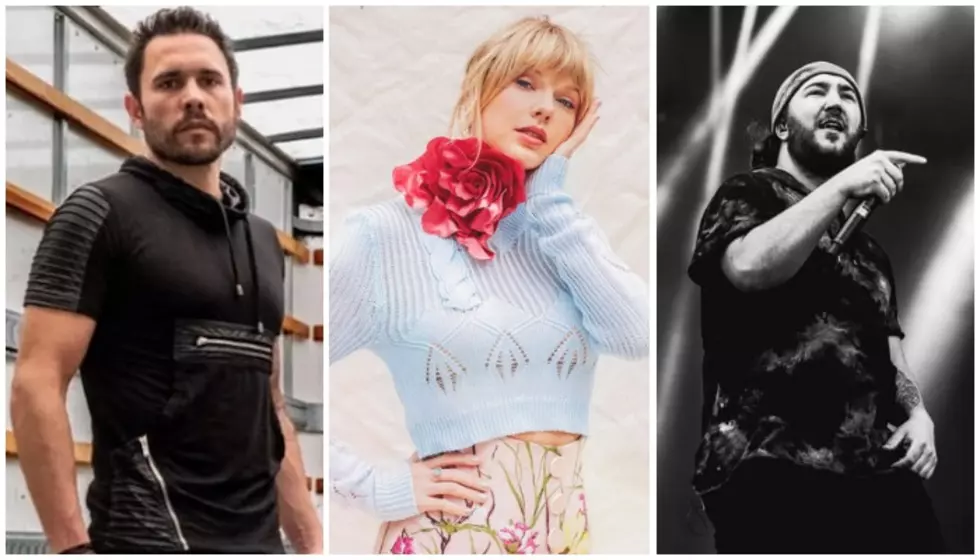 Trapt try to get Taylor Swift's attention by digging up 2014 I Prevail diss
[Photo by: Trapt/Spotify, Taylor Swift/Spotify, I Prevail/ Whitney Newell]
We've officially suffered through over a month of Trapt's Twitter war on everyone. Now, the beef with I Prevail's Eric Vanlerberghe continues. We might even see Taylor Swift involved this time. 
Dangerkids' Andy Bane called out Trapt on their Indigogo fundraiser for their album DNA and Eric Vanlerberghe jumped in to add fuel to this never-ending fire. 
Starting last month by calling out Captain America, Trapt's frontman Chris Taylor Brown needs to prove that his band is still worth something.
Over the past month, Trapt's social media account has been going on rants against seemingly every metalcore band in existence along with actors and others. Ice-T, Danny Diablo and the entire Sumerian Records' roster have been called out by Brown for their streaming numbers. 
It has been a hilarious saga of a severely damaged ego and pitfall of a music career but it has been entertaining. 
Today's update comes courtesy of Bane, who posted screenshots of Trapt's Indiegogo campaign for their album DNA way back in 2014. Bane brought up the campaign because Trapt's Brown was rattling off about Dangerkids being bad and their streaming numbers. 
Bane fired back about the DNA Indiegogo campaign.
I can share screenshots too. Like this one. You're soooooo successful but still taking donations to make another album
Trapt replied by discussing the semantics of the campaign and revealing they have a new album coming out.
That is just a pre order so people can be part of making the record. Our new album was made without any of that. We'll just be keeping it simple when we do our pre order next month. 150k budget. We can actually release records on our own. You cannot. Your band is over..
Vanlerberghe jumps in and asks about the record saying, "When's that record dropping? Can't wait to see the first week sales!"
Trapt reply as usual with Brown complimenting his band's achievements. It's safe to say that Vanlerberghe is getting under Brown's skin at this point because Trapt even notes that he tweets at him often.
2 songs dropping next month and whole album by the fall. We are very happy with where we are at as a band after 20 years. You must not be, with how much you tweet at me.... 
I Prevail's Dylan Bowman jumps in and quite a bit of back and forth ensues with the Trapt frontman reusing the tired old joke about I Prevail owing their career to Taylor Swift. For reference, I Prevail covered "Blank Space" back in 2014.  Brown keeps tagging her like he's trying to get her attention, which just seems desperate. Grab some popcorn and enjoy that thread below.
The good news is that we're allegedly gonna get some new Trapt content next month. That should make for some even better jokes than the songs.
Where will the Trapt saga go next? Tell us your thoughts in the comments below!
[envira-gallery id="194483"]