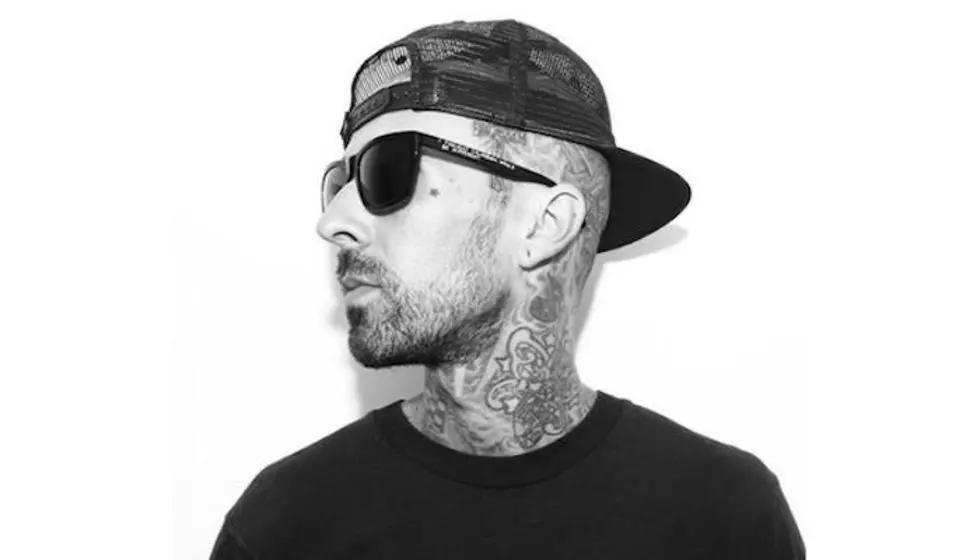 Travis Barker tops Rock Songwriters chart with blink-182 LP, MGK collab
Blink-182 drummer Travis Barker has achieved the No. 1 spot on Billboard's Rock Songwriters chart due to his various collaborations. 
In addition to the No. 1 spot, he has 15 songs that include his songwriting credits on Billboard's Hot Rock Songs chart. Those tracks include songs from blink's latest album NINE and his collaboration with Machine Gun Kelly and YUNGBLUD "I Think I'm Okay". 
Those 15 accolades are what pushed Barker to the No. 1 spot on the songwriting chart. This is the first time someone has achieved such an honor with so many tracks.
The No. 2 spot on the songwriting chart is tied by the other two blink-182 members, Matt Skiba and Mark Hoppus, for their work on the 14 charting songs from NINE. All but one of the tracks, "Happy Days" from the new blink-182 album are charting. 
While 14 tracks from that album helped in Barker's charting placement, it was the collab with MGK and YUNGBLUD, which is his highest-charting song on Rock Songs at No. 3, that helped take him to the leading position. 
You can see the full list of Barker's tracks on the Rock Songs chart and their placements below. 
Barker's Rock Songs chart placements
"I Think I'm Okay" by Machine Gun Kelly, YUNGBLUD and Travis Barker

"I Really Wish I Hated You" by blink-182




7. "Darkside" by blink-182




11. "Blame It On My Youth" by blink-182




13. "Pin the Grenade" by blink-182




15. "The First Time" by blink-182




26. "Heaven" by blink-182




28. "Black Rain" by blink-182




29. "No Heart to Speak Of" by blink-182 

"Generational Divide" by blink-182 

"Run Away" by blink-182 

"On Some Emo Shit" by blink-182 

"Hungover You" by blink-182 

"Remember To Forget Me" by blink-182 

"Ransom" by blink-182 
Barker celebrated by posting his accomplishment on his Instagram story. You can see a screenshot of that below. 
You can listen to NINE below and "I Think I'm Okay" to celebrate Barker's success. 
More news
Nothing, nowhere. and blink-182 drummer Travis Barker recently released their collaborative EP BLOODLUST. 
Prior to the release, the duo dropped "TRUE LOVE" and "DESTRUCTION" from the record. 
The new EP also features an epic song called "BACK2YOU" featuring blackbear. 
nothing,nowhere. announced the exciting news of the EP dropping on social media. You can see his post below. 
You can listen to the full record below.
Back when Barker and nothing, nowhere. Announced the record, they both spoke highly about what it's like to work together on new music.
"Travis has been a huge influence on me my whole life. He is the reason I became interested in tattoos at a young age and was also one of the main reasons I decided to start learning how to play instruments," nothing, nowhere said about the project. "Working with him was some of the most fun I've had making music. it was just an organic process, it reminded me of hanging at a friend's house when I was younger and just creating to create."
Barker also made a comment about his love for the artist and collaboration. 
"I love making music with Joe," he said. "He lives in a universe between genres like myself and does it so well. It's like hanging out with an old friend that skates, listens to everything I do, and we just happen to be making music at the same time. Joe's a triple threat, this EP showcases that."
What do you think about Travis Barker receiving the major chart honor by Billboard? Sound off in the comments down below!
[envira-gallery id="194483"]