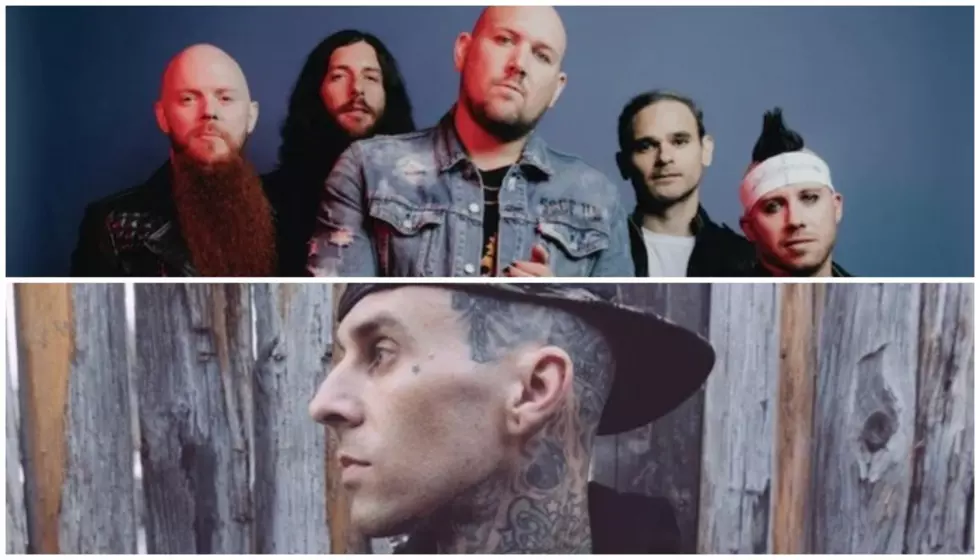 Travis Barker joins Atreyu on their explosive new single "Warrior"—listen
[Photos via Travis Barker/Jeremy Deputat, Atreyu/Spotify]
Atreyu are treating fans to not one, but two new songs this week. This time around, however, they aren't alone. For their explosive new single "Warrior," Atreyu are joined by blink-182's Travis Barker.
Along with "Warrior," Atreyu have also unleashed another new song called "Underrated." Both tracks offer a taste of their forthcoming album Baptize which arrives on June 4.
Travis Barker is truly taking 2021 by a storm. Since the start of the year, Barker has debuted so many collaborations and projects that we're starting to lose count. Along with appearing in Machine Gun Kelly's musical Downfalls High, Barker has also collaborated with Escape The Fate and FEVER 333 this year.
As well, the blink-182 drummer also teamed back up with MGK and YUNGBLUD for the zombie-filled "acting like that" video. He even produced Trippie Redd's new rock album which features blackbear and Deftones' Chino Moreno among others. Amidst all of this, Barker is also working on blink-182's next album with producer John Feldmann.
Now, Barker has joined forces with Atreyu for their explosive single "Warrior." The new track follows up their most recent single "Save Us" which debuted shortly after former vocalist Alex Varkatzas departed ways with the band.
As Atreyu explain, "Warrior" is all about perseverance and searching for that light at the end of the tunnel during the dark moments in life.
"'Warrior' is a song about persistence and never giving up," Atreyu say. "We hope this song can be the puzzle piece that helps people realize that we ALL have the capacity for greatness. Sometimes, greatness can exist in the shadows and lives buried under negativity, trauma, or anxiety. 'Warrior' is about searching through all of that endless darkness to finally find the sunrise."
When Atreyu began working on the new song, they knew they wanted Barker to be involved. As a result, Barker helps bring "Warrior" to life with his signature drumming that's heard throughout the track.
"When we wrote 'Warrior,' the idea to do a big marching drum break came about. We wanted it to feel like a hometown football game. Travis Barker was the perfect person to bring this to life. It's cool to have him be a part of the song and to perform in a different light than what people may be used to."
Along with "Warrior," Atreyu have also debuted another new song called "Underrated." For the band, this piece of work details the journey they have gone through to get where they are today.
"We've always had to prove ourselves. We've never been handed anything nor have we taken any shortcuts. It's never been 'the easy way.' Over two decades later, we're still making our mark."
Both of these new songs feature Atreyu's new lineup with drummer Brandon Saller taking over on clean vocals and Kyle Rosa stepping behind the drum kit. Baptize is slated to arrive on June 4 via Spinefarm Records. The new album also features collaborations with Papa Roach's Jacoby Shaddix and Matt Heafy of Trivium.
Baptize tracklisting:
"Strange Powers of Prophecy"
"Baptize"
"Save Us"
"Underrated"
"Broken Again"
"Weed"
"Dead Weight"
"Catastrophe"
"Fucked Up"
"Sabotage Me"
"Untouchable" Feat. Jacoby Shaddix of Papa Roach
"No Matter What"
"Oblivion" Feat. Matt Heafy of Trivium
"Stay"
"Warrior" Feat. Travis Barker
What are your reactions to Atreyu's new collab with Travis Barker? Which new Atreyu song has been your favorite so far? Let us know in the comments below.