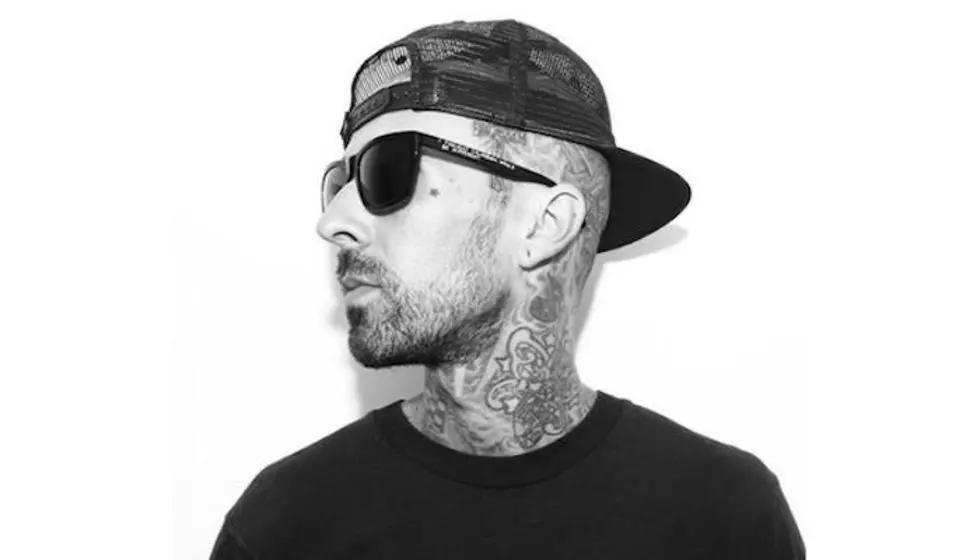 Travis Barker teases collab with son Landon that's "coming soon"
It looks like we might be getting a Barker family collaboration. Travis Barker and his son Landon Barker took to Instagram to briefly tease the idea of them working together.
It only took two seconds, but from what we see the blink-182 drummer is classically banging away on his kit and Landon appears to be nodding his head. Check it out below.
The video is super brief and we see the caption "@landonasherbarker x @travisbarker coming soon" It shows both father and son in what appears to be a studio. Watch it below.
[video width="480" height="852" mp4="https://media.altpress.com/uploads/2019/12/d4b0f7b7-6ab6-4209-b129-965bf206ac80.mp4"][/video]
Exactly what type of music they'll make is yet to be heard. But, we do know that Travis transcends genres with his abilities and interests. Landon or OTG Landon has explored an experimental lo-fi hip-hop style with his music.
We guess we'll just have to wait and see what comes of this.
Travis Barker has been a busy, busy man. Recently, he formed a new label. He is also apparently collaborating with nearly everyone from Machine Gun Kelly and Goody Grace to Mod Sun.
More Travis Barker
blink-182 drummer and kickass mixmaster Travis Barker has formed a new label, DTA. The label's first release is "Gimme Brain," a collaboration between Lil Wayne and Rick Ross.
With DTA, Barker has entered into a joint venture with Elektra Records. He'll assist in both artist development and use it as an outlet for numerous joint projects with other musicians.
"I wanted a label partner that I trusted with true artist development," Barker says about his alliance with Elektra. "As an artist, it's important to me that an artist's vision is protected at all costs. It's crucial that I'm able to look an artist in the eye and believe it when I say we can take them from a basement to an arena. Elektra's track record and belief are proof of that. And I'm stoked to continue to build that legacy together through DTA Records."
Travis Barker is obviously no stranger to hip-hop culture or heading up a record label. In addition to his membership in Transplants with Tim Armstrong, Barker did live sets with his close friend, the late DJ AM, that married his sense of groove with inspired turntablism. In the early 2000s, Barker created an imprint with Atlantic, LaSalle Records, that released records by post-hardcore outfit the Kinison as well as the cholo-goth duo Prayers.
In a joint statement, Mike Easterlin and Gregg Nadel, co-presidents of Elektra Music Group, acknowledge that.
"Travis is nothing short of a creative juggernaut," the statements reads. "As a drummer, songwriter, producer, remixer, collaborator, label head and entrepreneur, he's driven by an incredible passion for the music, insatiable curiosity and unstoppable energy. We're thrilled to welcome Travis and DTA Records into the Elektra family. And we're looking forward to all the amazing artists and records we know he'll be bringing to the world."
More so than many artists of his stature, Barker has been quite aware of new artists across all genres. While maintaining his roles in Transplants and blink-182 (and on-call drummer for Goldfinger), he's been on the pulse of music movements.
He's been an active producer/mentor to FEVER 333 and has lent his drumming, remix and production skills to artists as diverse as Halsey, YUNGBLUD, $uicideboy$, Machine Gun Kelly, Yelawolf, Lil Peep, nothing,nowhere., Lil Nas X, Ghostemane, 03 Greedo, Pharrell, the Game, Korn and JUMEX.
Check out the lyric video for the label's debut single, "Gimme Brain," below.
What do you think will come of the potential Travis Barker and Landon Barker collaboration? Tell us in the comments!
[envira-gallery id="194483"]