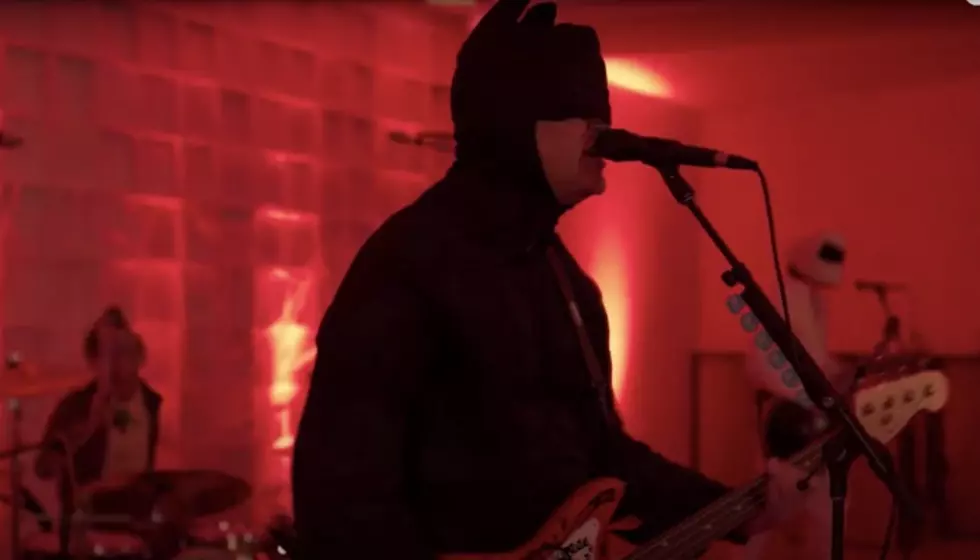 Mark Hoppus returns to performing on Travis Barker's House of Horrors
[Photo via YouTube]
Mark Hoppus and Travis Barker reunited for a Halloween weekend concert special. To set a spooktacular tone for the season, Barker's own House of Horrors event, presented by NoCap, was broadcast from a private haunted estate.
The livestream saw the blink-182 bassist and drummer returning to classics such as "The Rock Show" and "What's My Age Again?" The show also featured a plethora of other artists, including Avril Lavigne, iann dior, blackbear, Machine Gun Kelly, jxdn and more, all of whom performed their setlist with Barker obliterating on drums.
Hoppus took center stage in his first live performance since the announcement that he was cancer-free. Hoppus and Barker were joined by Escape The Fate's Kevin "Thrasher" Gruft on guitar, as Matt Skiba is currently on tour with Alkaline Trio.
In a pre-show interview, Barker spoke on Hoppus' personal recovery and determination as a performer. "That's the best news all year. That's my brother. Mark doing this and us playing a few songs is just incredible," Barker says.
"I've been with him through this process, and he's just been so strong and resilient and tough. I just told him, 'Elbows up and fight. It's time to fight.' And he did. It's awesome."
The group started their set with "What's My Age Again?," powerfully transitioning into "The Rock Show" and wrapping up on "Family Reunion." In true Halloween spirit, the trio were clad in their costumes onstage — Hoppus as Batman, Barker as Frankenstein's monster and Gruft as an Among Us crew member.
The NoCap-produced stream featured an all-star lineup, including Lavigne's performance of "Girlfriend" and "Sk8er Boi" and Machine Gun Kelly closing out the show with "WANNA BE" alongside jxdn and "Sick And Tired" with dior.
On his longtime friendships and musical partnerships with the featured artists, Barker explained how seamlessly each of their collaborations came to fruition.
"I've just worked with my friends," Barker says. "Everything's been organic. I just think that's the best way. It doesn't feel forced, [and] there's no pressure. You walk into the studio, and you never know what you're going to leave with. That's the most exciting part of my day."
"Going in, not knowing what you're going to come out with and leaving with a masterpiece that's going to do something for millions of people around the world...it's amazing."
Watch Mark Hoppus and Travis Barker's House of Horrors performance below!