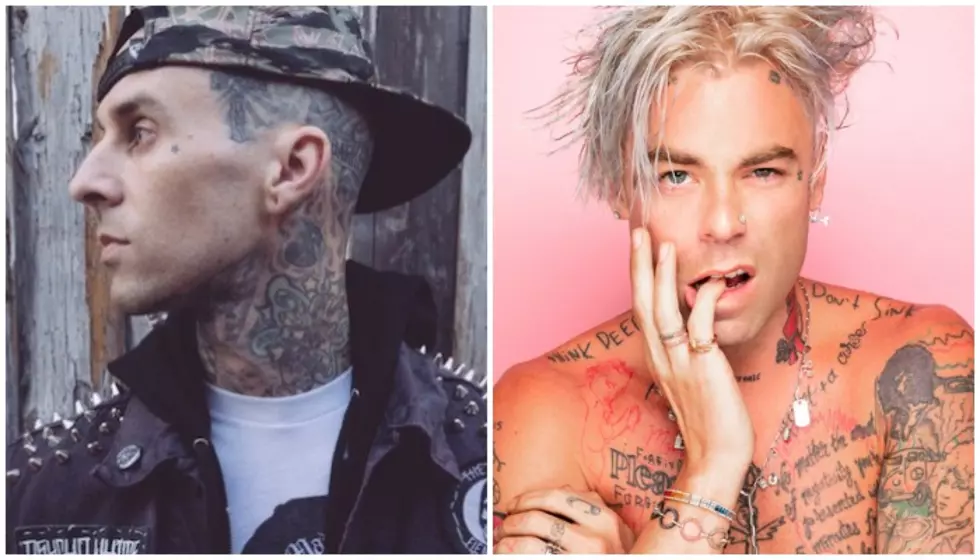 Travis Barker revived a classic Famous Stars And Straps shirt for Mod Sun
[Photos via Travis Barker/Jeremy Deputat, Mod Sun/Spotify]
Thanks to Mod Sun, Travis Barker has decided to bring back an iconic shirt from Famous Stars And Straps.
Now, fans can relive their middle school and teenage days with Famous Stars And Straps' original "BOH tee."
Barker launched Famous Stars And Straps back in 1999. Since its launch, the brand has remained a staple in both streetwear and music culture. Barker has repped the brand many times throughout his years with blink-182.
As well, most recently, Machine Gun Kelly wore a Famous Stars And Straps shirt in his video for "concert for aliens" which features Barker. The track is off of MGK's forthcoming album Tickets To My Downfall that Barker produced.
Now, Barker has decided to revive a classic Famous Stars And Straps shirt thanks to Mod Sun. Earlier this week, Mod Sun shared that he used to wear the brand because Barker has always been a hero of his.
"Here's a fun story," Mod Sun shares. "My mom used to give me $100 at the end of every summer for new school clothes. From age 13-17 I spent it all on @famousstarsandstraps because Travis Barker has been a hero of mine for as long as I can remember."
In particular, the BOH tee was always one of his favorites. He even had a poster of blink-182 on his wall that featured Barker wearing the original yellow BOH tee.
"I bought this exact shirt in every single color, wore it every day [and] had my room covered in posters of Blink 182," he continues. "My favorite one was a photo of Travis wearing the yellow shirt I'm wearing here."
Mod Sun goes on to say that Famous Stars And Straps stopped making the original BOH tee years ago. So, he hit up Barker to see if he could get a new one after losing his senior year.
"They stopped making it years [and] years ago so I hit up Travis recently [and] asked if he had one hidden somewhere cuz I lost mine senior year."
According to Mod Sun, Barker said "no, but let me make something happen for u." Soon after, Mod Sun learned that Famous Stars And Straps has brought the shirt back because of his request.
Famous Stars And Straps also took to Instagram to share the relaunch of the BOH tee.
Shortly following its release, the BOH shirt sold out. Famous Stars And Straps were selling it for $24.00. The company has not shared if they plan to restock the shirt in the future, but hopefully they do soon.
Do you have a favorite Famous Stars And Straps shirt? Let us know in the comments below.