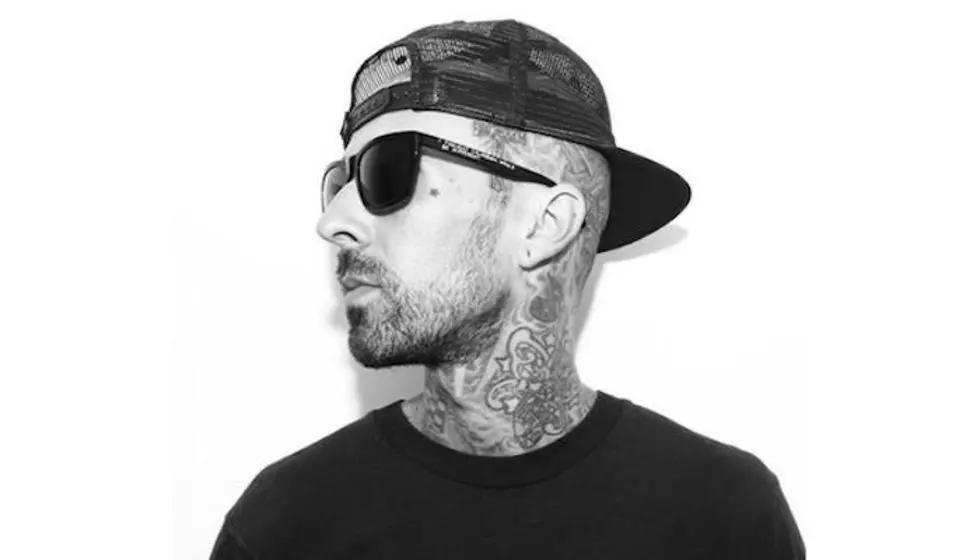 13 Travis Barker collabs to hold you over until blink-182's next album
Aside from being hard at work on blink-182's upcoming album, our favorite genre-busting drummer Travis Barker has had fingerprints all over the scene this past year.
In between perfecting blink's upcoming album, Mark Hoppus and Matt Skiba have been keeping busy with Simple Creatures and Alkaline Trio respectively. However, Barker has been all over the board, and after appearing on the The Joe Rogan Experience podcast last month, it seems like he has no intention of slowing down.
With reports of the new blink album dropping before Warped Tour, you won't have to wait long for new tunes. But here are 13 Travis Barker collabs (both released and on the way) to tide you over until that happens.
1. FEVER 333
FEVER 333's road to the Grammy's included a Barker stepping stone. The band were obviously pleased with Barker's contributions to "Made An America," bringing the drummer back to compose, produce and even grab the sticks for their latest album, STRENGTH IN NUMB333RS. He has also hopped on for some live shows, as seen above.
2. Goldfinger
Paying homage to his ska roots, Barker joined Goldfinger's The Goldfinger Christmas EP last winter. His presence on drums is immediately recognizable and makes the holiday jam session worth listening to all year round.
3. The Aquabats
Speaking of ska, the Aquabats released a remastered version of their 1997 record, The Fury Of The Aquabats!, last year. They even went as far as bringing back the original drummer for the album, The Baron Von Tito (who also goes by his lesser-known persona, Travis Barker) in a music video for "Powdered Milkman." Barker also hopped onstage with his former band at he and John Feldmann's Back To The Beach fest.
4. Vic Mensa
Vic Mensa has been seeing a lot of Barker lately. Mensa brought the drummer on as a composer for his latest EP, Hooligans, and also joined forces for a kick-ass FEVER 333 remix and music video. Right now we're anxiously awaiting a teased collab for Mensa's 93 Punx project featuring Barker and Good Charlotte's Joel Madden.
5. YUNGBLUD, Halsey
YUNGBLUD and Halsey set our souls on fire with their single, "11 minutes." The collab went from amazing to legendary with the addition of Barker on the kit. He also killed it for the heart-wrenching music video which dropped shortly after.
6. lil aaron
After banging the drums on lil aaron's ROCK$TAR FAMOU$ track "QUIT," blink-182 brought him on as an opener for their Las Vegas show last June. Barker also stayed plenty busy over the holidays, producing the rapper's Christmas album., WORST CHRISTMAS EVER EP.
7. Paris
Barker's clearly a fan of the anti-rap scene. Another great example can be seen in his feature on Paris' 2018 album ONE NIGHT IN PARIS. "CRUSHIN" was the only song Barker was featured on, but it gives us hope for more emo-rap collabs in the future.