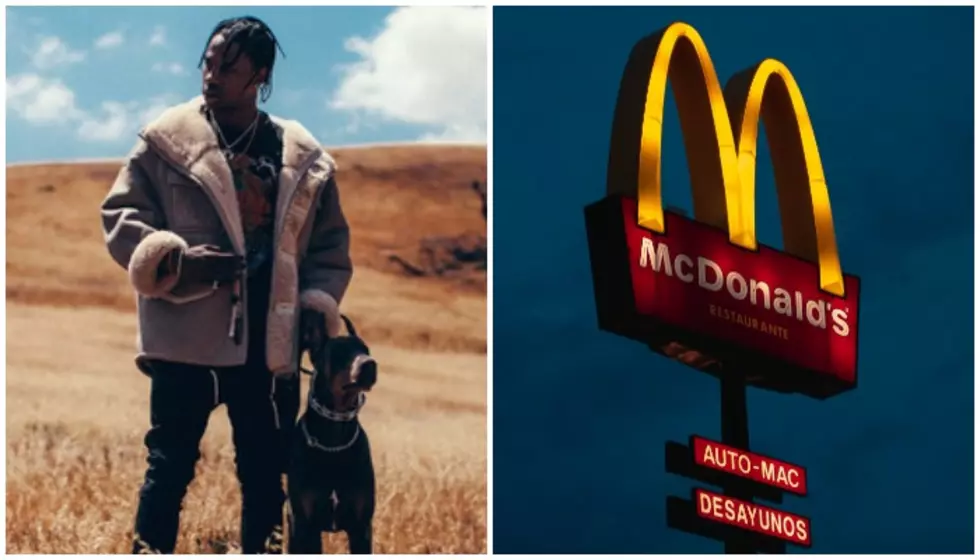 Travis Scott's McDonald's collab is confusing employees and the internet
[Photos via Travis Scott/Spotify, McDonalds/Carlos Macías via UnSplash]
In case you didn't know, rapper Travis Scott is a big fan of McDonald's. So much so that he has joined forces with the fast-food chain to drop exclusive merch and his own meal fans can order.
The collaboration, however, has left both the internet and McDonald's employees confused for many reasons.
This week, McDonald's launched the "Travis Scott Meal." For $6, customers can try Scott's "go-to" order at the fast-food chain - a quarter pounder with cheese, bacon and lettuce, medium fries with BBQ sauce and a Sprite.
The limited-edition meal is only available in the United States. As well, the Travis Scott Meal is the first celebrity meal at McDonald's since Michael Jordan's "McJordan" sandwich in the '90s.
The collaboration, however, is confusing some of McDonald's employees. According to GQ, some employees have had to ask who Scott is and what the collaboration is all about. In particular, McDonald's latest collab to jumpstart sales amid the coronavirus pandemic isn't making a whole lot of sense to older crew members.
"We have a few older [crew members] with us and they say, 'What is a Travis Scott?,'" the manager of a Utah location says. "And we try to explain, 'he's a rapper, blah blah blah.'"
The Scott collaboration lasts until October and McDonald's locations have reportedly seen an uptick in customers. An Orange County manager reported that this past Tuesday was unusually busy. The location was populated mainly by young kids, teens and those in their 20s who were all scrambling to get their hands on the new menu item.
For those upset that the Travis Scott Meal doesn't come with a toy, the rapper has you covered. Along with the launch of the McDonald's meal, he has also released themed merch through his label Cactus Jack.
The collection includes a giant $90 pillow in the shape of a chicken nugget. Fans can also get their hands on various shirts, pants, shorts and hats that feature the iconic golden arches logo.
Are you going to try Travis Scott's meal at McDonald's? Let us know in the comments below.