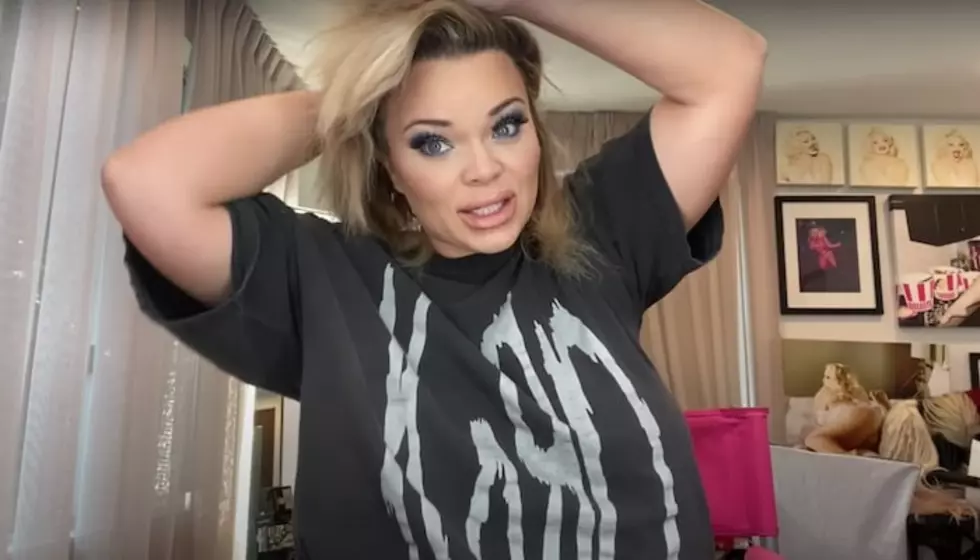 Trisha Paytas drops My Chemical Romance and is now angering Korn fans
[Photo via YouTube]
Trisha Paytas is back to doing whatever you want to call what she does. We'll say, she's back to stirring up controversy with alternative fans. This time, she's using nu-metal titans Korn. 
Paytas has already angered the emo community with her My Chemical Romance "Helena" recreation, the LGBTQ+ community with her homophobic and transphobic comments, and the metal community with her recent I Set My Friends On Fire TikTok dance. 
For a bit of context, Paytas got her start doing lingerie modeling and working as a stripper when she moved to Los Angeles to pursue acting. From there, she appeared on several reality shows and game shows until starting her online career. She spoke with Business Insider in 2015 saying she thought "dumbing [her]self down" in her YouTube videos would get her more attention but thought "more people would watch if I was just real and true to who I was."
Back in February, Trish Paytas crossed a line by making a recreation of MCR's "Helena" where she dances in lingerie. Most of MCRmy knows that song is about Gerard Way and Mikey Way's grandmother. 
If we're just going by musical mistakes, there's strike one. 
Strike two came when she posted a TikTok video of her dancing to I Set My Friends On Fire's "Ravenous, Ravenous Rhinos." People called her out for not knowing the rhythm of the song at all, making a mockery of metal and clearly posting for the purpose of fishing comments from metalheads with the hashtag #metalhead being randomly tossed into her post.
Now, it seems Trish Paytas has struck out. Three different music communities, three different mistakes. Korn is the latest subject of Paytas' mockery (or is it flattery?)
Late last week, Paytas stan'd Korn with a selfie of her sporting red dreadlocks and Korn shirt.
We can only imagine the pain that Korn fans felt here, wishing it would all be over soon and this wouldn't turn into something like the My Chemical Romance obsession. Well, we're very sorry Korn fans.
Her most recent social media tirade shows Paytas in fishnets, an oversized Korn shirt, platform boots and the cherry on top, a massive head full of bleached dreadlocks and braids. She's stood in front of a McDonald's.
Paytas also has her shirt over her face, which one commenter addresses saying "Dude you're rich can't you buy some masks?"
The commenter is absolutely on to something. Paytas lives in Los Angeles, CA where it is now mandatory to wear a face-covering in public to combat the spread of coronavirus. 
Whether this is another publicity stunt by Paytas to attract even more attention or just genuine stupidity, we'll never know. 
Trish Paytas posted the photo to both Instagram and Twitter with two separate captions. The Instagram caption consists of lyrics from Korn's song "Good God" from their 1996 record Life Is Peachy. The Twitter caption tells more of a story saying she wanted fries but was too afraid to go inside. Check out both posts below. 
u stole my life. without a sigh. u sucked me dry. ✌?
I wanted fries but got too scared to go inside Pensive face the car ride there was fun tho French fries 
You can watch Paytas attempt to explain away cultural appropriation here, but it's probably not worth your time.
Is this the last straw for Trisha Paytas? Does she actually like these bands or is she just using alternative cultures for attention? Tell us your thoughts in the comments below.
[envira-gallery id="197607"]