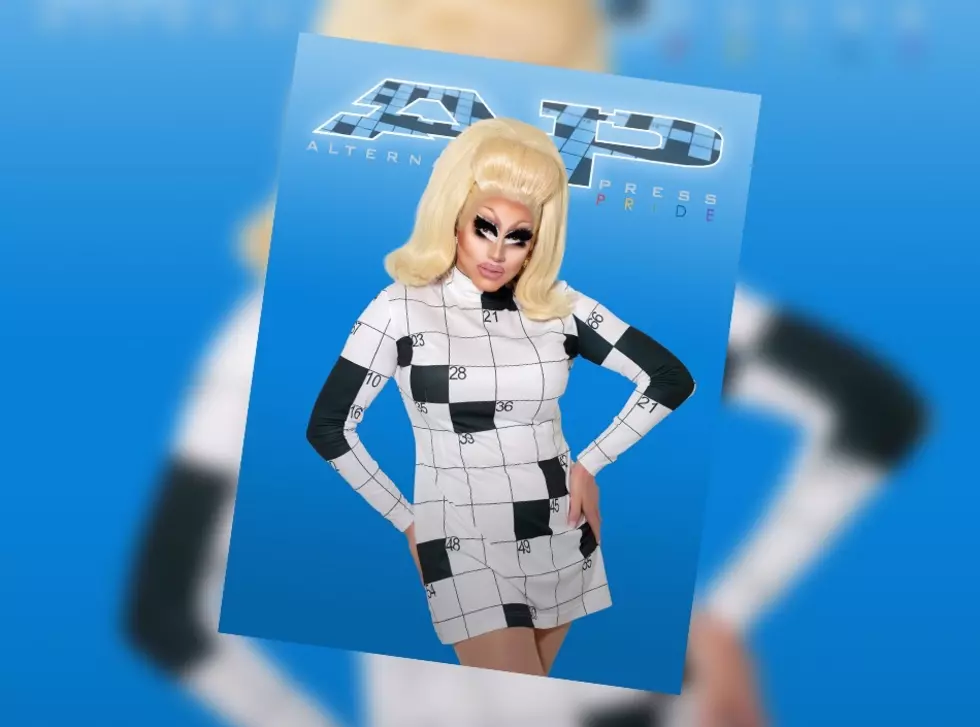 Trixie Mattel says drag culture and pop music are both forms of theater
Trixie Mattel, aka Brian Michael Firkus, is well-known among drag fans for winning the third season of RuPaul's Drag Race All Stars. The performing sensation has recorded three albums of original music and launched a successful cosmetics line. If that wasn't enough, she also published a New York Times bestseller, appeared in a documentary and racked up a million subscribers on her YouTube channel.
[Photo courtesy of Trixie Mattel][/caption] 
From original songs and collaborations with Orville Peck to stand-up appearances and Easy-Bake Oven cooking demos, Mattel is changing what it means to have a career as a drag artist. More than that, she's continued to redefine pop culture in the process. But for her, that's natural. After all, pop culture is already full of drag. It's just time for us to recognize it.
In our Pride digital exclusive interview, Mattel talked about her career as a drag icon, her subversive love of country music and her recent EP of cover songs, Full Coverage. She also spoke about the changing nature of drag culture and her commitment to showing people that country music is cool.


You have a strong passion for country music, a genre that isn't always thought of as a conventionally  LGBTQIA+ genre. I know you said in your "Jackson" behind-the-scenes video that "normally when we're in the car and I get the aux cable, my gay friends basically kick me out of the vehicle." Can you talk more about your relationship with country music and what that genre means to you?
That is more of an anecdote because, as we all know, gays don't drive. It doesn't sound like conventionally gay music, but neither does my music. I make music that sounds like the music I'll listen to. I listen to a lot of power pop and a lot of old folk music. That's like my two favorite genres, my two favorite modes. So the music I make, it makes sense that I sound like the people I like to listen to. 
I also notice you're very attuned to the history of country music. You nod to classics like  Johnny Cash and June Carter Cash. You also covered the trailblazer group Lavender Country. Can you speak about why you take an interest in that history?
Not to be a traitor—and let's be honest, I'm not in danger of hosting the CMAs anytime soon—contemporary country music could not be more transparently music written by rich people that they think poor people will like. And it's so weird. It's so pandering. But for some reason, the audiences don't hear it. I'm like, "Do you believe that rich man drives his tractor to Los Angeles? I don't think so." I feel that contemporary music, other than some exceptions, like Miranda Lambert doing a ballad at an award show and you're like, "Oh, my God, country music is alive and well and flawless." But a lot of it's just pop music that they put a straw hat on, and I'm not buying it. I mean, as somebody as fake as me, you'd think I'd be used to some inauthenticity.
For me, older country music tends to be a little more... Maybe it's because the sound is less engineered. Maybe it's because it's a little bit three chords and the truth. But, you know, when I listen to my Loretta [Lynns] or my June Carters, I'm like, "This speaks to me in a way that whatever's charting right now really doesn't." And also, I'm a drag queen, so I like poking the bear, and I'm excited that a genre like country music isn't supposed to be for me. That just makes me want to dabble in it more. Me and Orville [Peck] in the "Jackson" video, in these yee-haw looks, singing this iconic classic country song... We're not supposed to be doing that, and it makes a lot of people's skin crawl. That's why we like it.
That gets at a broader question about how drag culture is changing. I think we're seeing a shift in how drag fits into the pop music world, with a growing interest in the style. Do you see yourself as part of this changing landscape?
Well, not to be contrary, [but] when you look at what contemporary pop music is and you look at people like Madonna or Katy Perry or Bad Bunny or the Black Eyed Peas or really anything. These people are using fake hair, makeup, costumes and produced tracks to create a fantasy. It's literally exactly what happens at a drag show. We just don't call it drag. Drag is supposedly having this big boom right now, and it is, but even your uncle from rural North Carolina who's never seen a show, he's probably seen Mrs. Doubtfire. He's probably seen a Tyler Perry movie. He probably knows who RuPaul is. [With] a lot of things, they just don't call it drag.
There's a reason why people like Lady Gaga go to drag shows. I think she sees more of herself on our stage than on a normal music stage. You know, drag and pop music, we're all just doing a form of theater. I mean, Kim Petras isn't a drag queen, but [she's] a trans icon who's singing really good pop music. A person like that, breaking through the way she does, it's very exciting. That could not happen even five years ago. 
In that sense, I wonder if you think pop culture or culture, in general, is shifting in recent years. We're seeing increasing representation of LGBTQIA+ artists in pretty much every area. How do you see yourself fitting into that phenomenon?
Well, for me, none of my favorite musical artists are gay. The type of music I listen to isn't traditionally gay music. I don't really know how to speak to me necessarily representing any sort of music, because I like to make music that I like. I don't feel like I'm toeing the line for gay people or anything. The music I make, a lot of gay people don't even listen to, because I don't make the type of music that a lot of gay people like. And I mean, not everybody who is gay feels pressure to like my music just because I have a wig on.
Can you talk about your recent EP of cover songs, Full Coverage? You record a lot of original music. How do you approach this sort of record and putting your own spin on other artists' music?
When COVID first happened, I was completing my American tour Grown Up. I was in Phoenix, and I got a call from my manager being like, "You know, everything's happening. You've got to go home." I started this series online where I was doing weekly shows just doing covers. I would be playing these digital shows for free, just playing music. And then I was picking up on some covers I wanted to actually record.
It's funny because a covers album is a little bit closer to the tradition of drag. In drag, we constantly consume and regurgitate. We dress like celebrities. We do music of other people. We joke about what's in pop culture. And so for me, doing an album of covers, of music that I love, was a really easy gesture. I mean, when you listen to a song like "Video Games," I basically completely reimagined that song to be a little more Western, a little bit weirder. But then when you listen to something like "Jackson," that's a time where I wanted the cover to be 100% faithful. The mission statement on "Jackson" was like, "What if we just made this sound good?"
Orville and I, we don't really fit the bill of people you would think to be doing it. [It] shows that we have a deep reverence for this type of music. People will be like, "Oh, well, maybe, maybe homosexuals in wigs and cowboy masks actually do like [the] music."
As a follow-up to that, I'm curious if you could talk about your approach to music. Drag is so often about camp, irony, parody and the like. You convey a deep sincerity when it comes to the music you cover, as well as a commitment to making your art in an authentic way. How do you approach making comedic versus sincere music, or do you not see this as a real dichotomy for your career?
It just really is whatever speaks to me. When you listen to Barbara and you hear a song like "Jesse Jesse," that's a cheeky love song about Jesse Eisenberg where all the lyrics are puns about his movies. I like to make songs that are ridiculous. In Skinny Legend, my stand-up special, I do this song called "Rich People" that's a ballad singing to only the VIP people and talking about how much money they have. I love comedy music, but when you listen to me do "Video Games" or "Blister In The Sun" or "Jackson"?
I also am fine with dropping the rubber chicken once in a while and committing to the song. With "Jackson," that song already is funny. The lyrics are this silly back-and-forth between two people who are either friends or lovers. I didn't have any intention of making fun of that song. Because I love country music, and it doesn't seem like any of my gay friends do. I guess I've always [been] the town crier trying to show that that kind of music is cool. Because I think it's cool. I like sad shit, too. I love to make people cry because doing stand-up for a living, people cry and laugh with the same muscles. It's the same experience.