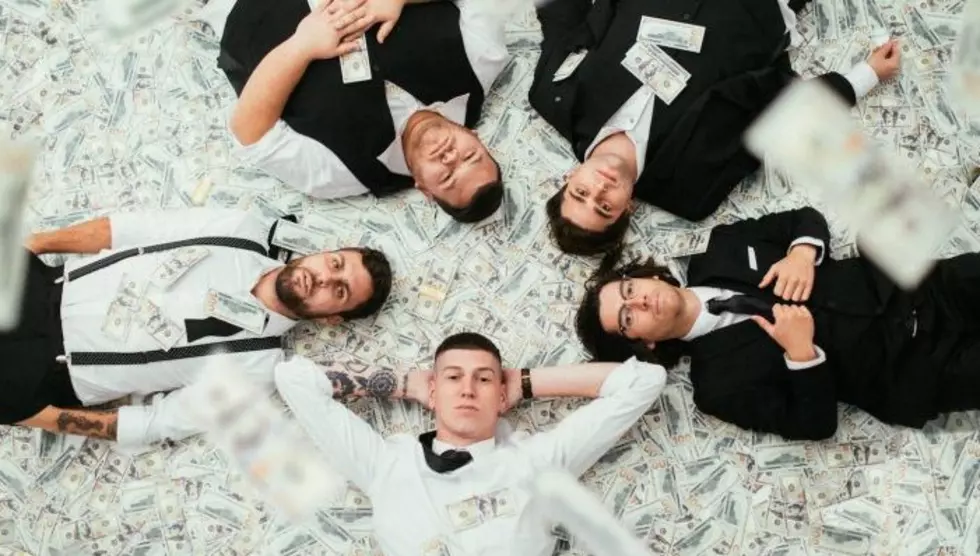 Trophy Eyes work to restore 'The American Dream' on upcoming album
[Photo by Jared Leibowitz]
Trophy Eyes just dropped the first single from their upcoming album The American Dream, "You Can Count On Me." Merging contemporary pop with swift, punk undertones, Trophy Eyes' new album, out Aug. 3, is sure to capture the hearts of modern rock dreamers everywhere. While The American Dream might seem unattainable today, Trophy Eyes make certain that the best is yet to come.
Read more: Taking Back Sunday's Adam Lazzara on shaking the shackles of nostalgia
In an era where everyone has their eyes on you, Trophy Eyes' new single expresses the pressure artists have on their shoulders in the social media age. With fans watching their every move, it's easy to understand that bands and artists have a lot to lose. With this constant pressure, Trophy Eyes frontman John Floreani says that it has had a negative impact on his mental health.
"In many ways, 'You Can Count On Me' is a pushback," Floreani says. "It's a voice for those who choose not to defend themselves against the growing torch and pitchfork mentality that encircles performers in the era of modern music."
The American Dream is about restoring quietness after upheaval and unrest. Despite living in an age of hellfire, Trophy Eyes still have a positive outlook on the future. Their new album will feature a sense of renewal while giving fans optimism. Additionally, The American Dream is an intrinsic look on Floreani's personal growth.
"This record is about my life in present time and a reflection on who I was and how I got here," he says. "As much of the other Trophy Eyes works have been about the hate, violence, addiction and heartbreak I fought so desperately to leave behind, this record is about shedding one's past, transitioning from boy to man, making a home and wanting nothing more in life than to sit and enjoy the silence."
You can preorder The American Dream here.
Following the release of their upcoming album, Trophy Eyes will be hitting the road with Neck Deep, Stand Atlantic and WSTR in the fall. You can find a list of their North American dates below.
Dates
09/06 - Santa Cruz, CA @ Catalyst
09/07 - Ventura, CA @ Ventra Theatre
09/08 - Las Vegas, NV @ BK Bowl
09/10 - Albuquerque, NM @ El Rey Theatre
09/11 - Lubbock, TX @ Jakes
09/14 - Louisville, KY @Headliners
09/15 - Nashville, TN @ Marathon
09/16 - Birmingham, AL @ Wordplay
09/18 - Columbia, SC @ Music Farm
09/19 - Greensboro, NC @ Arizona Pete's
09/20 - Richmond, VA @ National
09/21 - Long Island, NY @ Stereo Garden
09/22 - Sayreville, NJ @ Starland Ballroom
09/24 - New Haven, CT @ Webster
09/25 - Buffalo, NY @ Town Ballroom
09/27 - Pittsburgh, PA @ Mr. Smalls
09/28 - Detroit, MI @ Royal Oak
09/29 - Cleveland, OH @ Agora
09/30 - Toronto, Canada @ Danforth
10/02 - Cincinnati, OH @ Bogarts
10/03 - Ft. Wayne, IN @ Clyde
10/05 - Milwaukee, WI @ Eagle Club