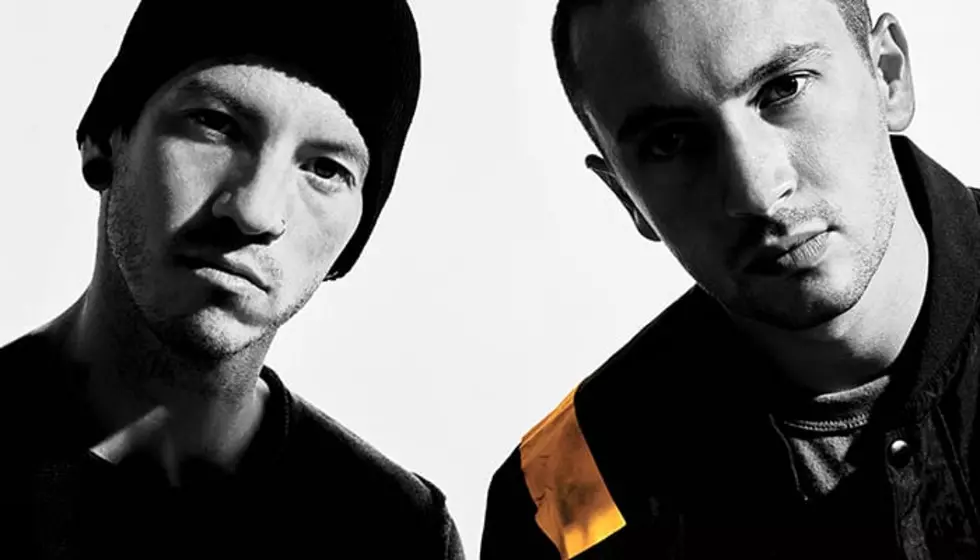 twenty one pilots just set a new Spotify streaming record with 'Blurryface'
[Photo by: Jonathan Weiner]
There have been several chart milestones twenty one pilots have set the bar for and they're achieving yet another as the first and only musical group to have every song on an album reach over 100 million streams on Spotify.
On April 22, the band's track "Not Today" finally hit the goal marking their 28th overall song to reach that many streams and pushing Blurryface to have every song drawing in that many listens.
The band's 2015 album was a smash hit and saw achievements including sitting on the Billboard 200 album chart for four years straight.
twenty one pilots were also the first band in history to have every single song on an album certified gold, platinum or multi-platinum by the Recording Industry Association Of America with the album.
Now, it's breaking a new record as they become the first group reaching 100 million streams for every track on the album.
While the band are still setting records with 
Blurryface
keeping busy
"Level Of Concern."
Tyler Joseph has been doing interviews with radio stations discussing the song's creation as well as explaining some of the lyrical content among other topics.
While speaking on the band's music video for the track, he says it felt very much like documenting the song's creation.
"I really enjoyed being able to go back to the way we used to make videos which was no budget, no crew, just a simple idea and using our friend Mark with his editing knowledge and his ability to piece it all together. That was it, that's how we always did videos before a label got involved and before we had money to spend on a music video so it was fun to have an excuse to get back to that."
The song was the first time Joseph wrote a track on an electric guitar and while answering about other ways they're changing things up, he says they had a completely different approach than usual.
"Actually this was one of the first times that Josh was recording drums in his own studio ad sent them over. It was truly a back and forth on the sound of the record which was kind of a first for us. We always got together for drums so that paired with me learning how to play electric guitar for the first time. It created a bit of a new sound for us at least."
You can read more from one of the interviews here.
What do you think of twenty one pilots reaching this massive streaming milestone for Blurryface? Let us know what you think in the comments below.
[envira-gallery id="217198"]