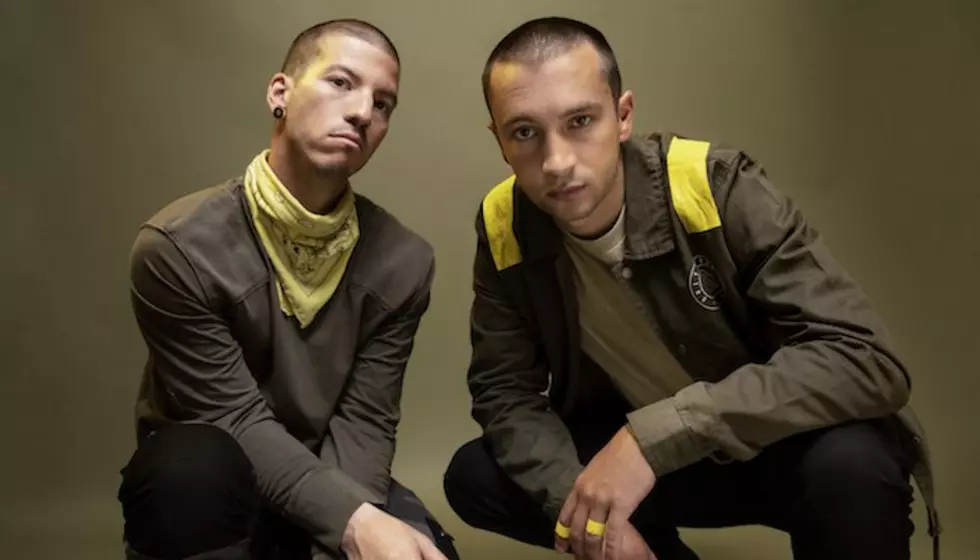 twenty one pilots hid something on their site again but not how you think
With the holiday season among us, many twenty one pilots fans are flocking to the duo's website to snag some new merch for themselves and loved ones. However, during your digital shopping experience, you may just come across something hidden that you weren't expecting.
This week, one fan uncovered a hidden message from Tyler Joseph and Josh Dun after clicking on a sold-out item. Don't worry though, this hidden message requires very little cryptic analysis.
twenty one pilots love to send their fans on scavenger hunts and deep cryptic clue analysis that truly makes all of our heads spin. In particular, Joseph and Dun often use their website to hide certain things that some lucky fans may just come across after a few clicks.
As we all remember, twenty one pilots used their website to unlock access to the Dema site around the release of their last full-length album Trench. After Dun's speech at the 2017APMAs, fans searched the internet to figure out what Dun's words actually meant.
"Tyler wishes he could be here, but he's actually severing ties with Dema."
After following the duo's cryptic trail, fans eventually came across dmaorg.info, which unlocked hidden secrets about the world of Dema. Over the coming weeks, Joseph and Dun shared plenty of more clues about their album Trench and the storylines that run through it, all thanks to the clues hidden on their website.
Now, it looks like twenty one pilots have hidden another message on their website. This week, one fan came across something unexpected when searching through the duo's online merch. After clicking on an item that was actually sold out, Reddit user @WarriorWolf21 was taken to a blank page that included a comical message from Dun and Joseph.
"Much like our journey to meet Celine Dion, your URL didn't find anything."
Found this funny gem on TØP's website! from r/twentyonepilots
twenty one pilots have shown their appreciation for Celine Dion over the years. Back in 2016, they performed a medley of songs that included her mega-hit from Titanic "My Heart Will Go On." Since then, however, it looks like the duo's attempts to meet the iconic singer have not been successful so far.
Although it's unknown which sold-out item the fan was looking for, it's possible even more messages could be hidden throughout twenty one pilots' website. For now, you may just have to click through their online merch and see what you find.
In honor of twenty one pilots' quest to meet Celine Dion, their medley cover from 2016's Emøtiønal Røadshøw Tour with Mutemath and Chef'Special can be streamed below.
Have you come across that hidden message on twenty one pilots' website? Do you think the duo may have hidden more things? Let us know your thoughts in the comments below.