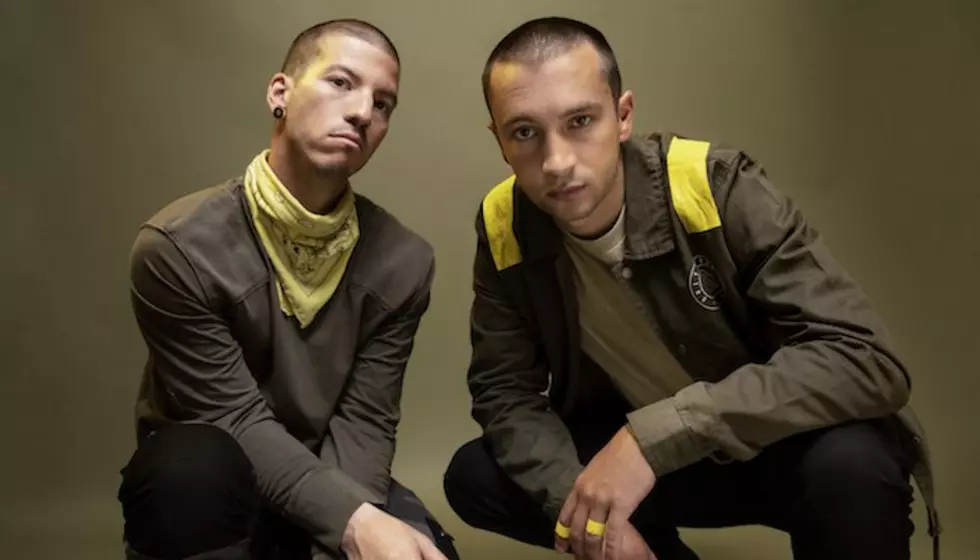 See twenty one pilots finally reveal what goes into their cryptic planning
There hasn't been a dull moment for the Clique since twenty one pilots began rolling out their "Level Of Concern"-related content. Earlier this month, the duo sent fans on a scavenger hunt to find 20 unique codes that unlocked drives on a cryptic website.
In just 12 hours, fans managed to unlock every drive on the website. The achievement led them to a new website that asks fans to record themselves jamming out to "Level Of Concern." The footage is being compiled into a historic never-ending music video. Now, twenty one pilots are revealing just how fans managed to crack every one of their "Level Of Concern" USB drives.
"Level Of Concern" was released back in April as the duo's first post-Trench song. While Tyler Joseph and Josh Dun are hard at work on their next album, they are continuing to release content surrounding the single. From a lyric video that references their previous albums Trench, Blurryface and Vessel to theories surrounding their The Tonight Show performance, twenty one pilots are really cranking out the cryptic content.
On June 12, twenty one pilots continued their cryptic plans by launching a website. This time, the duo sent fans on a digital scavenger hunt to unlock USB drives full of behind-the-scenes photos and footage. With 20 drives to be found through hidden codes, Joseph and Dun expected the Clique to take a long time to unlock them all. However, the task only took fans 12 hours to complete. The accomplishment led them to a special treat.
"We didn't think you would tear through the codes so easily. [It] should have taken a week, but you did it in just over 12 hours. You got us this time. Now join in with your footage, your art, your dances and be a part of the first-ever never-ending music video."
Fans have been submitting footage for the "Level Of Concern" never-ending video since midnight EST Monday, June 22. At this time, the video is still going with fan submissions. Powered by video software Imposium, the video refreshes every 3 minutes and 40 seconds with new fan clips in real-time. The band developed the concept with award-winning director Jason Zada. You can check it out below, and submit your own footage at loc.twentyonepilots.com.
After all of this, twenty one pilots are now revealing just how fans worked together to unlock all 20 drives on their cryptic website. In a new video montage, the footage shows how fans analyzed the images, videos and codes found in each USB drive.
"Recently our dads were asking what the heck was going on with those codes," the duo says on Instagram. "This video explains it."
From using coordinates on Google Maps to sharing information through Reddit and Twitter, the Clique showed their true sense of community during this hunt. As the video details, the codes could not have been unlocked unless fans worked together.
Many fans shared information as soon as they found a code and unlocked a new drive. This allowed many to enjoy the experience together. While some expressed just how hard the task was, others say that twenty one pilots should make fan tasks harder in the future.
The "How Those Codes Were Solved (A Recap for Locals)" gives a step-by-step recap on how each drive was unlocked. For some, the skill and analysis the Clique used to solve these codes will surely blow your mind.
twenty one pilots have a handful of dates set for 2021, which you can see here and below.
twenty one pilots dates:
06/18/21 – Landgraaf, NL @ Pinkpop Festival
06/19/21 – Scheebel, DE @ Hurricane Festival
06/20/21 – Neuhausen Ob Eck, DE @ Southside Festival
07/01/21 – Gdynia, PL @ Open'er Festival
07/03/21 – Werchter, BE @ Rock Wertcher
07/04/21 – Arras, FR @ Main Square Festival
07/07/21 – Madrid, ES @ Mad Cool Festival
07/09/21 – Kiev, UA @ Atlas Weekend Festival
07/11/21 – Moscow, RU @ VTB Arena
07/14/21 – Ostrava, CZ @ Colours of Ostrava
07/16/21 – Cluj-Napoca, RO @ Electric Castle Festival
[envira-gallery id="194356"]